The Robot Zombie: A Bitter Cocktail for the Van Halen Reunion
Van Halen is back, and still, reportedly, hating.
05.25.12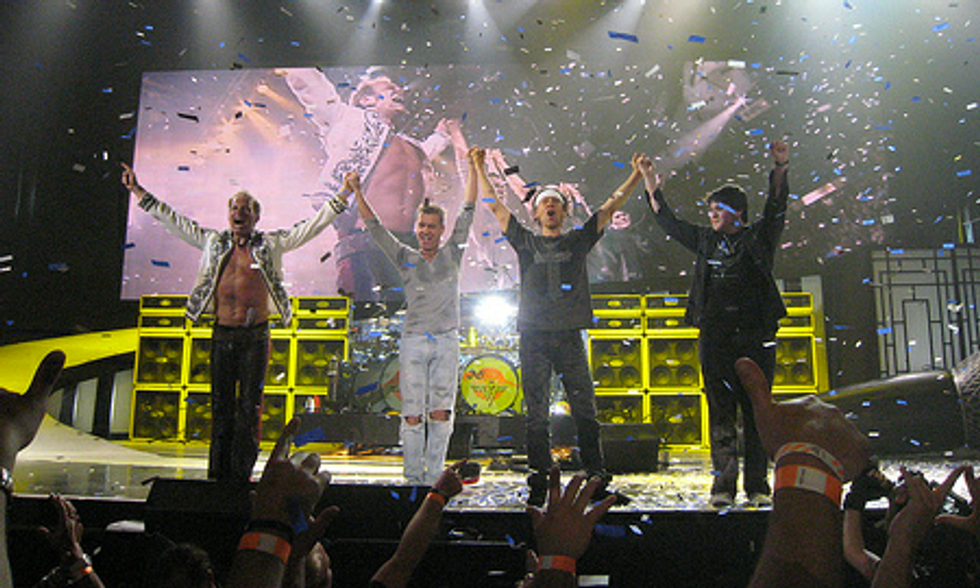 ---
\n
Every Wednesday, GOOD champions the cause of the desperately thirsty in
Buy You a Drink
. This week: Hard (rock) beverages to Van Halen fans suffering through another round of shunning by their temperamental heroes.
If you've got a taste for the full-bore, pre-grunge
guitar heroics
produced by bonafide legends of hard rock, prepare to go hungry. Last week's announcement that a reunited Van Halen would
postpone 30 concerts
—roughly two-thirds of the dates of their summer U.S. arena tour—didn't feel like news as much as it did destiny. This tour, like so many past reunions, imploded as predictably as a shack built by
Twister
set designers. (Appropriate, as
squabbling over
contributions to the
Twister
soundtrack
reportedly
led to one of many Van Halen breakups.)
Open speculation that members of the band—currently, David Lee Roth, brothers Eddie and Alex Van Halen, and Eddie's 21-year-old son Wolfgang—still "hate each other"? Check. Immediate
potshots
by ex-frontman Sammy Hagar, presumably from atop his mountain of
tequila money
? Check. Bizarre public pronouncement from David Lee Roth? Check.
After each past reunion hit the skids, Eddie and Alex Van Halen did their best to blame Roth. This time around, Diamond Dave would like millions of fans to know that the band is united in its decision to disappoint them. On Monday, Roth unleashed "
Public Relations
," a creepy black-and-white video missive from the woods outside Minneapolis, in which he appears clad in overalls, accompanied by a dog, and unsure whether to channel his inner Nugent or Sheen. In his trademark affected half-shout, Roth assures everyone that "THE BAND IS getting along famously—better than we have in quite some time" and "THE BAND is winning, but our schedule has been sidelined for unnecessary roughness!"


Roth swears that the 30 summer dates were not so much cancelled as "postponed" in the interest of avoiding detached, exhausted performances—or as he calls it, "the robot zombie tour."
Robot Zombie Tour! I love that turn of phrase almost as much as I love "
Drop Dead Legs
," and nearly as much as I feel for the riff-starved fans just hoping to hear "
Eruption
" live for the first time. Both emotions inspired me to hop behind the bar.
The Call: A Different Kind of Booze, or OUDRANK12\n
Van Halen fans can look at Roth's
Dogme
-influenced dispatch in one of two ways. Let's call
them "Optimist Groupie" and "Pessimist Groupie."
Pessimist Groupie knows Roth is full of shit. He'll tell you that Wikipedia mentions "the drama surrounding the exits of former members" ten paragraphs before "Hot for Teacher," and catalogs the bodies the Van Halens have left in their whammy-barred wake: Roth, Hagar, Roth again, Gary Cherone, Hagar again,
Michael Anthony
. History supports the source who gave
Rolling Stone
that quote about the the aging rockers' animosity for each other.
Former bassist Anthony makes a fine poster boy for the pessimist camp. He's the only founding member of Van Halen not involved in the current reunion tour— Eddie replaced him with a teenage Wolfie, allegedly for the dual sins of palling around with Hagar, and promoting his hot sauces on tour. And while Eddie has struggled with addiction, and tequila made Sammy Hagar a mogul, Anthony is best known for his decades-long love for
our old friend
Jack Daniel's
. Good enough for me.
The Bitter Bassist\n
¾ oz. Jack Daniel's Tennessee whiskey
¼ oz. Fernet Branca

Pour both ingredients over ice in a shaker. Shake. Strain into a shot glass. Throw back quickly. Chase with ginger ale, or cheap beer.\n

\n
The Bitter Bassist is not as much of a team player as its namesake – for one thing, it's a great deal more likely to start fights on a tour bus. But it's simple, direct, and ideal for helping its drinker embrace feelings of betrayal or disappointment. Like those feelings, it's best to throw the BB back quickly and move on to the chaser.
Which brings us to Optimist Groupie, the dude who thinks the Wolfgang thing will work out just fine. Hell, Optimist Groupie may have talked himself into Gary Cherone. For him, I whipped up a sunny take on a cocktail that could have been named by a
young David Lee Roth himself
: The Maiden's Prayer (Between the Sheets). I coined my version after Roth's latest stroke of genius.
The Robot Zombie\n
1 ½ oz. gin (I used Hendrick's)
1 oz. overproof dark rum (I used Lemon Hart 151)
¾ oz. lemon juice
¾ oz. orange or tangerine juice
½ - ¾ oz. simple syrup
Splash Grand Marnier (optional)

Shake with cracked ice. Strain into a cocktail glass.\n

\n
You only need to know two things about the Robot Zombie Tour. First, the Grand Marnier is there to smooth out the super-tangy tangerine juice, so you may not need it with regular oranges. And second, drinking one may be the quickest way to understanding where Eddie Van Halen is coming from. It's strong enough to
make you hear colors
.
Send your favorite tales of groupie debauchery, or your suggestions for future drink recipients, to mixologymailbag@gmail.com. \n
Articles