Articles
\rAnd Those Are His Things...\rName: Shintaro Okamoto\rAge: 34\rLocation: Queens, New York\rOccupation: Ice Sculptor; Founder and Creative Director of Okamoto Studio\r\r\r1. Antler-handled V-chisel\rI always have this one on my desk as a reminder of being connected with the production guys. It's a drawing tool...\n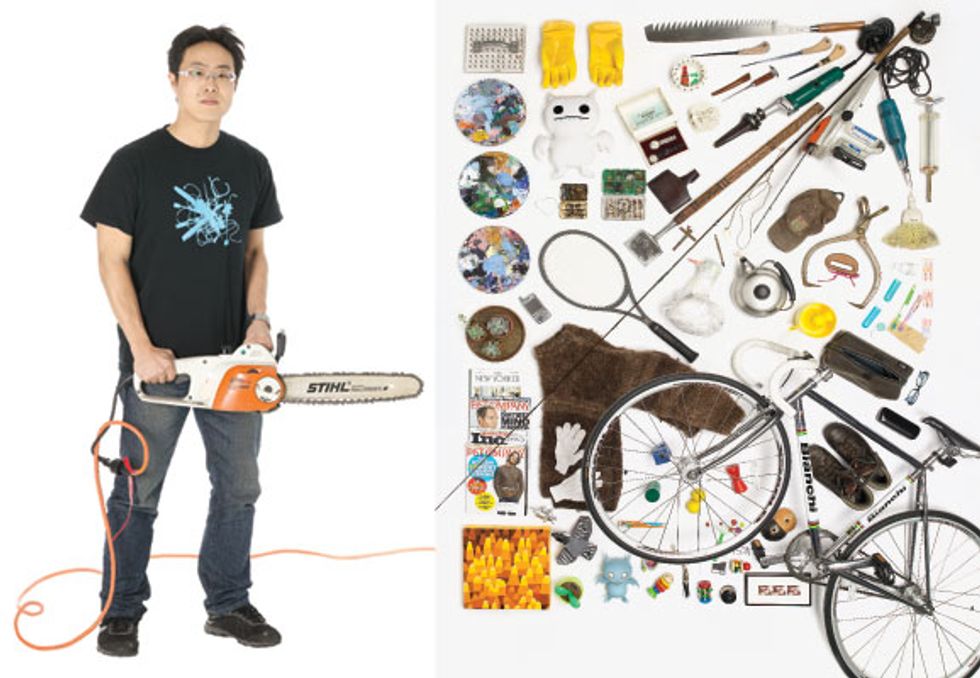 And Those Are His Things...
Name:
Shintaro Okamoto
Age:
34
Location:
Queens, New York
Occupation:
Ice Sculptor; Founder and Creative Director of Okamoto Studio

---
1. Antler-handled V-chisel
I always have this one on my desk as a reminder of being connected with the production guys. It's a drawing tool. When carving, it's always the first thing we use.

2. Octopus necklace
A guy named Louie the Fish taught me how to carve bone when [my family] lived in American Samoa for a year.

3. Handmade bird
I gave my daughters a feather boa; they tore it apart and turned it into this.

4. Stihl MSE 140 Electric Chain Saw
It's amazing how much delicacy and flexibility you can get out of the chain saw. No matter what we create, at least half is done with this.

5. Syringe
We call this "the elephant inseminator." We use it to push water between the pieces of ice for fusion.

6. Bianchi Pista fixed-gear bike
It's literally the most pure form of bike riding: Just one gear means what you give is what you get; The front brake is just there as optional because much of the work done braking is with your legs. First time I rode it, it was a very humbling experience.