Students Just Tricked People Into Thinking A Pineapple Is Modern Art
But who are we to judge?
05.09.17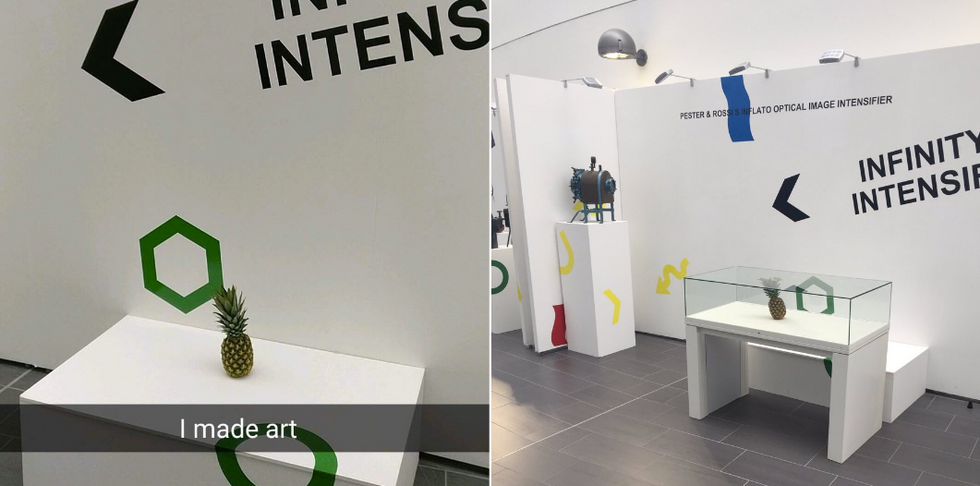 Image via Lloyd Jack/Twitter
What is modern art? Apparently, according to one confused curator in Scotland, a pineapple. Robert Gordon University students Ruairi Gray and Lloyd Jack expanded the definition of modern art (if only for a couple days) after they placed the spikey fruit on an empty stand at the Look Again exhibition at their school recently. In an interview with Daily Mail, Gray explained, "I saw an empty art display stand and decided to see how long it would stay there for or if people would believe it was art."
---
When he and his friends returned to the exhibition later that day, they saw it'd been placed under a glass case, which one curator noted would have been a big effort considering the substantial weight of the case. "It's the funniest thing that has happened all year," Gray told Daily Mail. "My honors supervisor saw it and asked an art lecturer if it was real because he could not believe it."
Jack, who's studying business information technology at Robert Gordon University in Scotland, told GOOD he and his friends didn't hear any of the commentary of passersby, but took a seat and watched the confused patrons attempt to figure out the meaning of the display. He has a rather evolved opinion about what qualifies as modern art. "Fine art is visualizing an opportunity for greatness and pursuing it with all your power, not stopping at anything," he says.
The team of students originally had a much less complicated intention for the fruit, as described in their statement to Mashable:
"Well originally my friend Ruairi Gray bought it as a joke for one of his friends who is allergic to pineapples, but after he didn't find the joke funny in the slightest we didn't really know what to do with it. So walking past the festival we placed it next to some exhibits to see how long it would stay before someone took it, next thing we know it's been placed in a glass case and we couldn't believe it."
While it's still unclear who encased the pineapple or why, or even whether or not the piece should officially be defined as art, spectators moving through the space certainly seemed to enjoy the exhibit, says Jack.
Education