Gold Medalist Michelle Carter Brings Body Positivity To The Olympics
Michelle Carter brings body positivity to the Olympics.
08.17.16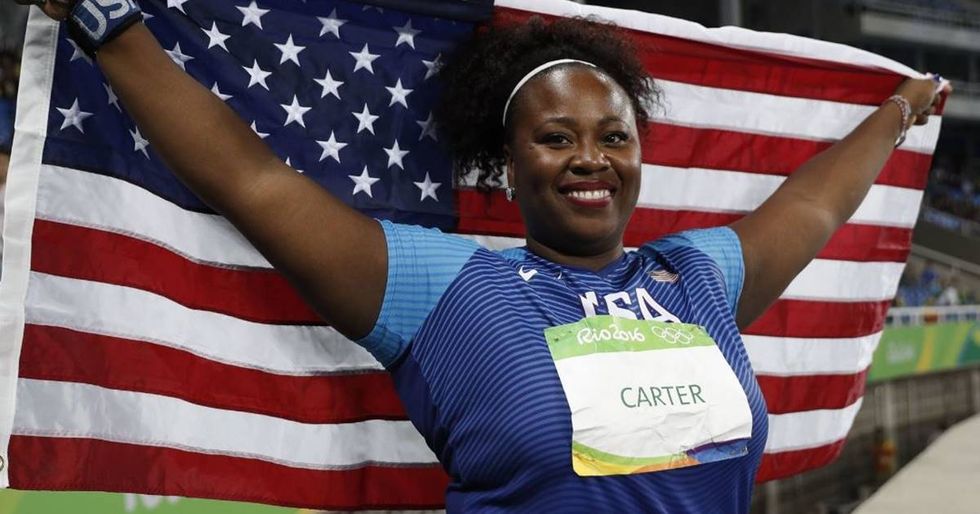 via Twitter
U.S. Olympic shot putter Michelle Carter is one-of-a-kind elite athlete. Last week, she broke the American record and won the gold medal in shot put with a distance of 68 feet, 8 1/4 inches. She also is part of another unique first, her father won the silver in the same sport at the '84 games making them the first father-daughter duo to win individual track and field medals at the Olympics. As a self-proclaimed 'Shot Diva' she believes that her body positivity has been instrumental to her athletic success.
---
Carter not only stands out at track and field meets because of her athleticism, as a professional makeup artist she has no problem being stylish while doing it. "For a couple of years, being professional, I kind of questioned myself," Carter told The New Yorker. "Should I wear my false lashes or take the time I want to take so I can feel good when I go out on the field? Because nobody else was really doing that. And I thought, No: I'm not going to change what I believe I should look like to fit anybody else's standards. I believe if you look your best, you're going to feel your best, you're going to do your best."
Carter has no problem bringing a little glamor to an event where it was sorely lacking. "We're girls and we can throw heavy balls and be in the dirt and we look good while we'er doing it,' " she said. "I think it's bringing more attention to the sport and girls are realizing, 'Hey, I can do this and it's okay to do this as a girl.' " She also sees her athleticism as a way to promote body acceptance among women. "You have to understand everyone's body was built to do something," Carter said. "I was built to do something, and that's how I was built. I think the world is realizing we were promoting one body type and there have always been many."
After winning the gold, Democratic presidential nominee Hillary Clinton—a woman who's redefined femininity in her own powerful way—shared her support on Facebook. "Yesterday, Michelle Carter made Olympic history in the women's shot put, earning Team USA's first gold medal in the event. Congratulations, Michelle!"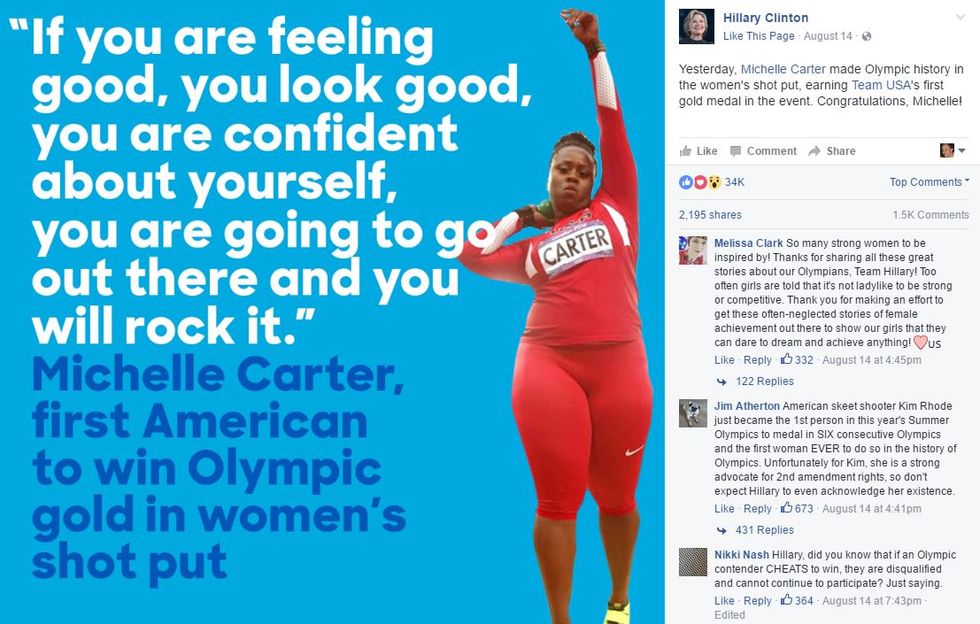 via Facebook
Sports