Alexandria Ocasio-Cortez just endorsed Bernie Sanders for president
10.16.19
Bernie Sanders' presidential campaign looks to be getting a huge big shot in the arm after it's faced some difficulties over the past few weeks.

Alexandria Ocasio-Cortez, a leading voice in the Democratic parties progressive, Democratic Socialist wing, is expected to endorse Sanders' campaign at the "Bernie's Back" rally in Queens, New York this Saturday.
Fellow member of "the Squad," Ilhan Omar, endorsed him on Wednesday.
---
The Sanders campaign lost some momentum after a surge by Elizabeth Warren has brought her neck and neck with front runner Joe Biden. Warren and Sanders are the two most popular progressive candidates in the Democratic race.
Sanders also suffered a setback earlier this month when he was forced to temporarily suspend his campaign due to a heart attack. But he was back at night at the third Democratic debate in Ohio Tuesday night where he had a strong showing.
An Economist/YouGov poll released Wednesday has Elizabeth Warren leading the race at 29% with Biden (25%) and Sanders (13%) rounding out the top three.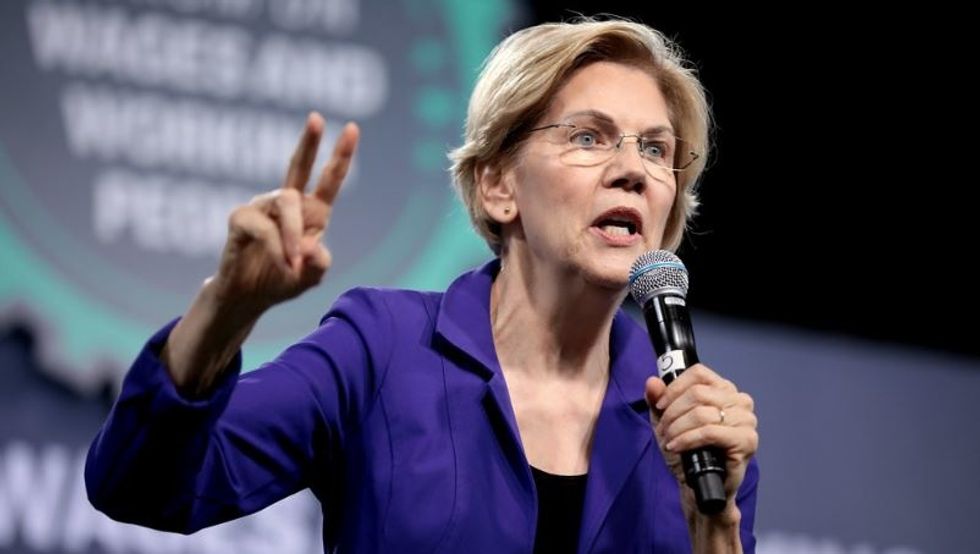 via Gage Skidmore / Flickr
Ocasio-Cortez's endorsement isn't a huge surprise, some thought it'd be a toss-up between Sanders and Warren.

"I would like to see in a presidential candidate is one that has a coherent worldview and logic from which all these policy proposals are coming forward," Ocasio-Cortez told CNN.
"I think Sen. Sanders has that. I also think Sen. Warren has that. I also want to see us centering working people in the United States to stem income inequality (and) tackle climate change," she continued.
Sanders' chief of staff Ari Rabin-Havt believes that Ocasio-Cortez and the Bernie's views are in alignment on the biggest issues of the day.
"When Bernie talks about a Green New Deal, Bernie talks about Medicare for All, Alexandria has also been out front on those issues," he said.
"And I think that ideological linkage is what brings them together, and what makes her support so powerful for our campaign is that it's not about personality," he continued. "It's not about 'I just like the guy,' it's they believe in the movement and a movement for change in this country that they both want to build."
Omar announced her endorsement of Sanders in a tweet thread on Wednesday, saying Bernie is "leading a working class movement to defeat Donald Trump that transcends generation, ethnicity, and geography."
.@BernieSanders isn't fighting to win just one presidential election -- he's fighting for the soul of our democracy.

Here's more on why I'm so proud to give Bernie my endorsement for president of the United States: pic.twitter.com/1NLMPnzS1x
— Ilhan Omar (@IlhanMN) October 16, 2019
Bernie is leading a working class movement to defeat Donald Trump that transcends generation, ethnicity, and geography. I know this from experience -- I've worked with him up close on bold progressive reforms. I've seen the values that motivate his fight for progress.
— Ilhan Omar (@IlhanMN) October 16, 2019
Bernie is also well aware that America doesn't suffer from scarcity -- we suffer from greed. Together we brought forward legislation to cancel all $1.6 trillion of student debt and pay for it with a small tax on Wall Street speculation.
— Ilhan Omar (@IlhanMN) October 16, 2019
Bernie supports guaranteeing healthcare for all, creating a humane immigration system that doesn't treat immigrants like criminals, and ending forever wars. He is fighting for the America we deserve -- one that collectively works toward a brighter future for every one of us.
— Ilhan Omar (@IlhanMN) October 16, 2019
For all these reasons and more, I have no doubt that @BernieSanders is the best candidate to take on Donald Trump in 2020. Let's get him elected!
— Ilhan Omar (@IlhanMN) October 16, 2019
Politics