Articles
Electronics recycling firm U.S. Micro opened a 130,000-square-foot facility just across town from the CES festivities.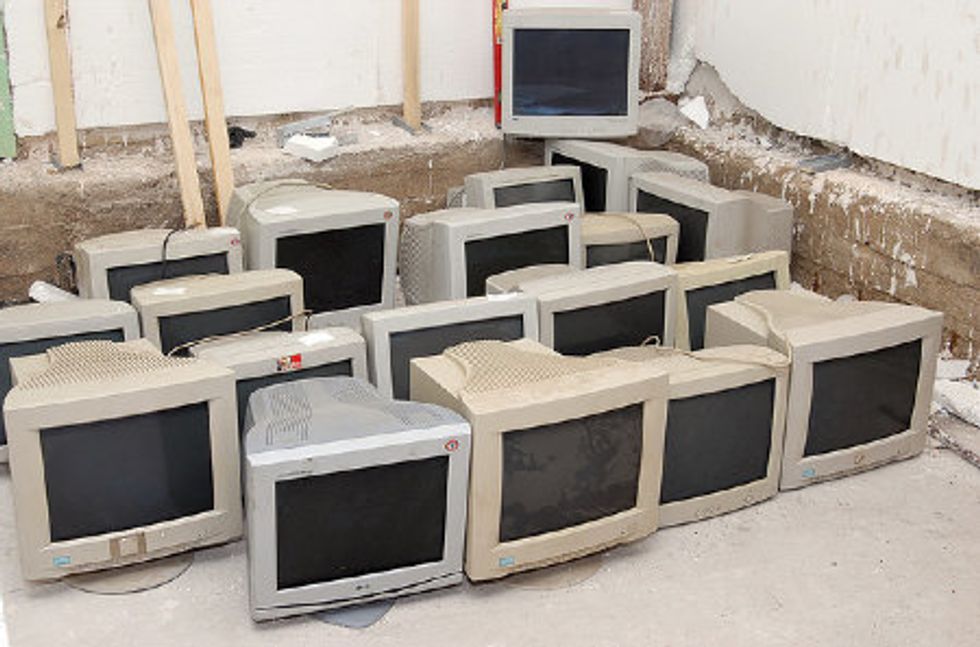 The average consumer upgrades to a new phone every 18 months. When they do, they typically relegate their passé models—remember the once-ubiquitous Motorola RAZR?—to a junk drawer or a landfill.
At the Consumer Electronics Show, which takes place this week in Las Vegas, vendors, analysts, journalists, and consumers all are eyeing the next hot thing. The combination of technology refreshes and slick marketing have a way of making people find new gizmos they never knew they needed—the Consumer Electronics Association, which puts on the show, predicts consumers will spend a record $1 trillion on electronic devices in 2012. But noticeably absent from chatter about the latest and greatest is one major question: What will happen to the gadgets we no longer want?
---
It's a predicament that has major implications for the fate of the planet. The Environmental Protection Agency estimates the U.S. produced 2.4 million tons of electronic waste in 2010. About 70 percent of the heavy metals in U.S. landfills are from discarded electronics, the Silicon Valley Toxics Coalition reports. Allen Hershkowitz, senior scientist at the Natural Resources Defense Council, says between three-quarters and four-fifths of all electronic waste could be recycled but isn't—instead ending up incinerated, sitting in landfills, or shipped the developing world.
"Waste should be disassembled in the U.S., in certified, safe factories or processing centers," he says. "Virtually all of it can be recycled. The bad news is right now very little of it is."
But that is starting to change. Recycling electronics has ballooned into a $5 billion industry in America, growth that can be seen in businesses like Georgia-based U.S. Micro. The company opened the doors to its 130,000-square-foot facility yesterday in Las Vegas, just across town from the CES festivities.
There's a dark side to the gadgets-recycling world. When companies upgrade or discard equipment, they often contract outside firms to wipe data from servers and drives and breathe new life into machines that have seen better days. But not everything goes according to plan: Private data gets lifted, and equipment containing toxins is resold in developing markets with little oversight. For companies breaking the rules, it's easy to pay people off.
"It's important to highlight what we're doing wrong to improve ourselves," says Zachary Delbex, CEO of Las Vegas-based Repurpose America, which reuses non-recyclable materials from Las Vegas trade shows. For instance, this year's CES badges were made from 24,000 square feet of non-recyclable materials from last year's show. "Given the right incentives to dispose of materials properly, we can create a lot of jobs here in America," he says.
At U.S. Micro, founder and president Jim Kegley champions doing right by the corporations he works with and the environment. About eight years ago, he decided that when possible, U.S. Micro would destroy data at the customers' locations. "We never want to leave a customer site with their data," he says. Once functional equipment is free of sensitive information, it can be resold. Hardware that's older than three years is typically sold in the U.S., while the newish devices can be found in stores overseas, since slightly dated equipment can command higher prices in developing markets. Everything else is recycled.
At U.S. Micro's 125,000-square-foot electronics recycling facility outside Atlanta, there's a constant clang from behemoth machines using electrostatic and magnetic separation to extract materials from IT equipment. Once separated, steel, plastic, aluminum and other precious metals are sold as commodities. The materials from what was once someone's cell phone could become part of a bike rack today. The facility also has a bank vault used to store equipment to be wiped at a later time. Once, after a client liquidated, U.S. Micro became responsible for 10,000 hard drives. Because the company can only erase data from a couple hundred drives a day, it moved the drives to a bank vault via an armored Brinks truck.
"We're the only facility that offers a closed-loop recycling process. We process everything there on site," Kegley says. Last year, U.S. Micro processed more than a million assets, or roughly 30 million pounds of discarded electronics, ranging from smartphones to servers. The 10 percent that cannot be resold is dissembled into parts for recycling because it cannot be wiped to industry standards, has little resale value, or contains toxic elements.
For instance, CRT computer monitors—which have been replaced on the market by LED monitors and are one of the most environmentally unfriendly electronic components—contain an average of eight pounds of lead, plus mercury, cadmium and other toxins, Kegley says. When it comes time to get rid of them, they often end up in landfills awash in the discarded electronics of yesteryear, even though dumping them is against the law in some states. When these monitors come into U.S. Micro's possession, they only see the light of day in their most basic forms: copper, plastic, steel, and whatever else can be salvaged.
Aside from reselling and recycling, there's one other path for U.S. Micro gadgets. This year, more than $1 million worth will be donated to organizations close to home. The City of Atlanta will receive 550 computers for its recreation centers, while about 500 laptops will go to Las Vegas' Andre Agassi College Preparatory Academy.
Photo via (cc) Flickr user Vladimir Morozov