Articles
Bringing Back the WPA (Because the Government Hasn't)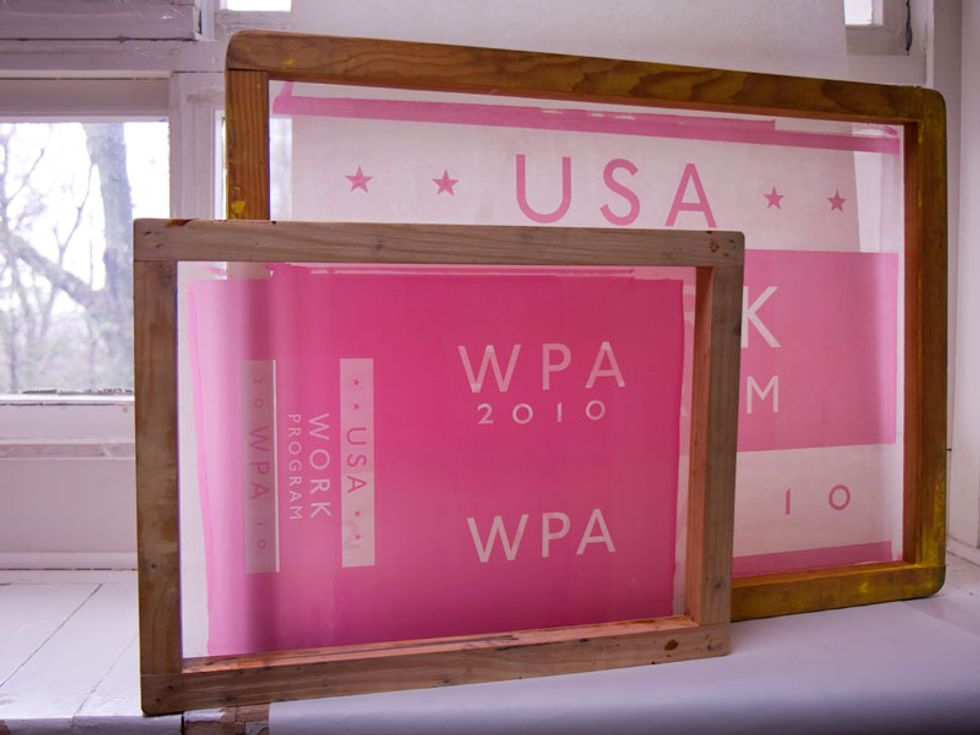 How we've taken the old Work Projects Administration and made it new again.
I have to admit, when the stock market collapsed and America's economic titans crumbled with it, I was hopeful. Because in all the devastation, I saw an America that could be rebuilt.

Over the preceding decade, the financial growth, the urban development, the housing boom—it hadn't helped anyone I knew. Further, this constant development in the neighborhoods in which I lived only seemed to make everything more inaccessible. Our country was clearly living beyond its means, when what we really needed was to get back to basics.

People started talking about things like rebuilding and recovery.

I began to get excited.

I imagined the power of our country focused on helping, rather than attacking each other. I envisioned the citizens and the government of the United States, bonded through the labor of public works, uniting to pick our country up off the trading floor.

Instead, what followed were bailouts and stimulus packages. And by the time 2009 had come and gone, recovery seemed like a long way away. Everyone I talked to seemed to feel left out as well. All this money and effort somehow skipped over those who needed it most.

I looked back at the Work Projects Administration, which employed millions of people in the 1930s and 1940s. It was responsible for pulling us out of the Great Depression, through public works ranging from building parks and bridges to designing posters and reclaiming oral histories.

The 2009, top-down system funded the wealthiest through massive projects in the hopes of a massive trickle down. Instead, I thought, what we needed were small-scale works. We need to hire people to improve their own neighborhoods. We need a sense of togetherness with our government. We need the WPA.

So, I decided to bring it back.

I secured donations for construction gear, silk screen equipment, office-space, even a pavement press, and started working towards bringing back the WPA. We've been stenciling WPA logos on traffic cones and construction helmets, sewing WPA logos onto contractor vests, and spreading the word that the WPA is returning.


















---
And now, we're
ready. For the launch, we've secured two offices—one in a rural hamlet, and one in New York City. Our first Work Projects Administration office will open in Wassaic, New York in May of this year.
The people involved in this project have histories in either community development or public art, and we are using those skills to bring communities together in a sort of real-life street theater.
John Ewing
is a public artist who has worked in the U.S., El Salvador, and Cuba.
Carmen Montoya
is an artist and health worker with experience here and in Mexico. Finally, I am a public artist who has worked in community development and peace-building throughout the world.
We will run participatory action research workshops with community members to identify needed public works, and then hire people in the neighborhood to complete the projects they choose, all under the auspices of "official" WPA business.
This is not a massive redevelopment scheme. Our goal isn't to build a new bridge or shopping mall; it's to get people involved in small projects in their own neighborhoods. Our goal is to create a functional model and a feeling of partnership with our government—a real example of working together in small but important ways to contribute to the cultural and economic vitality of our local communities.
We want this to be an accessible project, something anyone could do. So, we're keeping our costs down.
For the final leg of this project, we need to raise the funds needed for this project from small donations by American citizens. We're not seeking huge grants from major benefactors, but really want this to be something by and of the people.
So, we launched a Kickstarter initiative to raise the $2,000 needed to bring back the WPA
. This last bit of cash will help pay for art and construction materials, and pay the WPA wages of local workers in Wassaic, New York and Jamaica, Queens.
Any amount will help: We just want to get as many citizens as possible involved in this pilot, so we can start to open offices around the country. Think of it as a renegade WPA for D.I.Y. recovery.
Christopher Robbins works on the cusp of public art and community development, and has lived and worked in New York, London, Tokyo, West Africa, the Fiji Islands, and former Yugoslavia. After serving as a Peace Corps volunteer in Benin, West Africa, he co-founded the Ghana Think Tank, a global network of think tanks creating strategies to resolve local problems in the "developed" world. It was recently shortlisted for the Frieze Foundation's Cartier Award.