Articles
Death in the Age of Facebook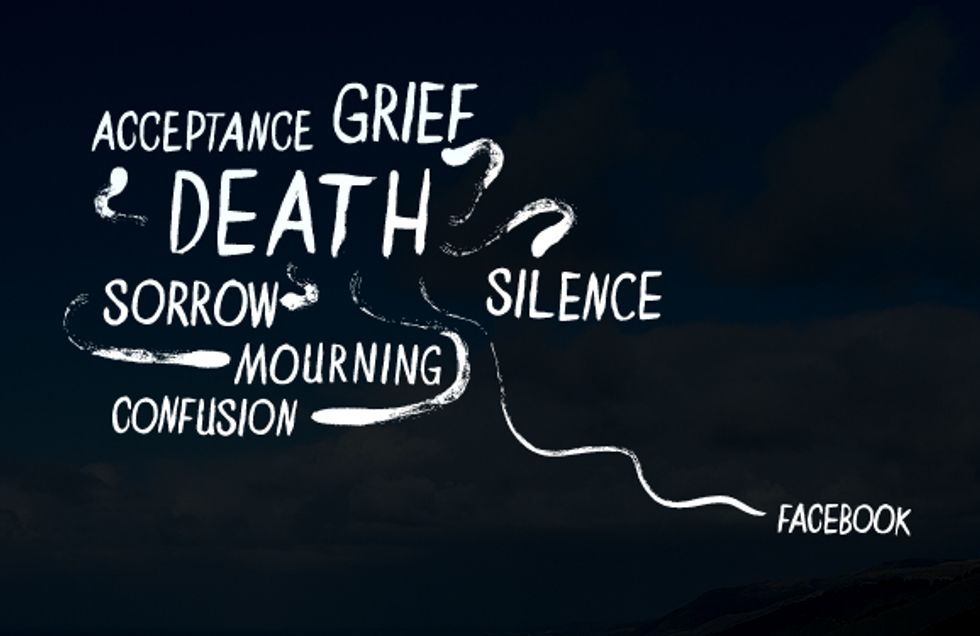 ---
"But Claire killed
Steven yesterday," said the pastor at the 200-year-old church.
The oldest operational church in the state of Tennessee has weathered many tragedies, including the Civil War, with its elegant stained-glass windows intact. But this was the only time a congregant had killed another. Less than 24 hours had passed since a woman repeatedly shot her husband in the chest, apparently during target practice.
Was it purposeful?
I discreetly texted my friends who were sitting a few rows back. "We don't know details," the pastor continued. "But I admonish you not to gossip," he said, after I pressed send. "Or to make it worse by spreading rumors."
Through sheer force of will I got home without gossiping, but I couldn't resist getting online. Our local newspaper's website shed frustratingly little information. The second hit from my internet search, however, was his Facebook page.
Feeling like I'd stumbled on an open diary left on the table, I hesitantly clicked and gulped when I saw him standing next to a tank in Iraq, alive and vibrant. On his wall were dozens of recent notes from friends, like "My kids want a playdate with yours. When the snow melts?" Steven's "recent activities" listed the people he'd "friended."
No space existed between these entries and the next—not even an asterisk explaining what transpired—but it was obvious that a normal life had suddenly changed to something quite alarming: "Was it really Steven? How is he? Can someone please confirm?"
"I'm sorry I wasn't there for you."
And, simply, "I miss you."
In October 2009,
Facebook announced a new policy which allows deceased member profiles to remain active. When a user passes away, their account is adjusted to protect their privacy (by removing status updates and contact information) and only confirmed friends may see their wall and leave posts in remembrance—the modern-day equivalent of leaving flowers by the tombstone. The person's page will remain active in perpetuity, unless family members request otherwise.
However, "memorializing" a loved one's Facebook page is usually way down on a grieving family's priority list. A coworker told me her loved one unexpectedly passed away, but his face sometimes still shows up on her profile page under her friend list. Max Kelley, a Facebook employee, wrote about the complexity of interacting with people who can no longer log onto their accounts. "When someone leaves us," he blogged, "they don't leave our memories or our social network."
The phrase "social network" is the modern lingo for "community," that evasive human desire to experience life collectively. Facebook allows people to mourn as a group, no matter how geographically far away—in a way, taking the place of cemeteries.
Newsweek's Lisa Miller writes in her article "R.I.P. on Facebook:"

We live in a disjointed time. Many of us reside far from our families and have grown indifferent to the habits of organized religion. More of us—16 percent—declare ourselves "unaffiliated" with any religious denomination. Half of Americans will choose cremation over burial, and if we are buried, it will often be in a huge cemetery, among strangers, far from any place we would call home. Yet the desire to connect with each other around death and with the dead themselves is older than the Bible. The ancient Hebrews buried their family members beneath the floors of their houses, the better to keep and care for them. The Christian ideal of "the community of saints," in which the dead rest peacefully in the churchyard, as much a part of the congregation as those singing in the nave, is something any 19th-century churchgoer would have instinctively understood.

Steven understood it.
That small congregation nestled amongst Ponderosa pines was founded by his ancestors. Far from celebrating a generic "circle of life," a Christian cemetery tells complicated stories of loyalty, betrayal, heroism, and tragedy. Containing more than 1,500 graves, it's the final resting place of the church's founding members, soldiers from the American Revolutionary War, the War of 1812, and the American Civil War. It also has a large slave burial ground, including a monument to "Daddy Ben," who survived three hanging attempts by the British for refusing to reveal the hiding place of his master. (The very existence of a slave burial ground showcases the church's own historical moral shortcomings.) One commemorates the deaths of five young children during a flu epidemic. Another honors a sarcastic Civil War writer whose burial spot still draws visitors and historical re-enactors. Now, Steven – a decorated veteran of Operation Desert Storm and Operation Iraqi Freedom – rests along with several generations of his family and other colorful men and women from our church's past.
In fact, new members to the church receive "a plate and a plot"—a ceramic commemorative dish and the honor of being buried in the churchyard. Far from macabre, it offers the dignity of your life fitting into a narrative…no matter how complicated.
As the courts try to figure out why exactly Claire turned the gun on her husband that fateful day, people in our small town discussed it in hushed tones. But even amongst the confusion, the imperfect, flawed church offered stability and redemption.
"We don't know the details," the Pastor said that Sunday morning, "But we know yesterday, Steven was accepted into the loving arms of Christ, wholly accepted as blameless, undefiled, and holy. Not because he lived his life in a blameless, undefiled, or holy way, but because he clung to his savior."
Over the course of the next few weeks, the mood of his Facebook page lifted from despair to a defiant celebration of his life. Old photos from prom and Iraq were posted. In some ways, perpetual Facebook profiles offer instant memories to anyone with an internet connection and an account. But what are the implications? At what point will deceased members outnumber living ones? Miller asks, "Will our unchurched children be content to memorialize us with a quip on a 'wall'?"
It's probably a silly question, a grasp for permanence when life offers none. Social networking itself changes so quickly you never know when to retire one account (MySpace, anyone?) or set up another (Twitter, really?).
The memories of our loved ones will far outlive this particular strand of social networking. But in the meantime, Facebook's new policy offers us a place to commune, remember, and grieve collectively, no matter how far-flung we are. No, it's not a dirt-on-your-shoes cemetery. However, when normal life changes to something quite alarming, Facebook helps us grieve as we search for asterisks to explain what transpires in life and why.
Nancy French is an author who also works with SixSeeds.tv.