Articles
The popular quiz show wants to honor teachers. To help them out, here are five sensitive subjects the question writers should avoid.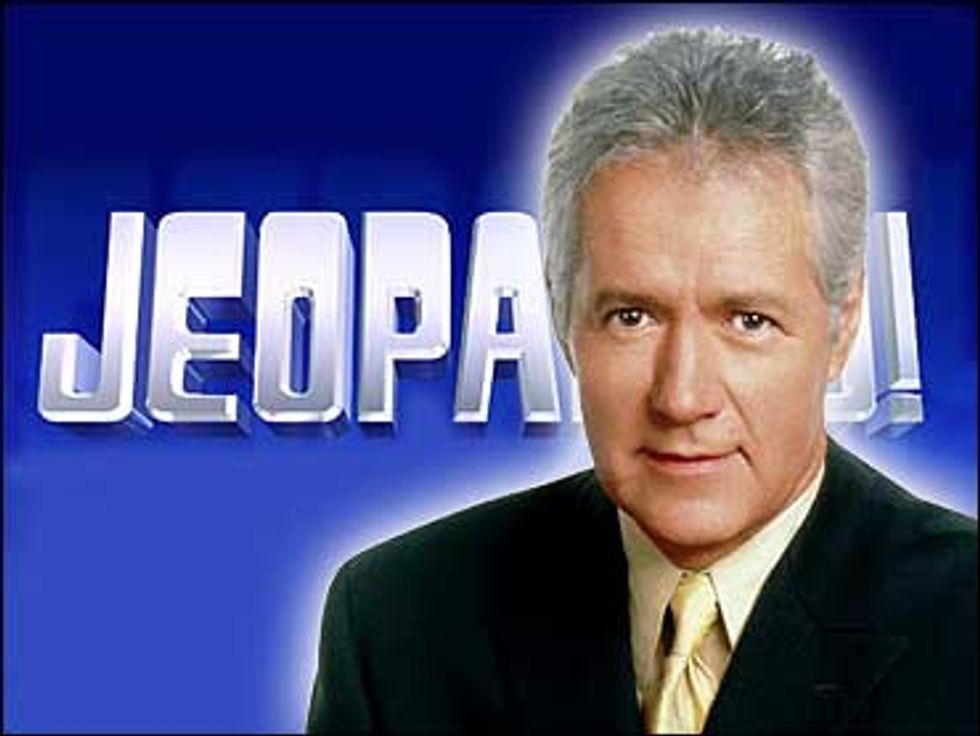 "I'll take 'Standardized Testing' for $500, Alex."
---
Let's hope that's not one of the trivia categories during the first ever Jeopardy! Teachers Tournament. The popular quiz show hosted by Alex Trebek kicks off its two-week competition tonight. Fifteen whip-smart educators from across the nation will compete for the top prize of $100,000 and a spot during the show's Tournament of Champions.
Jeopardy! producers say since teachers play such an important role in "guiding and inspiring our young people," they "thought it was time to honor teachers with their own tournament." But some categories might get under these contestants' skin. If the show's producers and famed host really want to appreciate educators, they'll avoid trivia questions about the following hot topics:
1) The Billionaire Boys Club: Teachers are a little tired of wealthy CEOs who've never studied education, but pour billions into unproven education reforms and have more clout with school district officials and lawmakers than, you know, the people actually doing the hard work with kids. The show should probably skip the questions about Bill Gates, Eli Broad, the Walton family, Michael Dell, and Mark Zuckerberg.
2) Michelle Rhee: Educators could also use a break from hearing about the controversial former Washington D.C. schools chancellor who fired hundreds of teachers and then went on to found advocacy group StudentsFirst. No questions for $100 like, "As a struggling first-year teacher Michelle Rhee famously had her students cover their mouths with this sticky substance." (If you're curious, the answer is, "what is masking tape.")
3) Pink Slips: With thousands of teachers nationwide being laid off due to state and local budget cuts, this is not the time to pose questions about famous people from history who've been pink slipped—Unless Jeopardy! wants to make the teachers they're supposed to be honoring cry. Hmm... a little drama could be good for ratings.
4) Collective Bargaining: With states like Wisconsin and Indiana stripping teachers of their rights to collectively bargain their contracts—and more states joining them by the day—this is an especially sensitive subject for educators. I'm sure Trebek will understand since he's a member of AFTRA, the American Federation of Television and Radio Artists and bargains the terms of his show's contract every year.
5) Standardized Testing: I'll say it again: Skip this category at all costs. These teachers don't want to hear any clues about number 2 pencils, Scantron forms, measuring teacher effectiveness according to testing results, test prep, or the amount of money testing companies make.
Now that that's out the way, I can't wait to see which teacher walks away with the $100,000 merit pay prize!