Articles
How about securing your strawberries on top of a mountain?Here are five lesser-known local farmers' markets that look as juicy as the citrus.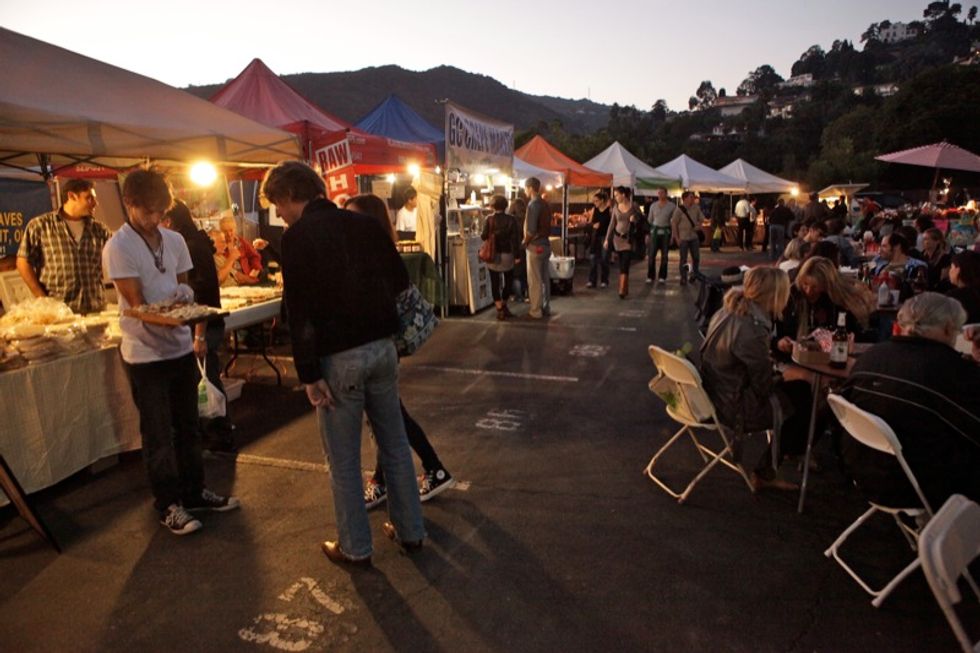 Sure, everyone knows the Sunday carnival that's the
Hollywood Farmers' Market
, or Wednesday morning's chef-shopping extravaganza in
Santa Monica
. But sometimes it's not just about buying those organic free-range, grain-fed brown eggs, it's about what you're looking at when you buy them. What about shopping for carrots on the lawn of City Hall? How about securing your strawberries on top of a mountain—with a glass of wine? Here are five local farmers' markets where the views are as juicy as the citrus.
Yamashiro Farmers' Market: Only in its second year, this seasonal Thursday night market is held at Yamashiro, a palatial Japanese-inspired estate high above Hollywood that's now a restaurant. A free shuttle whisks guests into the hills where cocktails, Asian-fusion tacos, and killer sunsets are served in the outdoor bar, accompanied by produce vendors and trucks like Coolhaus and Heirloom LA, the super-local food truck we wrote about last week. Thursdays (summer only), 5:00 to 9:00 p.m.; Yamashiro, 1999 N. Sycamore Avenue, Hollywood (shuttle at Sunset and La Brea)
---
Arts District/Little Tokyo Farmers' Market: The name's a bit of a misnomer since this farmers market has one of L.A.'s best addresses: The south lawn of City Hall. Rub elbows with politicos in suits as well as the police force from the headquarters across the street as they scoop up produce and an exceptional lineup of prepared foods like tamales and Hawaiian barbecue. With live music and plenty of shading seating, it's a perfect lunch stop. Thursdays, 10:00 a.m. to 2:00 p.m.; City Hall, First Street between Main and Spring
Los Angeles Medical Center Certified Farmers' Market at Barnsdall Art Park: Another mouthful of a name on this market as well, but here's all you need to know: After you gather up your goods, including wild honey, sprouted beans, and ready-to-eat Salvadorian pupusas, head up the hill to one of L.A.'s most stunning vistas for a picnic. Enjoy your farmers market bounty in the lawn of the temple-like Hollyhock House, designed by Frank Lloyd Wright for philanthropist Aline Barnsdall in 1919. Wednesdays, 12:00 to 6:00 p.m., Barnsdall Art Park, 4800 Hollywood Blvd., Hollywood
South Pasadena Farmers' Market: While South Pasadena's always a gem of a town, when overtaken with local farmers it becomes one of the most charming places to pick your produce. Take the Gold Line and be prepared to be transported back in time as you cruise into this historic Main Street-like block. Then gobble up artisanal ice cream, legendary barbecue, and kettle corn in the shadows of Craftsman landmarks. Thursdays, 4:00 p.m. to 8:00 p.m.; El Centro and Meridian Avenues, South Pasadena
Altadena Urban Farmers' Market: This market nestled in the picturesque Zane Grey Estate in the foothills above Pasadena was on temporary hiatus due to permitting issues but hopes to be up and running again in May. Stay tuned to their Facebook page for announcements about this truly local effort run by the Arroyo Time Bank, where many of the vendors are neighbors raising chickens and goats in their backyards—and the chickens and goats come along to the market, too. Third Sunday of the month (no date for May announced yet), 1:00 to 4:00 p.m.; Zane Grey Estate, 396 E. Mariposa Street, Altadena
Live in Los Angeles? Sign up for our one-good-L.A.-thing-a-day email and become a member of GOOD LA. You can also follow us on Facebook and Twitter.