Articles
March Madness: The Food Truck Edition
Bloomberg Businessweek reveals the best food truck in America, based on marketing and social media strategy. Check out the finalists from your region.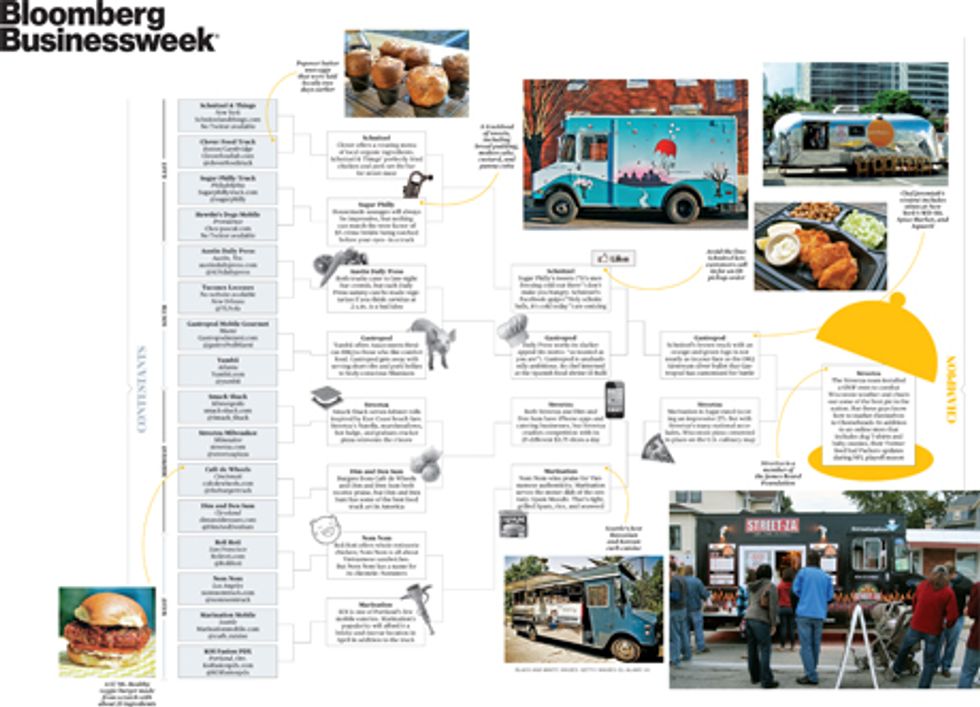 ---
For its current issue,
Bloomberg Businessweek
chose 16 food trucks—four each from America's south, east, mid-west, and west—and pitted them against each other, judging each match-up based on the rival trucks' "use of social networking and creative marketing and, of course, on their foodie quotient."
You can click on the image above for a larger, readable version of the entire contest; but I can reveal that—spoiler alert—the nation's number one food truck business is Milwaukee's Streetza, which crushed the opposition thanks to its 650-degrees Fahrenheit oven, its merchandising spin-offs ("an online store that includes dog T-shirts and baby onesies"), and its Twitter savvy (their feed included "Packers updates during NFL playoff season").
It's an interesting attempt to judge food trucks on something more than gastronomical grounds, although I can't help but wonder whether including revenue, sustainable business practices, or even corporate social responsibility might have made for a more realistic look at the food truck with the best business model. What do you think? Are these the food trucks with the best marketing and social media strategy from your region? And what do you look for in a food truck's Twitter feed anyway?