Articles
Sista Solange
How Beyoncé's younger sis may sidestep the trappings of success\rI wrote all those words last week discussing "A Milli" as a pop meme, and I missed the most obvious example to date: "Diva," from Beyoncé's new I Am ... Sasha Fierce. The track is not just inspired by Lil' Wayne's hit; it's a shameless rewrite-and..\n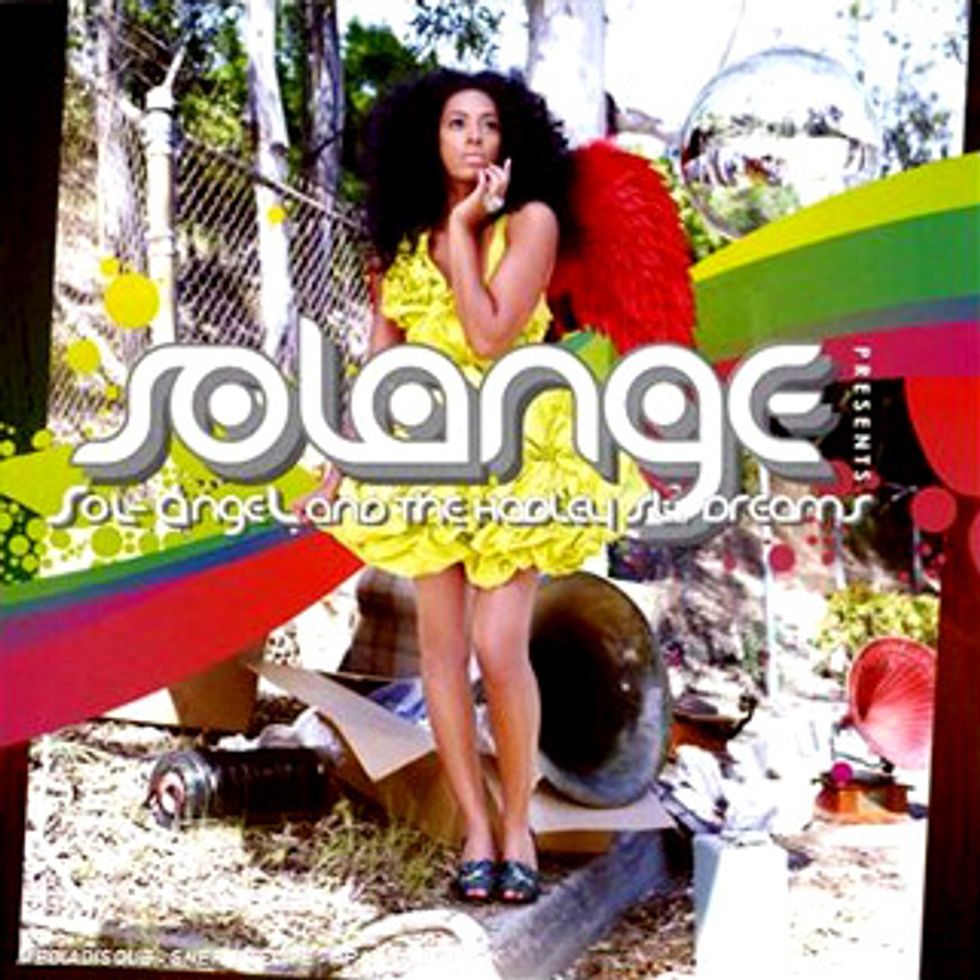 ---
How Beyoncé's younger sis may sidestep the trappings of success
I wrote all those words last week discussing
"A Milli" as a pop meme
, and I missed the most obvious example to date: "
Diva
," from Beyoncé's new
I Am ... Sasha Fierce
. The track is not just inspired by Lil' Wayne's hit; it's a shameless rewrite-and not a very convincing one at that. "A diva is a female version of a hustler," Beyoncé sings over concrete-mixer bass. But she doesn't sound like she's buys the claim (so why should we?). Instead she sounds trapped by her own success, uncertain where to turn next.That isn't a problem for her younger sister,
Solange
. Five years ago, Solange released
Solo Star
, the kind of R&B album that creates no expectations for a follow-up. But following her work on "
Upgrade U
" and "
Get Me Bodied
," two highlights from Beyoncé's 2006 album,
B'Day
, a buzz began to gather for a sophomore effort. Released in late August,
Sol-Angel and the Hadley St. Dreams
is as appealingly unvarnished and full of surprises as her debut was not.[youtube]http://www.youtube.com/watch?v=veb2YgLENXY Several recent R&B records, by Sharon Jones, Amy Winehouse, and
Raphael Saadiq
, take off from
late-'60s Motown
; Solange, however, cleverly models tracks like "I Decided, Pt. 1" on that label's earlier, percussion-heavy hits (see: the Supremes' "Where Did Our Love Go?"). The fast-climbing dance hit "Sandcastle Disco"-currently No. 22 on
Billboard 's Hot Dance Club Play chart
-features a classic breakbeat from the Monkees' "Mary Mary," which no one's done much with in a while, and an oddly appealing metaphor ("I'm nothing but a sandcastle/Baby, don't blow me away"). On "
This Bird
," Solange rebukes rumors about her depression and drinking-"Just shut the fuck up," she demands-over a track borrowed from ambient-electronic cult favorites
Boards of Canada
. The collaboration seems willful on paper, but is natural when you actually listen.Far less surprising is that Cee-Lo, the vocal half of Gnarls Barkley, co-wrote two of the album's strongest cuts: "Sandcastle Disco" and "
T.O.N.Y.
"
Sol-Angel
is kin to Gnarls' two albums: R&B at its base, it style-hops freely, as promiscuously as it feels like; its lyrics are as angst-ridden and matter-of-fact as you'd find on an indie-rock album. (That straightforwardness goes for the singing, as well: Solange doesn't attempt her older sister's diva stylings, preferring to sound more impetuous and spontaneous.)[youtube]http://www.youtube.com/watch?v=E7qFGeAqq1M As much as her helpmates bring to the table,
Sol-Ange
l feels first and foremost like the work of the woman on the cover. The title overreaches, and, at times, so does the music: specifically, the techno coda tacked onto the end of "
Cosmic Journey
," a duet with crooner Bilal. Yet the album seldom seems like the work of someone showing off his/her quirky side. Most of the time, you get the sense of an artist expressing who she is with minimal fuss, which is rare in major-label pop of any stripe. That impression holds true whether she's preempting comparison with her big sis-as on opening number "
God Given Name
," where she proclaims, "I'm not her and never will be"-or singing about a failed one-night stand on "T.O.N.Y.," which humorously stands for: "The other night--why?"If this album turns into the kind of sleeper hit, Solange may end up trapped by her success--feeling as if she has to be ever-quirkier every time out--as surely Beyoncé has by hers. For now, however, it's a triumph worth basking in.