Articles
The GOOD Lunch: Lemon Broccolini Orzo Salad
Every Tuesday and Thursday for the next year, the GOOD team has pledged to take it in turns to cook and share a big bowl of soup or salad.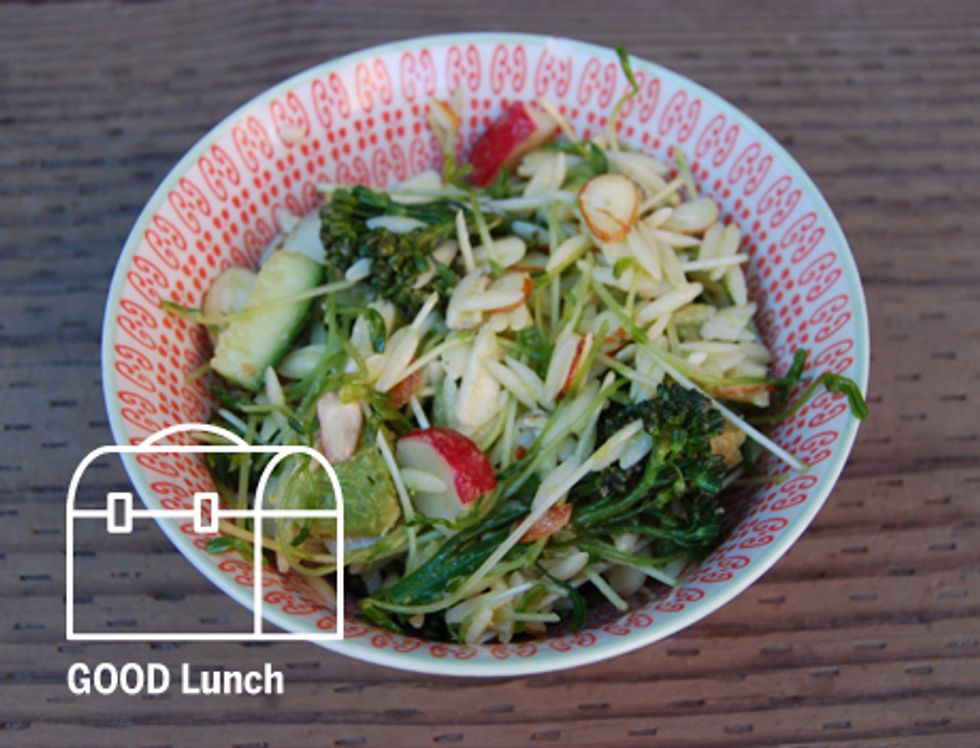 Welcome back to
the GOOD Lunch
. Today's recipe was cooked by Isis Krause, and was adapted from
101 Cookbooks
.
Lemon Broccolini Orzo SaladThe Ingredients
:
Makes 15-20 servings
Salad:
3 cups dried orzo pasta, preferably whole wheat
3 bunches of broccolini, trimmed and pulled apart into small trees
1 large bunch pea shoots, sprouts or other small greens
2 cups slivered or sliced almonds
2 bunches radishes, quartered
1 cucumber, cut into 1 inch pieces
3 avocados, diced in small pieces, covered with lemon juice to stop browning
Dressing:
3 cloves of garlic, minced finely
1 to 1.5 cups lemon juice
1 cup extra virgin olive oil
Salt and pepper

The Method:
• Boil salted water and add orzo. Cook to package instructions until almost done, then add broccolini to the boiling water with the pasta and cook together for 1 minute until broccolini is cooked and bright green. Drain and rinse under cold water to stop cooking.
• For dressing, combine oil, lemon juice, and garlic. Add more lemon juice if necessary depending on your taste preference.
• Combine orzo, broccolini, cucumber, and radishes.
• Add dressing to orzo and broccolini half a cup at a time, till it is dressed to your liking.
• Add sprouts and avocados last, and toss with fingers to keep things from getting smashed.
• Serve cold. This salad is best served close to when it is made. If made the night before, add avocados and sprouts right before serving.

The Breakdown:
How did our salad rate in terms of taste, cost, and prep time?
























---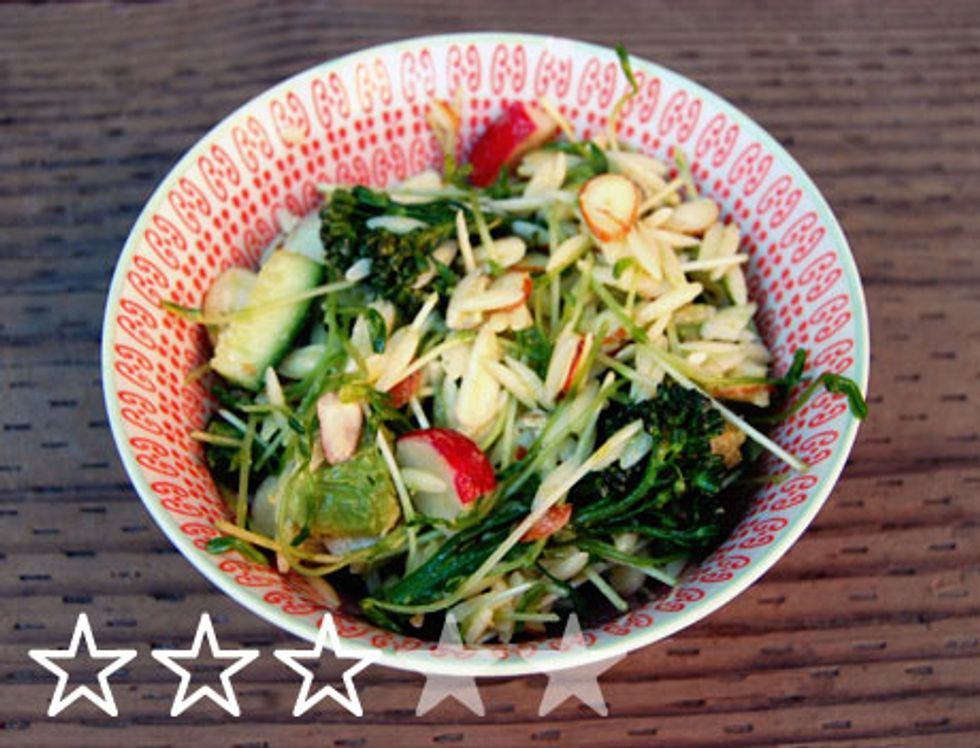 Cost: $30 ($1.67 per serving, at 18 servings)
Prep Time: 50 minutes prep
Taste: 3 stars. The dressing for this salad is very light and simple, with just the lemon and olive oil; some fresh herbs like parsley or cilantro might help to brighten flavors. The salad might need additional dressing after it sits for a while, as the pasta will soak up the dressing. Some crumbly feta or goat's cheese at the end would also add a nice salty kick.

Every Tuesday and Thursday for the next year, the GOOD team will cook and share a big bowl of healthy, vegetarian, seasonal soup or salad. The GOOD Lunch will explore new recipes that are easy to bring, serve, and share in the workplace. We hope this will inspire you to make your office lunch a GOOD Lunch.