Articles
The Offal Truth
Chris Cosentino is using historical recipes to turn offal-the entrails and organs we usually discard-into a new American delicacy. If...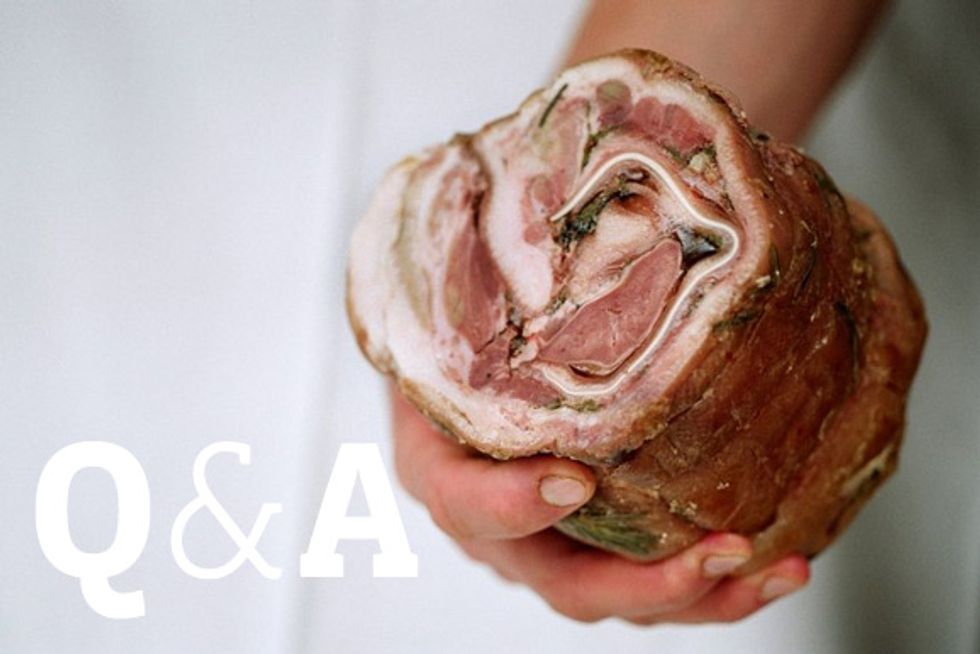 Chris Cosentino is using historical recipes to turn offal-the entrails and organs we usually discard-into a new American delicacy.
If you were cooking
2,000 years ago, you would have to use local, organic, and seasonal ingredients. And, because meat was hard to come by, you would use the entire animal, including the offal (literally "off-fall")-the entrails and internal organs of your slaughter.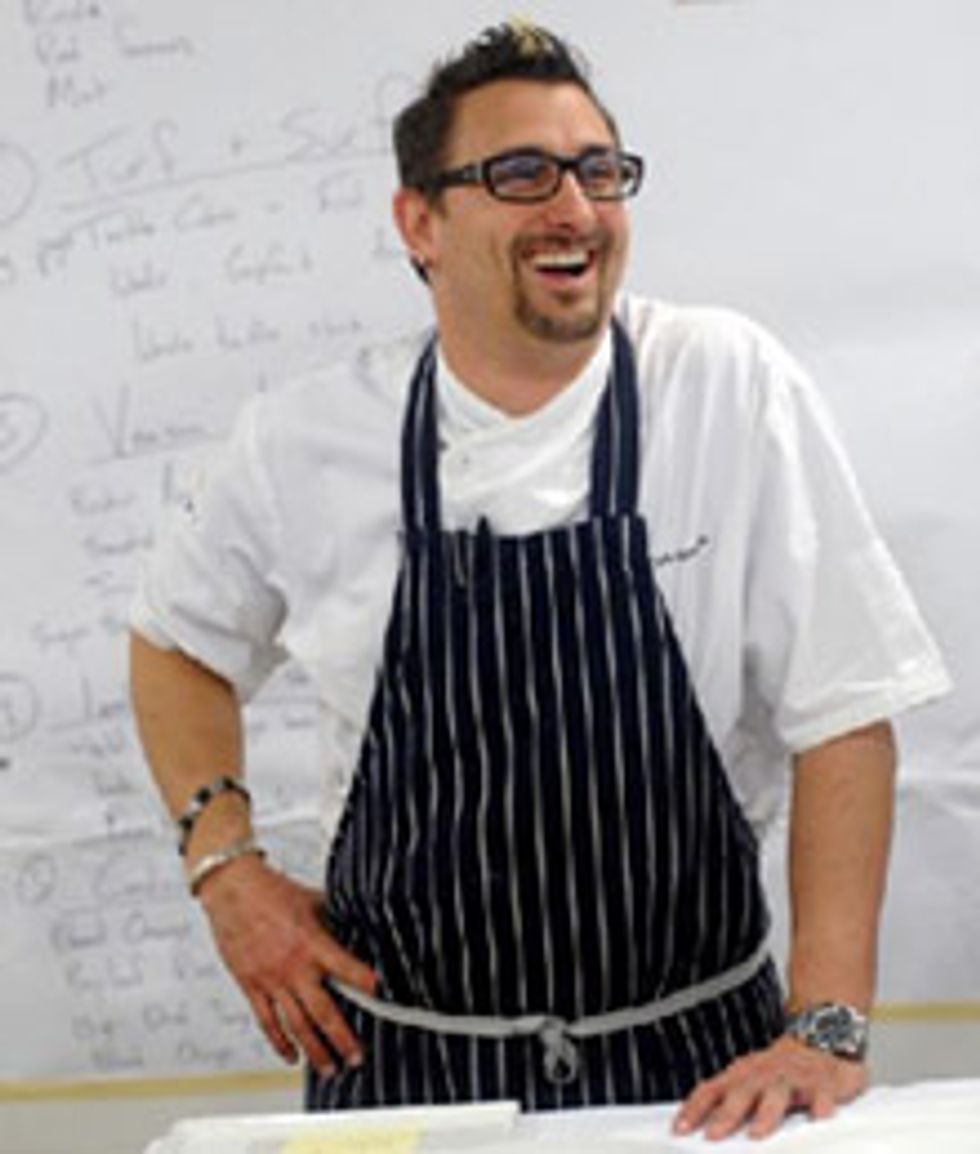 ---
At San Francisco's
Incanto
restaurant, chef Chris Cosentino is reviving old recipes that incorporate offal and other "odd cuts." For reference, feast your eyes on just some of Cosentino's unconventional ingredients: beef heart, cured tuna heart, lamb kidneys, lamb heart, candied rooster crests, pastramied ox tongue, and lamb spleen.GOOD chatted with Cosentino to learn about his historical approach to food, what sort of tastes we're regularly missing out on, and how best to sell pig's head in America.
GOOD:
Why is history so important to your food?
CHRIS COSENTINO:
History was the only part of school that I really enjoyed as a kid: history and English literature. I remember the food in
The Great Gatsby
and in
Macbeth
. I remember wondering what it was like to be Gatsby living in Newport, Rhode Island, wondering what the oysters tasted like at those parties, thinking about the feasts in
Macbeth
, about the wine in those goblets. Food is about a shared connection to time and place.
G:
And you make a point of using parts of the animal they might have eaten in Macbeth's time. Should we be less squeamish about these foods now?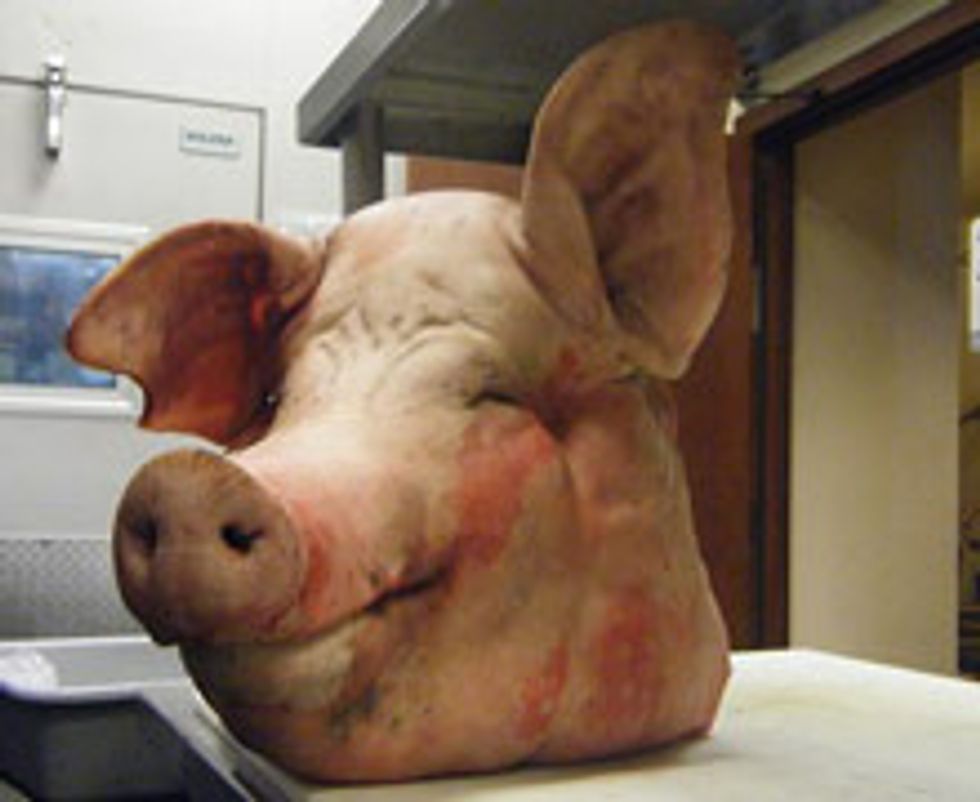 CC:
People don't know that things that started out simply as byproducts of food preparation became cooking techniques themselves. Byproducts created braising, created pates, they created things like charcuterie and blood sausage. Look at Europe or Asia; the United States is the only place that doesn't traditionally eat these things, we are the exception to the norm. Take beef tongue. Beef tongue is huge in Japan; it's like ten dollars a pound for grass-fed beef tongue. Here in the U.S. it's four dollars a pound.So do we eat it? No, we export this excellent grass-fed product and we make a lot of money. But who is winning? We win on money and they win on flavor.
G:
Is offal a harder sell in America in general?
CC:
When thinking about offal you have to think about what I call the culture of texture. In America it's crispy: we love crunchy and fried foods. In China they love soft and gelatinous foods. Japan likes chewy, the Italians more al dente. Understanding the culture of texture is a big dynamic when I prepare these cuts of meat. Offal isn't only about the ingredient so much as the texture. Tripe, for example, is much easier to sell when I deep-fry it. If I put "crispy" anything on the menu it sells faster. It's easy for me to sell crispy pig's head, it's not easy for me to move soft pig's head.
G:
People are paying more attention to what they eat these days. Is that helping you find an audience?
CC:
All of a sudden we are relearning how to eat. When I was a kid, did I see watermelons in the middle of the grocery store in the winter? Fuck no-it's the magic of the airplane. Do we really need to put food in a plane and fly it 3,000 miles? I love ramps from the East Coast where I grew up. Sometimes I even get them at the market, but in the West we have nettles, wild onions, chickweed, wood sorrel, miner's lettuce, and all this beautiful freeway fennel. Every area has something that is available. Eating regionally can be done-we have a rooftop herb garden and we harvest things from upstairs when they are ready to be eaten.What I really love about the way food is going now is that we've had this huge push in both directions.
Ferran Adrià
has opened up an experimental inventiveness of food. There needs to be people who push forward and others that go backwards. There needs to be more than one style of food, more than one thought process. My process is historical.
G:
Do you think offal cooking is more sustainable?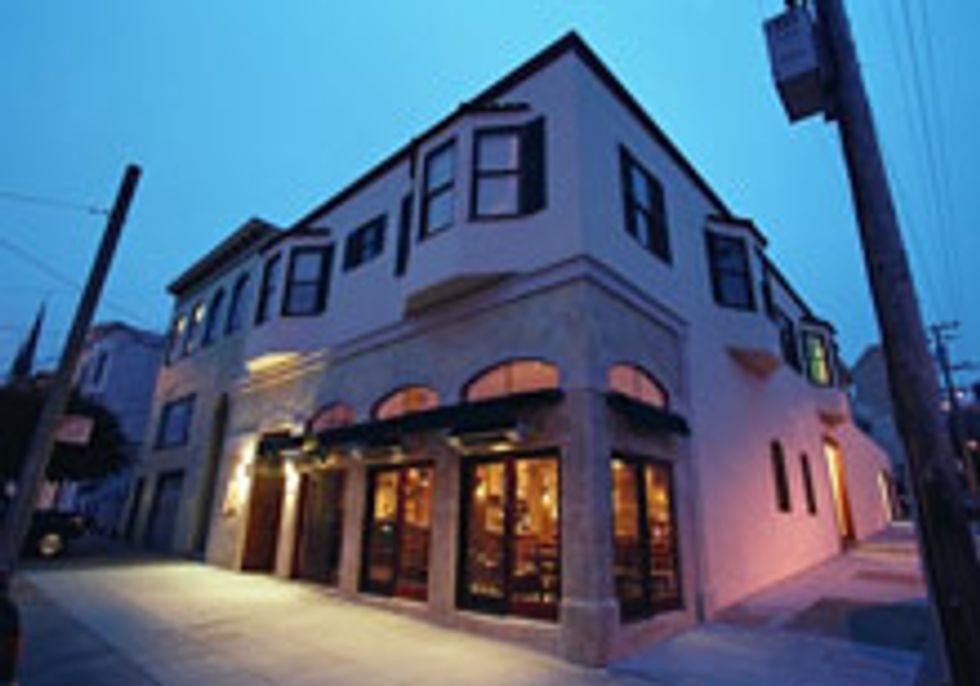 CC:
If you buy a radish you eat the greens and the radish. You learn to use the entire thing. We have a tendency to just throw things away. If you're willing to sacrifice an animal for food than you should be willing to eat the whole thing. If you've got bruised strawberries, make fucking jam. It's not hard, just pay attention, and use all of your resources. Ultimately, what we need to worry about is getting people enough good food to eat. I've told kids I'm a chef and had them ask me "McDonald's, Burger King, or KFC?" That's fucked up.
G:
Seasonal eating is more sustainable, too. Have we forgotten when to eat what?
CC:
Find a recipe for the season and maximize what you have when you have it. When the season for a food is upon us, use the whole ingredient. Use all the tomatoes in the summer, use all the squash in fall. Instant noodles have been around longer than international air travel. Everyone wants convenience and ease. There's nothing wrong with wanting these things, but there's nothing wrong with working for something either.
Porchetta di Testa photo by Lisa Hamilton; Chris Cosentino photo by Michael Harlan Turkell; Pig's Head photo courtesy Chris Cosentino; Incanto restaurant photo courtesy Incanto.
Learn more at
Offal Good
and
Boccalone
.