Articles
This Gourmet Restaurant Lends its Kitchen to Aspiring Chefs
The Oakland-based Guest Chef lends up-and-coming chefs a kitchen and staff—no start-up capital required.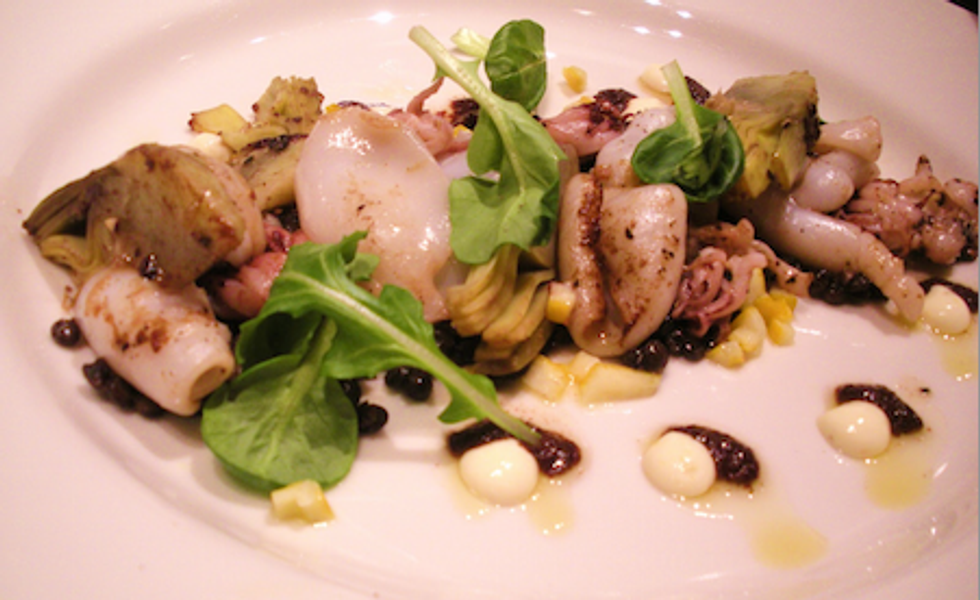 I'd love to recommend a delicious dinner that I recently ate: organic winter greens with Shinko pear; Laura Chenel goat cheese fritter; wild mushroom and black truffle tagliatelle with caramelized Brussels sprout; roasted sugar plum squash ravioli, and homemade whole wheat focaccia with a hint of sea salt.
---
But by the time you read this, the elegant rustic menu I sampled—as well as the chef who crafted it from local ingredients—will probably be long gone. That's because I ate dinner at Guest Chef, a new Oakland eatery that's equal parts Top Chef, pop-up boutique, and recession-era resume-builder.
Guest Chef is the brainchild of Bay Area real estate developer Scott Cameron. Simply put, it is a permanent space without permanent cooks. The way Cameron sees it, starting a new cafe shouldn't be a precarious recession career move for aspiring chefs. So the 20-seat restaurant changes hands every two weeks as a new emerging or established chef takes over with access to a fully stocked kitchen, wine reserve, and three-person base staff of dishwasher Manuel and servers Kristen and Shannon. The two-week window ostensibly gives the chefs a chance to find out if they are confident and skilled enough to impress area crowds with their adventurous long-term ideas.
So far, it's working. Local firefighters drew a crowd in early November when they prepared a benefit dinner for the venture's inaugural event. Since then, cooks have ranged from Eva Santillanes, a grandmother from Zacatecas, Mexico with no industrial kitchen experience, to Michelin-Star-winning Joseph Humphrey. In between, Italian Slow Food expert Vera Ciammetti and recent Bay Area transplant Greg Lutes—the man behind the best meal I've had this month—have lured customers in with the promise of something unique and sometimes unknown.
The effort began with an empty kitchen. Last year, chef Mark Valentine—a friend of Cameron's—suggested that they find a creative use for an unused space along a gentrifying Oakland neighborhood's main drag. With no previous restaurant management experience, Cameron wasn't entirely sure how the experiment would turn out. "We thought we'd be a brick and mortar food truck," he says of the restaurant's initial promise. But without a take-out option, it quickly became clear that the menu would need to be pricey enough to accommodate slow nights and weeks with lesser-known chefs at the helm (on the current restaurant menu, entrees start at $16). Acclaimed chef Humphrey spent his two Guest Chef weeks running a wait list and wowing investors set to bankroll his own 10,000 square foot bistro, Dixie, slated to open this spring.
Chefs like Lutes, with 20-plus years experience but less local name recognition, have to work a bit harder to lure in hungry locals. Many of the visiting cooks do their own PR for their Guest Chef stints, and those with faraway families and friends show off for the Kitchen Cam, a live stream broadcast on the restaurant's website. After Cameron takes a cut to cover base costs, each chef leaves with whatever profits are left. Lutes says he took the deal to continue building his personal brand while working hard at what he already does well. "I'm like an artist in a gallery," he says. "An artist doesn't wait for a buyer to arrive in order to start painting. I'm here to cook my food and work on my craft. If people come in, I will be happy to share my passion and cook for them."
Cameron's application process involves a surprisingly limited amount of cooking—mostly, it's paperwork. He receives two or three applications each week. Several are called in for interviews based on their sample menus and pay a $500 deposit if selected for the roster. Noting that "food business people can be notoriously flaky," Cameron is reticent to book cooks more than a few months out. But so far, not a single chef has bailed on the job. The response from departing cooks has also been positive. "Chefs uniformly said they'd love to do it again," Cameron notes. "They all say they're sad when it's time to go—even a guy like Humphrey."
Cameron believes the novelty won't wear off any time soon. The restaurant has a small stable of regulars that show up to try every new menu. Cameron is already fielding calls from entrepreneurs in other cities. "People in New York and Chicago want to know when we're coming to their towns," he says. He's also filmed a possible reality show pilot, but notes that in order to be TV-ready, "I might have to bring in some assholes," he says. "Everyone who has cooked here has been wonderful … that doesn't necessarily make great television."
Perhaps the biggest testament to the collaborations at Guest Chef: Cameron says that he's willing to consider long-term partnerships with his temporary chefs. If the short-term cooks are popular enough, he might be willing to go in on a permanent bistro location or two. "I own other properties around town," he says with a smile. "You never know."
Photo courtesy Greg Lutes