Articles
Unbelievable: Berkshire-Hathaway Stock Goes Up When Anne Hathaway Is in the News
The "Hathaway Effect": How Anne Hathaway makes the stock market rise and fall.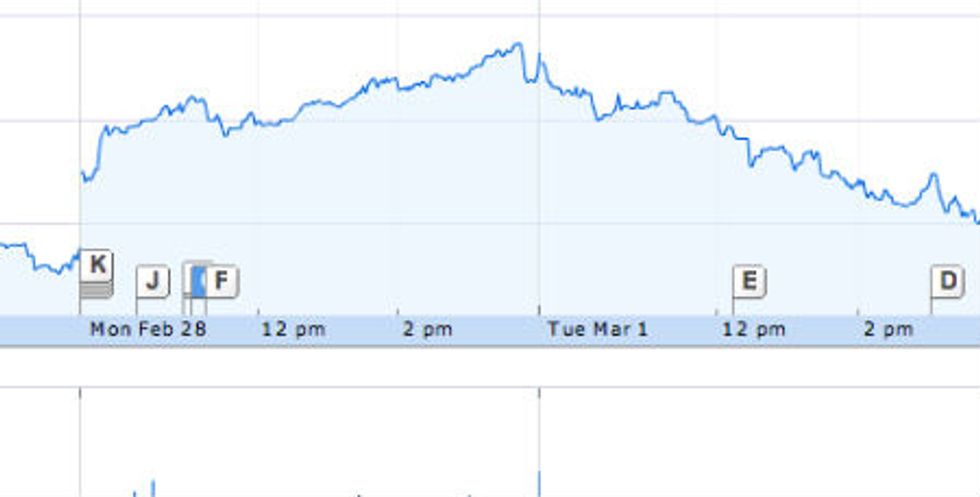 The graph above depicts the nearly three-point rise of Berkshire-Hathaway shares on the day after this year's Academy Awards. Although the actress Anne Hathaway, co-host of the 2011 Oscars, has nothing to do with the conglomerate corporation, author Dan Mirvish seems to have found
a correlation
between her and the company: Every time there's a lot of news chatter about Anne Hathaway, Berkshire-Hathaway, which is headed up by Warren Buffett, sees a jump in its stock prices. The evidence (BRK.A is Berkshire-Hathaway's trading name):
Oct. 3, 2008 - Rachel Getting Married opens: BRK.A up .44%

---

Jan. 5, 2009 - Bride Wars opens: BRK.A up 2.61%

Feb. 8, 2010 - Valentine's Day opens: BRK.A up 1.01%

March 5, 2010 - Alice in Wonderland opens: BRK.A up .74%

Nov. 24, 2010 - Love and Other Drugs opens: BRK.A up 1.62%

Nov. 29, 2010 - Anne announced as co-host of the Oscars: BRK.A up .25%

\n
What's more, on the Friday before the Oscars, BRK.A saw another two-percent increase.
Mirvish blames this phenomenon on automated trading programs scouring the internet for stories about "Hathaway" and then applying that data to the stock market, completely unaware of the difference between a Nebraska-based business and a celebrity actress. If he's right—and I hope he's not—it's a bit terrifying that our financial markets can be manipulated like this. Nevertheless, a word to the wise investor: Hathaway the actress will be starring as Catwoman in 2012's The Dark Knight Rises.