Articles
Share These Winning Recipes from Our Redesign Project Winners Announced: Redesign the Recipe
We asked you to redesign the recipe. The winners are in and that means one thing: Time to get cooking.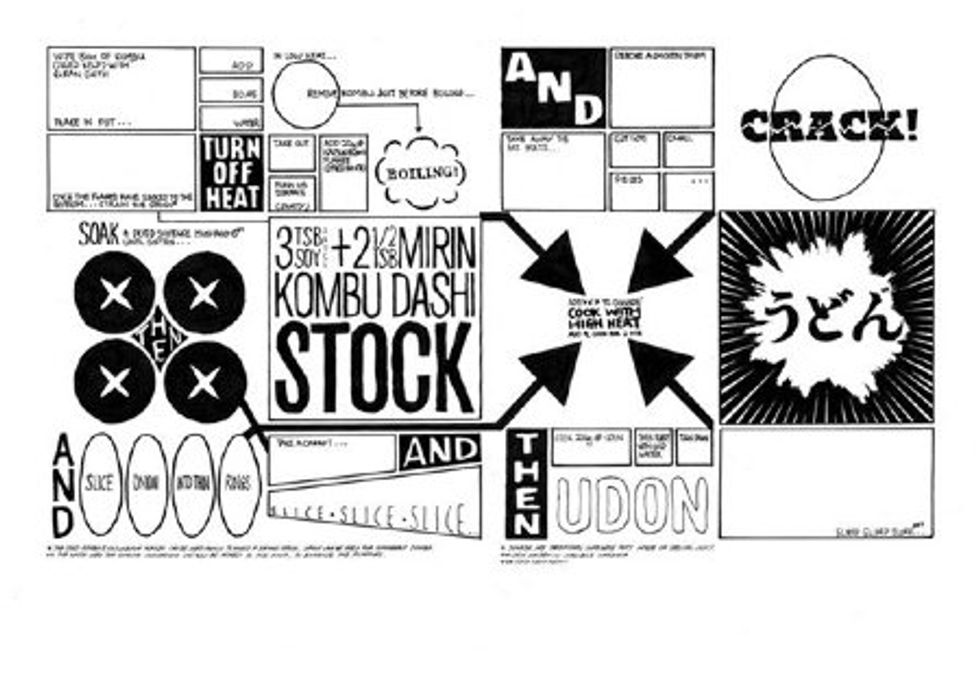 ---
We're happy to announce the winners of our
project to design a better recipe
, which resulted in a creative outpouring that we hope will inspire home cooking, dinner parties, and maybe even a cookbook or three.
Our multiple judges couldn't agree on an overall leader from among the long-list of 22 entries, so we've selected three of the best redesigned recipes as joint winners.
Our first judge, Jessica Helfand—founder of Design Observer and the author of Reinventing the Wheel, a great book about volvelles, kitchenette wheels, and citrus calculators—chose Jenny Teng's udon (above). Helfand writes:
My vote goes to Jenny Teng for her simple, smart, deeply engaging idea. While I am not now nor have I ever been a comics person (other than the fact that I'm a huge Scott McCloud fan), this direction really brought it home for me. In my experience, you want a recipe to be easily comprehensible—meaning that as much as you need clarity about the 1/8 dash of cumin, you also need a sense of the gestalt of the thing. (The recipe entries that included photography helped with this; the more complex information graphics did not.) And on the subject of information graphics, let me say just this: food is messy, visceral, human. I personally have trouble seeing it reduced to neat, nice metrics. For my money, Teng's recipe is at once clear and readable, and simple to digest: curiously, though photography-free, she conjures a sense of the temporal and formal issues facing the cook in a way both witty and wise. I vote for an entire volume of these.

\n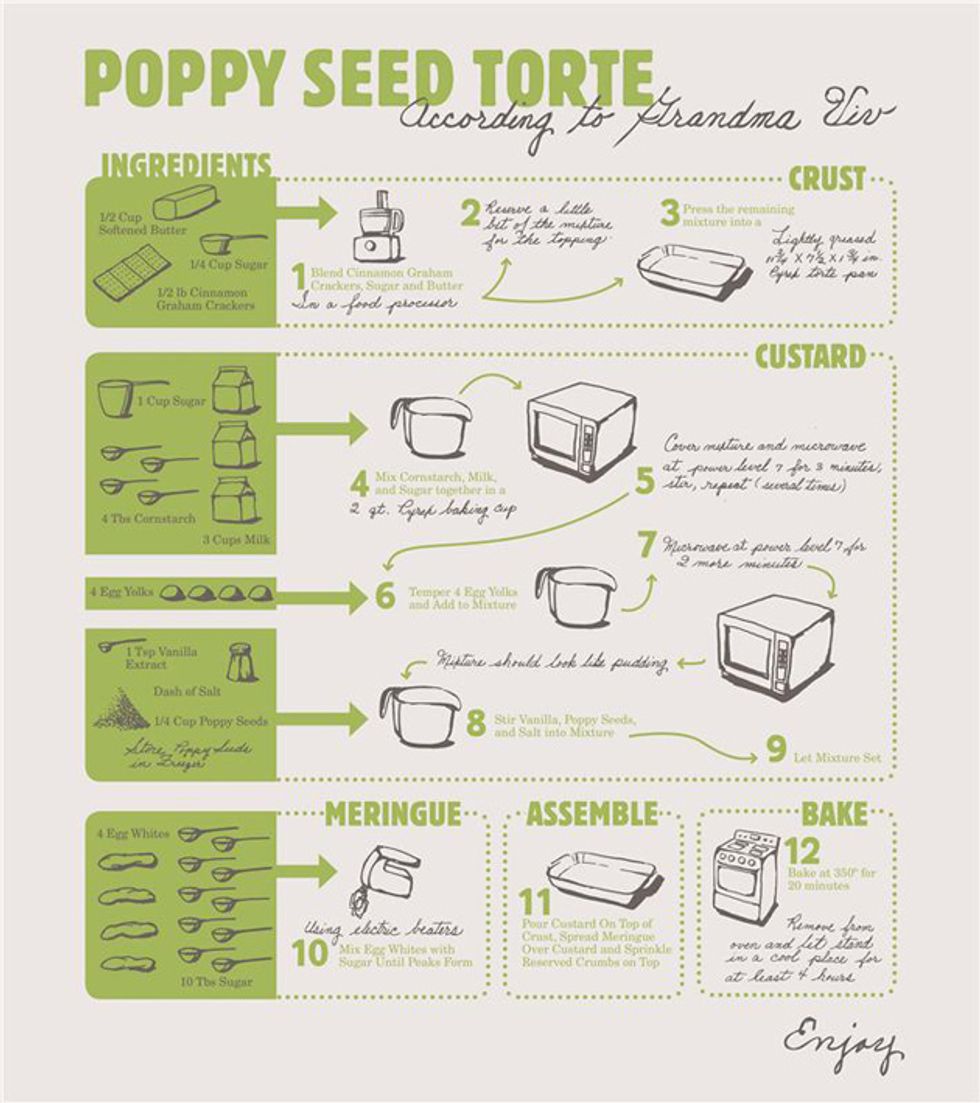 Our second judge,
Wylie Dufresne
—chef at wd~50 and the creator of incredible
edible egg shells
—selected the poppy seed torte recipe (above) submitted by
Jessie Krier
. Dufresne writes:
Jessie Krier nailed the assignment. Her submission was not only visually compelling but also successfully satisfied the basic requirements of a recipe: It showed the reader exactly how to cook the dish. Her graphic step-by-step illustration managed to translate an otherwise intimidating technique—pie crust—into a totally doable task. And her handwriting and drawings added a personal touch to the finished recipe. Above all, though, this format could be applied to virtually any dish, to great effect.

\n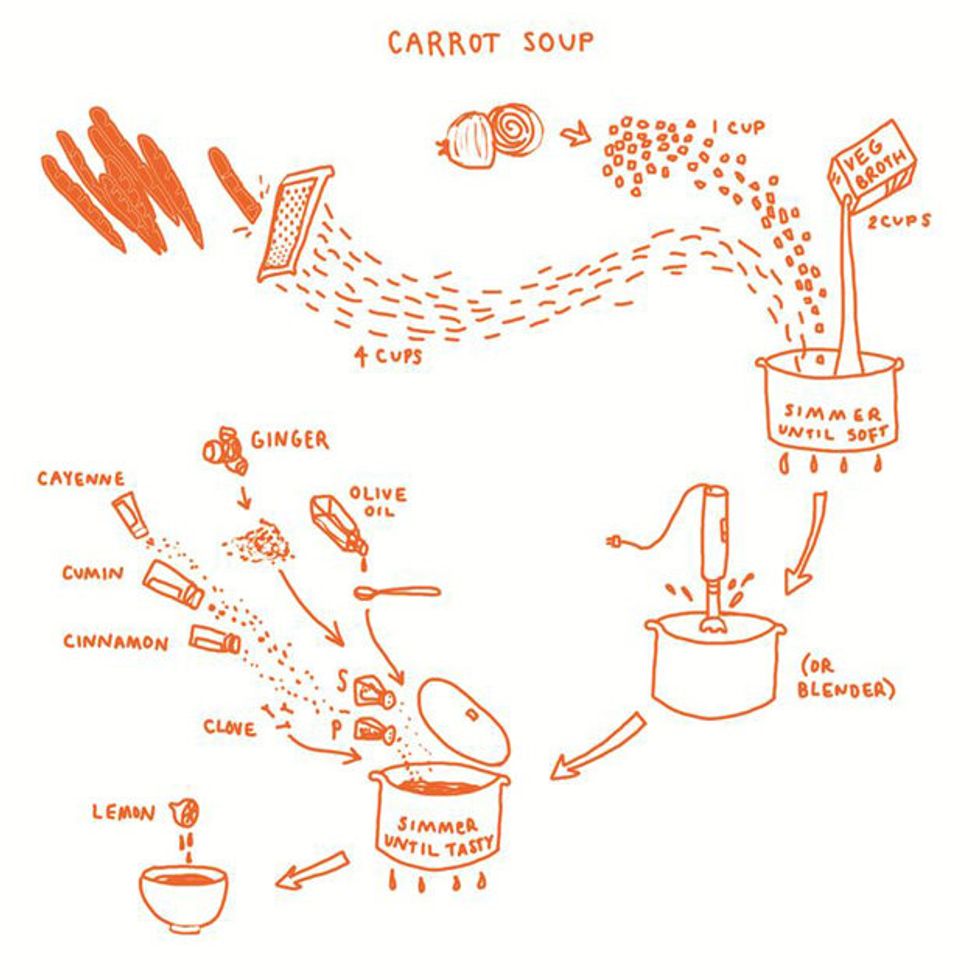 And you, our dear readers, weighed in on the contest online and voted for
Katie Shelly
's carrot soup.
We're hoping you'll want share these recipes and create a couple of soups and someone else's heirloom torte. And if you do try them at home, please let us know how they work out in the comments.
As a reward for their creativity, Teng, Krier, and Shelly will take home our heartfelt congratulations as well as a GOOD subscription and a T-shirt. Meanwhile, if you're still looking for recipe redesign inspiration, you should check out all the excellent submissions here.