Education
A single school district stole the show, thanks to shout-outs from Dave Chappelle, John Oliver, and a viral Twitter hashtag.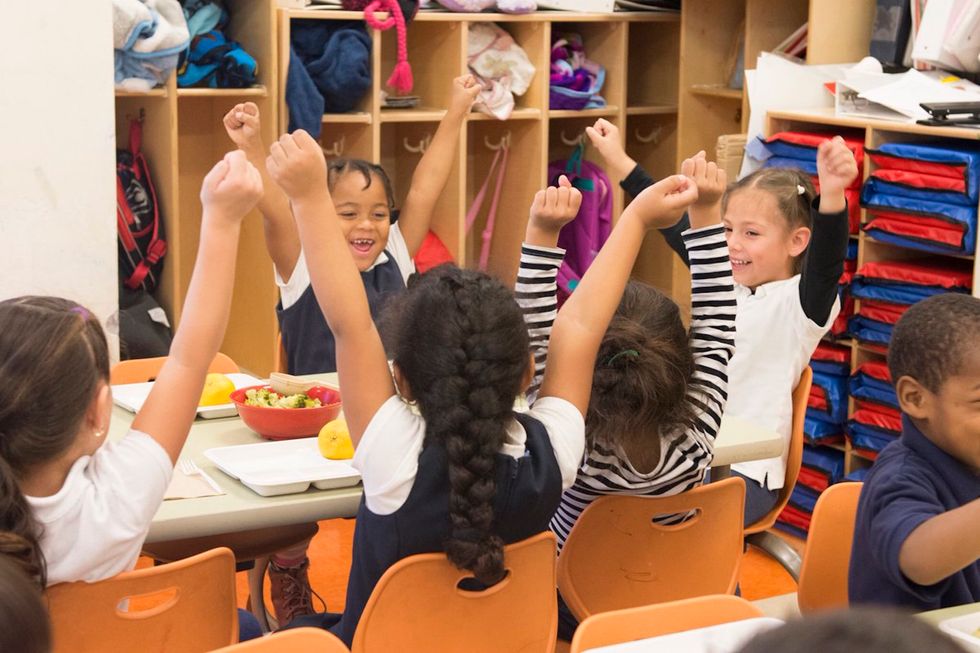 Hollywood's biggest stars aligned Sunday evening in Los Angeles for the 69th annual Primetime Emmy Awards. While many are still buzzing about Lena Waithe and Donald Glover's history-making wins — Waithe is the first black woman to win an award for comedy writing while Glover is the first black person to win best director for a comedy series — an unlikely winner also emerged during the show: Washington, D.C.'s public schools.
Comedian Dave Chappelle was the first to shout out D.C. Public Schools when he took the stage to hand out the Emmy for best director in a comedy series. Though Chappelle admitted to improvising most of the dialogue leading up to the award, before announcing the names of the nominees he joked, "Now I'm going to read this teleprompter," he said. "Please forgive me. Shout out to D.C. Public Schools."
---
Chappelle wasn't the only one to send love to D.C. Public Schools. "Last Week Tonight" host John Oliver also acknowledged the district's students and teachers during his acceptance speech for winning Best Writing for a Variety Series.
"Like Dave Chappelle, I would like to unexpectedly thank D.C. Public Schools because I think it would be great if it started trending on Twitter for no reason tonight whatsoever," Oliver said before encouraging Twitter users to "please use the hashtag #DCPublicSchools."
Almost immediately #DCPublicSchools began trending on the social media platform, with many using the hashtag as an opportunity to shine a light on the district's students and teachers.
Shout-out to #DCPublicSchools. I live across the street from historic Eastern High School, home of Dave Chappelle, among others. #Emmys

— Charlotte Clymer🏳️‍🌈 (@Charlotte Clymer🏳️‍🌈)1505698639.0
Well #DCPublicSchools teachers do work longer days put in more time than Congress, Senate and president for 1/6th the pay and less benefits

— Jimmy Streich (@Jimmy Streich)1505701287.0
#DCPublicSchools is trending! I used to work with DCPS students. Shout out to the DC young ppl and the hard working teachers! #Emmys

— día bùi (@día bùi)1505698144.0
While #DCPublicSchools is trending, here's how you can volunteer with them! #Emmys https://t.co/3dD8WMgsG1

— philip lewis (@philip lewis)1505698662.0
D.C. Public Schools' social media manager must have been watching the show, because soon after Chappelle and Oliver shouted them out, someone from the district took to Twitter to thank the comedians and share their plans for the future.
Us right now. #dcpublicschools #emmys https://t.co/CqZTetOLPd

— DC Public Schools (@DC Public Schools)1505698933.0
Hello, #Emmys friends! We're a district on the rise, and we're happy you're here. Learn more about us:… https://t.co/LCo012ETSU

— DC Public Schools (@DC Public Schools)1505702345.0
This isn't the first time D.C. Public Schools became a viral sensation on Twitter. Earlier this month, Former President Barack Obama stopped by McKinley Technology High School to welcome a stunned group of young people back to school.