Lifestyle
The 1975's singer bravely kissed a man at a Dubai concert to protest anti-LGBT oppression
Homosexuality is strictly forbidden in the United Arab Emirates.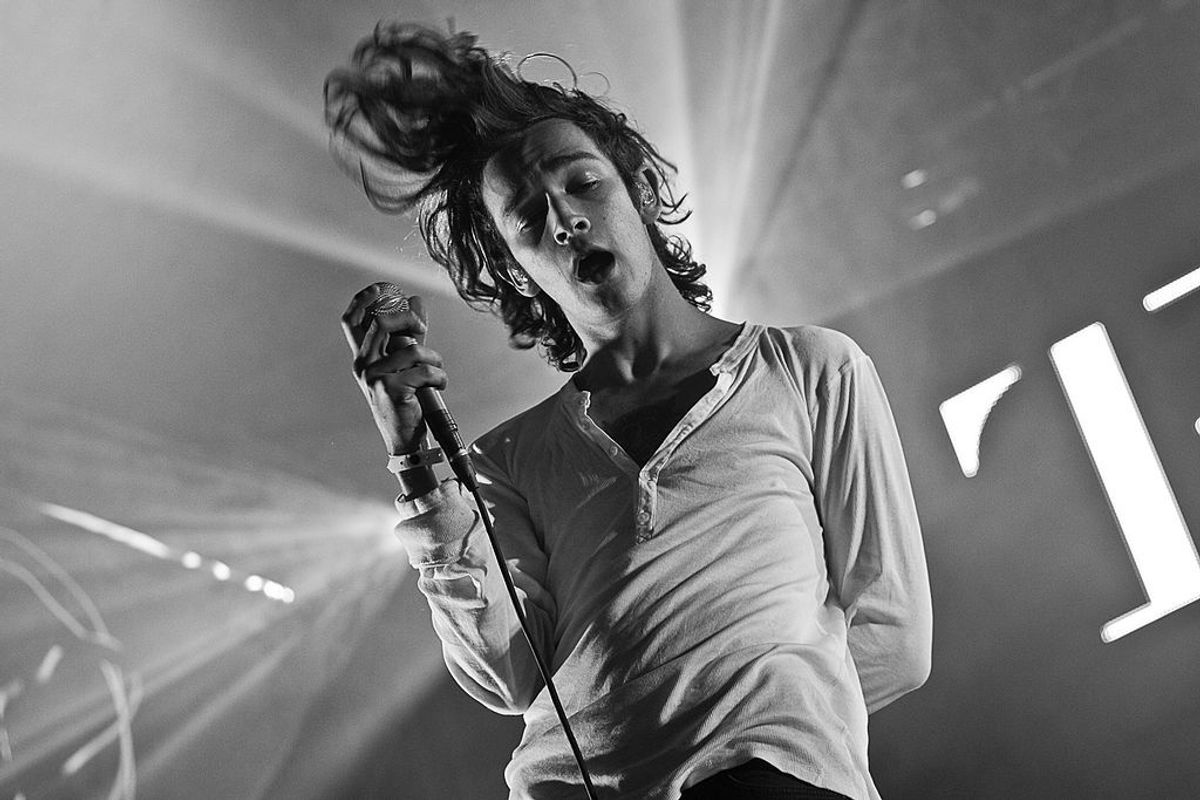 The United Arab Emirates (UAE) is a federation of seven states that s known as one of the more tolerant places in the region. But that's not saying much.
The UAE has strict rules based Sharia law that strictly forbid homosexuality. Committing sodomy on a male is punishable by death. In Dubai, any homosexual sex act can be punished by up to ten years of jail time.
A few years back, the country attempted to ban any gay foreigners from entering the country and there are no official gay clubs or organization in the UAE.
---
Matty Healy, lead singer of British band The 1975, took a major risk at a concert at the Coca-Cola Arena in Dubai on Wednesday to make a bold statement about LGBT rights.
As the band performed "Loving Someone," with rainbow-colored visuals around them, the singer went into the audience, hugged and kissed a man.

Upon returning to the stage he told the crowd: "I love you bro. We're all human, right? If you're gay, I love you and God fucking loves you."
During the concert, Healy became emotional from the stage and said that he was afraid to express himself in such an authoritarian, theocratic country.
"Sometimes, I try to help more than I have the power to actually help, and sometimes it gets me in trouble," Healy said. "I'm scared. I'm scared being here right now because I don't want to say the wrong thing. I just want… I just want us to identify as humans, and not as groups of individual, different people."
"I see so much passion and pain, and I know what you guys are going through, and I know that you're not representative of your government," he continued. "I can't do this without saying anything, I can't do it without saying anything. I'm sorry, I just can't do it, so if you want to arrest me for lifting my shirt or swearing or whatever… I'm just doing this out of love and I love you guys, and I'm sorry if I upset you."
After the concert, Healy thanked Dubai but said the band probably won't be coming back.
Thank you Dubai you were so amazing. I don't think we'll be allowed back due to my 'behaviour' but know that I love you and I wouldn't have done anything differently given the chance again
— 🥾🌍 (@Truman_Black) August 15, 2019
Healy's actions were brave and he put his personal safety on the line to make a statement; however, not everyone is happy about his actions. He put the life of the man he kissed in serious danger. Footage of the kiss showed up online, but was pulled down abruptly due to safety concerns.

Unfortunately, it doesn't appear as though things will change anytime soon in the UAE when it comes to LGBT rights. A recent Gallup poll found that Muslim attitudes in the region are overwhelmingly anti-gay with around 90% saying that homosexuality is not moral.