Politics
'Are you against evil?': Even Fox can't stand Trump's inability to denounce white supremacists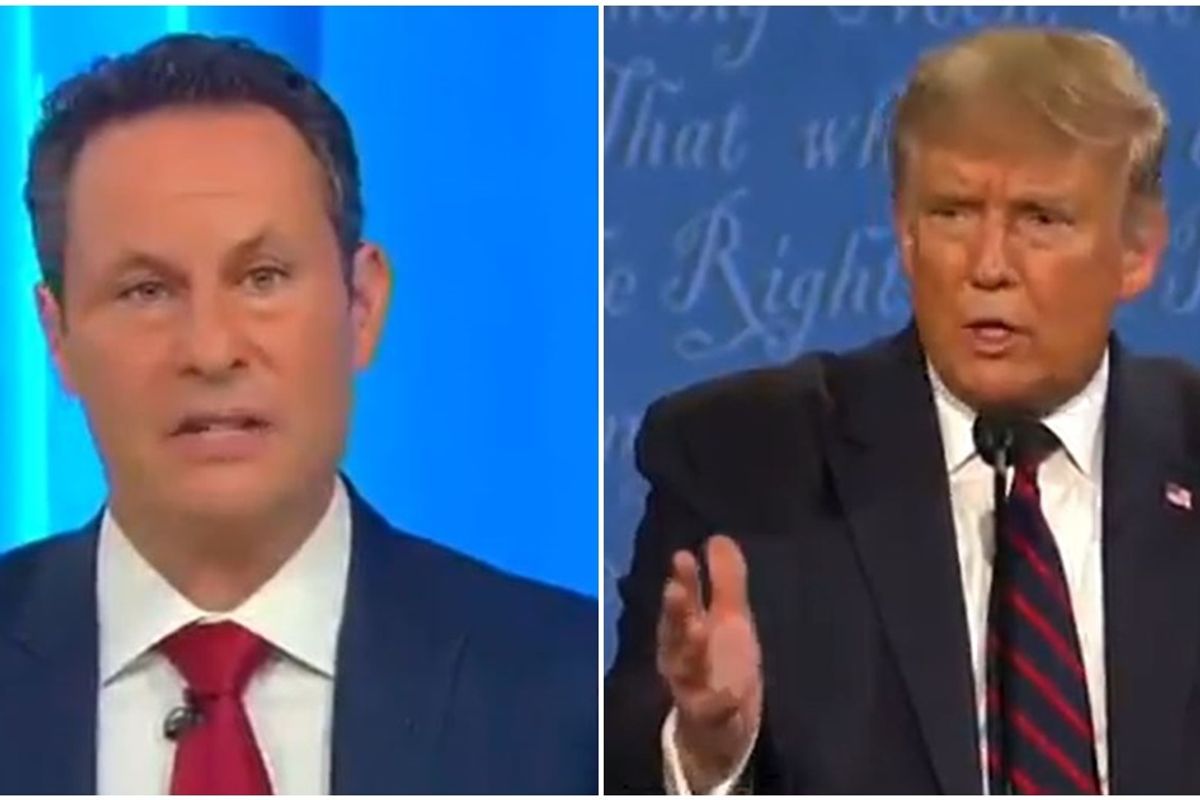 President Trump proved, once again, that he has a really hard time denouncing white supremacists during Tuesday night's presidential debate. The president's obvious racism was so explicit that Fox News couldn't even find a way to give him a pass.

During the debate, moderator Chris Wallace of Fox News asked Trump point-blank if he'd denounce white supremacists and the president failed to do so with any conviction.
---
Chris Wallace: "Are you willing, tonight, to condemn white supremacists and militia groups and to say that they nee… https://t.co/S58cOWUbQx

— Axios (@Axios) 1601432124.0
"You have repeatedly criticized the vice president for not specifically calling out Antifa and other left-wing extremist groups," Wallace said to Trump.

"But are you willing tonight to condemn white supremacists and militia groups and to say that they need to stand down and not add to the violence in a number of these cities as we saw in Kenosha and as we've seen in Portland?" Wallace continued.
"Sure, I'm willing to do that," Trump responded.
"Are you prepared specifically to do it?" Wallace asked.
"I would say almost everything I see is from the left-wing, not from the right-wing," Trump said.
"But what are you saying?" Wallace followed.
"I'm willing to do anything. I want to see peace," Trump said.
"Well, do it, sir," Wallace prodded.
"What do you want to call them? Give me a name, give me a name, go ahead, who do you want me to condemn?" Trump requested.
"White supremacists, white supremacists and right-wing militia," Wallace noted.
Biden chimed in mentioning the Proud Boys, a white nationalist hate group.
"Proud Boys, stand back and stand by," Trump replied.
Wallace's attempts to get Trump to do a very simple thing: denounce white supremacists, was like pulling teeth. Anyone with an ounce of moral courage would have no problem proudly and clearly denouncing groups such as the Proud Boys, but Trump just couldn't do it.
The back and forth was reminiscent of his response to the 2017 Unite The Right Rally that killed one person in Charlottesville, Virginia. Trump claimed that in the clash between white supremacists and counter-protesters that there were "very fine people on both sides."
Trump's inability to simply denounce racists who promote hatred was even condemned on the pro-Trump "Fox & Friends."
Brian Kilmeade: "Donald Trump ruined the biggest layup in the history of debates by not condemning white supremists… https://t.co/9sNdDHVB5V

— Bobby Lewis (@Bobby Lewis) 1601462368.0
"Donald Trump ruined the biggest layup in the history of debates by saying—not condemning white supremacists. I don't know if he didn't hear it, but he's gotta clarify that right away," host Brian Kilmeade said Wednesday morning.

"That's like: Are you against evil?" he continued. "Why the president didn't just knock it out of the park, I'm not sure."
Trump has yet to clarify his comments.
Kilmeade was right to speak out against Trump's remarks but he also attempted to give him some wiggle room by claiming he possibly didn't hear the question. That excuse is highly unlikely because Trump and Wallace had a long exchange about the specifics of the request.
Kilmeade also didn't have to ask "why" the president refused to denounce white supremacists because he's done it before. We all know why he doesn't denounce white supremacists, that's because he has a long history of publicly supporting racists and making prejudiced statements himself.
It's not hard, Brian.