Articles
#18DaysInEgypt, A Crowd-Sourced, Social Media Fueled Documentary in the Making
Using new technology and social media sites like Twitter and YouTube, a group of documentarians is creating a history of the revolutions.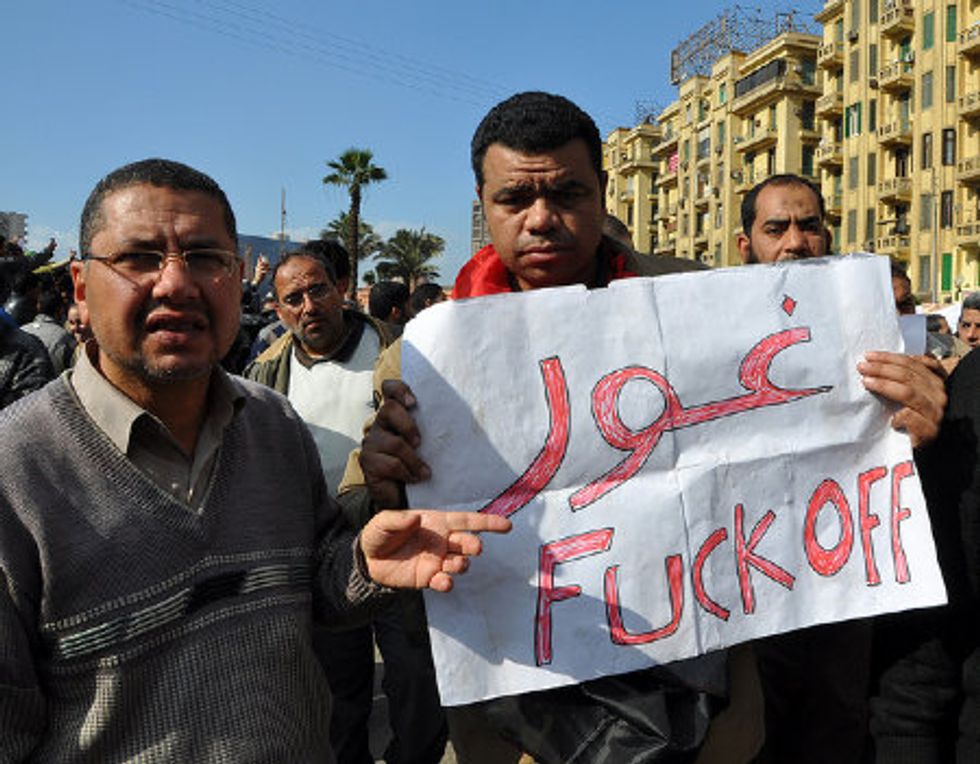 All eyes remain on the Middle East. And for good reason. The protests in Egypt last month ended 30 years of rule by Hosni Mubarak in just 18 days. Egypt's proverbial tip of the iceberg resulted from the so-called "Jasmine Revolution" in Tunisia, where after 23 years, President Zine el-Abidine Ben Ali was forced out of office after street protests erupted against his leadership. Now it's time to start collecting a history of these swift revolutions. And you can participate!
---
To chronicle the Egyptian revolution, the #18DaysInEgypt project has created a hybrid of social media, citizen journalism, and documentary film-making to tell the story of Egypt in real time. Launched by Jigar Mehta, Yasmin Elayat, and Alaa Dajani, the crowd-sourced documentary project is relying on social media sites like Flickr, Twitter, and YouTube to be the palette against which people can share their experiences as events unfold.
Anyone in Egypt can participate simply by tagging media appropriately (i.e., the date on which the documented event occurred, the place at which it occurred, other distinguishing bits of information) to keep everything easily searchable. The #18DaysInEgypt team will then search the web for the relevant tags and collect links to all the media. They are also working on tools that enable people to share their photos and videos via SMS and MMS. (How they plan to sort out the rights to all the media and content is a question for later.)
The project is a clever, and the team behind it deserves credit for launching it so quickly, while the energy is still high and the photos aren't yet deleted to make room for the new round of media uploads from Tahrir Square. But the project may end up being more than just an archive of snapshots.
The success of a project like #18DaysInEgypt may shape how documentarians find their material and reach their audience. The project will provide on-the-ground insight into the political and social dimensions of what a movement of this kind means for MENA countries and others around the world.
Despite the volume of footage on the Middle East, observers in other countries are often unsure of how to help. More than 50 percent of the populations living in MENA countries are under the age of 25. Unemployment rates are at approximately 40 percent, but literacy rates are 80 percent, if not higher. According to the World Bank's Doing Business 2011 report, it takes an average of 20 days and 38 percent per-capita income to start a business in the MENA region. People living in countries like Egypt and Tunisia are capable of rebuilding their countries economically and socially. There is need for political reform, but clearly, there is another huge opportunity in these countries for social entrepreneurship to address current challenges. For the MENA region, social entrepreneurship could engage and harness the ingenuity of its young peoples to rebuild.
There is no such thing as a crystal ball: How the unrest in MENA countries will play out cannot be predicted. However, thought can be put into what comes next. Egypt will hold elections later this year and the people will decide what direction the country should take. To support a successful new vision, who better to decide the social, environmental, and political fitness of a country than its young, energetic, and empowered citizens?
Nisha Kumar Kulkarni is a Senior Associate at Beyond Profit where a version of this article appears.
Image: (cc) by Flickr user Floris Van Cauwelaert.