Articles
America's Reviving Its Highway System for Cyclists
The United States has added new routes to its national bike system for the first time in 30 years.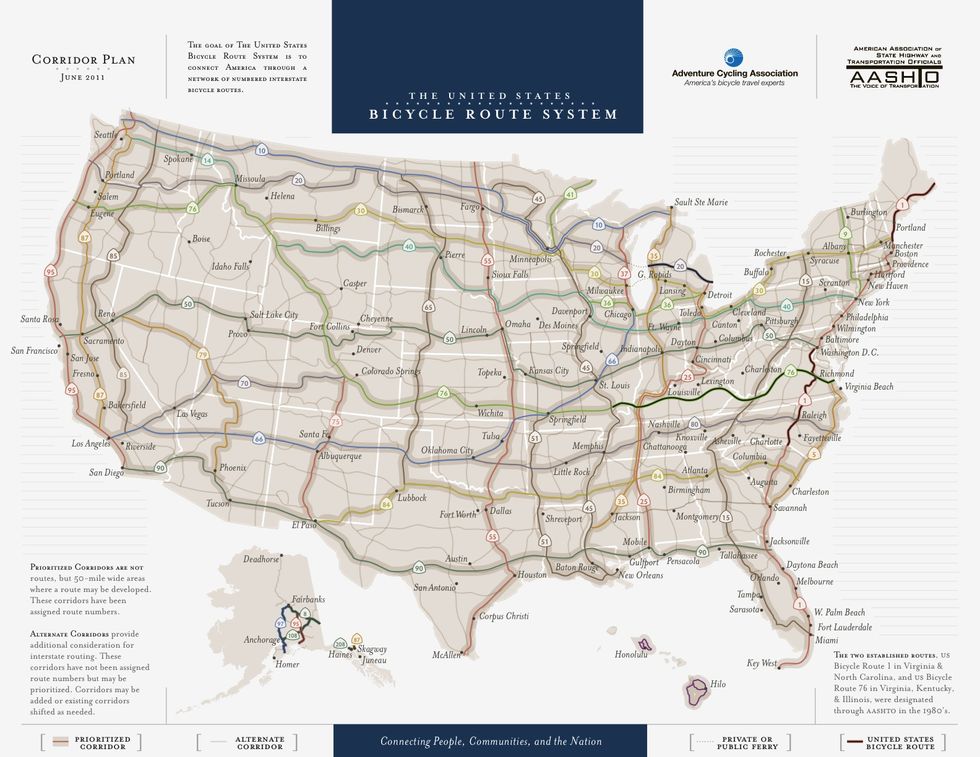 Back in the early 1980s, America started building a highway system for cyclists—a grand national grid of bike paths. The first two stretches of the U.S. Bicycle Route System were going to run from Maine to Florida and from Virginia to Oregon. But only small parts of those routes were ever made official and the idea lost steam. Why build infrastructure for a prehistoric mode of transportation like the bicycle? Who's going to need that in the 21st century?
---
Well, as it turns out, biking is on the rise. Americans made 4 billion biking trips in 2009, compared with just 3.3 billion in 2001. With this new interest in cycling, the idea of a national network of bike routes is back. As U.S. Secretary of Transportation Ray LaHood recently noted on his blog, the Association of American State Highway and Transportation Officials has approved the first new routes in the national bike system in more than 30 years. The six new routes are in Maine, New Hampshire, Michigan, and Alaska. The AASHTO has also released a map showing "prioritized corridors," to be developed as other states get on board. The idea is to eventually have a comprehensive network of routes crisscrossing America.
There might be a great Los Angeles-to-New York bike path you can use for that cross-country trip pretty soon. Now you just have to find three free months for it.