Articles
Christopher Hitchens Would Make A Lousy Terrorist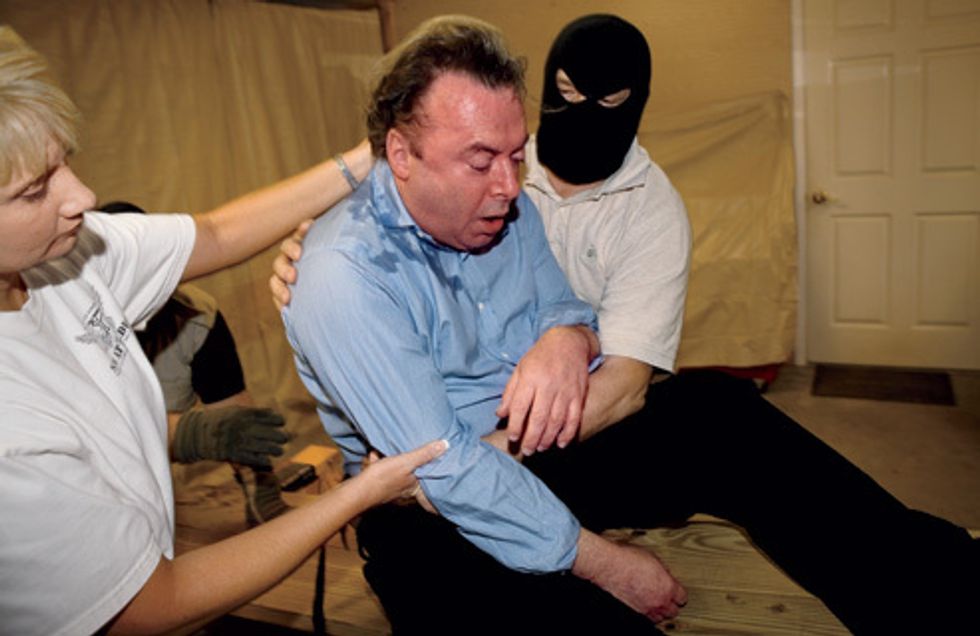 ---
Charming British journalist and long-time writer for Vanity Fair Christopher Hitchens
undergoes one of the CIA's most fave "interrogation practices"
- waterboarding-(and there's a
video
) to help answer the question, "is it torture?" Most of us are no longer grappling with this, but there are some people at the top who
still need convincing
.
Naively, we initially scoffed at the mere matter of seconds he held his own, but apparently waterboarding is just
really efficiently persuasive
. A group in New York City is recruiting fifty lawyers for an undertaking similar to Hitchens's: waterboarding for five seconds. See below if you practice law and have an adventurous/self-sacrificing side.
LAWYERS WANTED FOR NYC WATERBOARDING EVENT: Step Up And Ride the Waterboard of Terror
An Experimental Art Event Presented by Steve Powers and Creative Time
WANTED-Fifty courageous lawyers willing to be waterboarded for five seconds. Volunteers will be strapped to a wooden board and have water poured over their face to simulate drowning. You will be required to sign a release and attend one short training session prior to the event.
IS IT SAFE? Yes. The waterboarding will be carefully supervised and last for a maximum of five seconds. Trained medical personnel will be on hand. Volunteers will be able to stop the waterboarding at any time by ringing a bell.
WHY? We're interested in whether waterboarding is torture. Now that this question has been handed over to the courts, who better to answer it than trained legal professionals?
Write to ridethewaterboard@gmail.com for more info.
(Thanks Morgan)
Photo via
vanityfair.com