Articles
Coke Joins the Navy (Chair)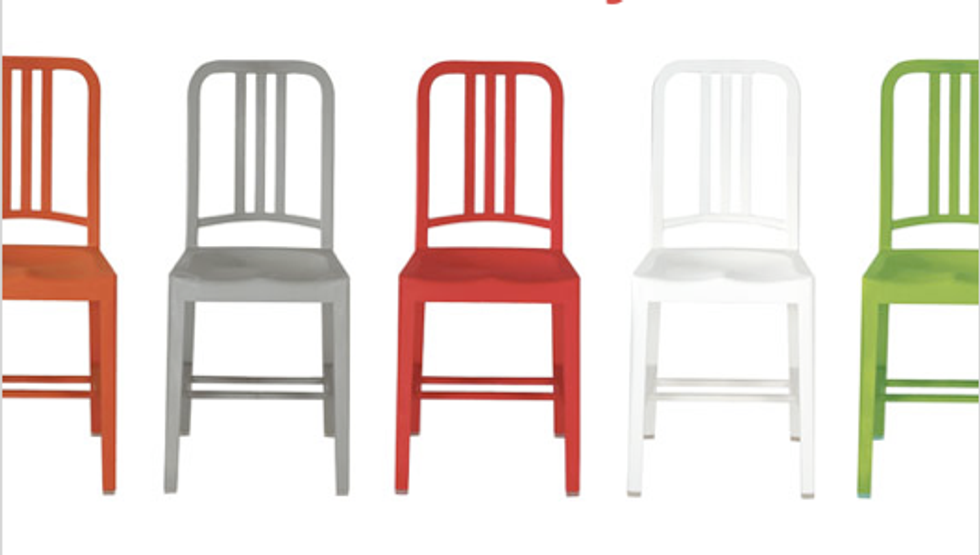 ---
The design blogosphere has been abuzz the past couple weeks with previews of designs making their debuts at the 2010
Milan Furniture Fair
which kicks off on Wednesday. A couple of eco-designs that have caught my attention are the stunning, scrap-tastic
Armiadature
closet and a stylishly understated, soda-centric showstopper: the
111 Navy Chair
, a collaboration between
Pennsylvania
-based,
sustainability-minded
chair manufacturer
Emeco
and friend-of-MNN,
Coca-Cola
. Yep, Coke.
Normally, Emeco (Electric Machine and Equipment Company)—a company that got its start crafting aluminum chairs for U.S. Navy warships during World War II—constructs its built-to-last, stronger-than-steel seats out of 80 percent recycled aluminum in a painstaking, 77-step process. For the 111 Navy Chair, a green redux of the now-iconic 106 Navy Chair, Emeco is adding a new material to the mix: recycled plastic soda bottles diverted from Coke's Spartanburg, S.C., plastic bottle-to-bottle
recycling
plant.
The
goal
of the collaboration between Coke and Emeco is commendable; to "alter consumer behavior by illustrating the value of rPET (recycled polyethylene terephthalate) with beautifully designed and everyday products—ultimately encouraging more recycling."
Each 111 Navy Chair is made from about 111 20-ounce recycled PET Coke bottles (and other materials like glass fiber) and will be available in six "earth-inspired" colors selected by
Laura Guido-Clark
: Coca-Cola Red, Snow, Flint, Persimmon, Grass and Charcoal. After debuting in Milan, they'll officially hit North American shores in May and be available for purchase at
Design Within Reach
and directly through
Emeco
in June. The cost for each recycled plastic chair? $230, about half of the current price for the original
Emeco Navy Chair
.


Says


Emeco chairman Gregg Buchbinder of the collaboration:
When Coca-Cola approached me with this project I jumped on it. Although reengineering a core product is a significant investment for us, I was excited about the impact of reusing the PET from about three million plastic bottles a year. That's a lot of bottles and a lot of chairs. The new chair is the strongest, and most beautiful we can make. We've turned something many people throw away into something you want and can keep for a long, long time.
When all is said and done, Emeco estimates that after a year of producing the 111 Navy Chair, a whopping 300 million PET bottles will be used. Quite impressive. I don't know how easily I can reach that magic "111" number, but this diet soda-guzzling blogger is more than willing to hoard a few empties for the sake of a new chair (hint, hint). Click
here
for more info on and images (including a nifty photoblog) of the 111 Navy Chair.
\n