Articles
Feast Your Eyes: Video Tour of Jamie Oliver's Food Revolution Truck
Jamie Oliver has unveiled his brand-new Food Revolution truck, complete with 8 kitchen stations and an inflatable stage.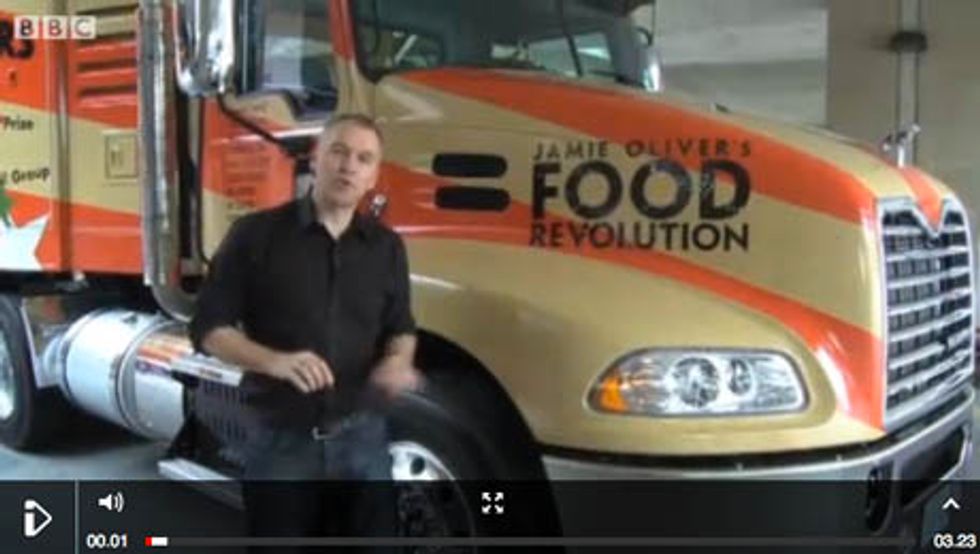 ---
Yesterday, as part of an update on
his 2010 TED wish
at this year's conference, Jamie Oliver unveiled his new
Food Revolution
Truck—
click on the video above for a guided tour
.
Designed by David Rockwell, who is known for his theatrical, over-the-top Vegas interiors as well as the set for the 2010 Academy Awards, the truck features several plasma screens, eight fully-functional kitchen stations, and an inflatable stage. It can fit a class of 40 students, as well the obligatory camera crew, and will be used for classes, demonstrations, and events that will teach children and their parents how to prepare affordable, nutritious meals.
Given that Oliver's bricks-and-mortar Food Revolution kitchen in Los Angeles is located in the wealthy neighborhood of Westwood, the truck is an essential part of his plan to bring the Food Revolution to underserved communities such as South L.A., Boyle Heights, Long Beach, and Santa Ana.
As part of the same presentation, Jamie Oliver and the American Heart Association also announced the formation of a partnership to open five more Food Revolution Kitchens within the next 18 months, in New York, Los Angeles, Cleveland, Baltimore, and Dallas.