Articles
Food For Thinkers: Edible Architecture
Salmon skin walls and structural systems made from spaghetti: for architect David Garcia, food is a building material with infinite possibilities.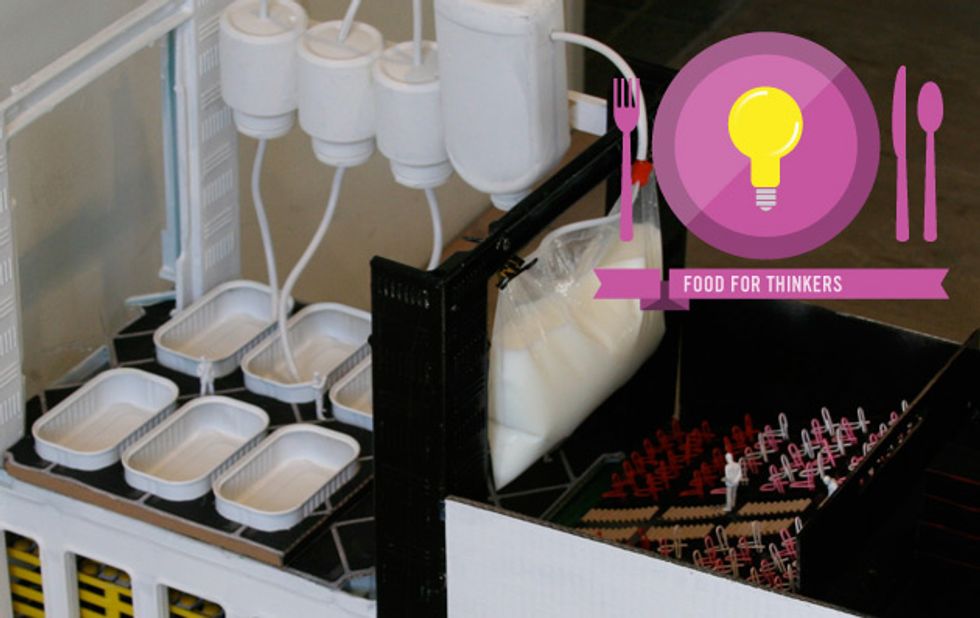 I have to admit, I'm pretty excited with how this week of
Food For Thinkers
is going. Thus far, we have rediscovered food through the eyes of
a space archaeologist
,
a graphic designer
, and
a culinary librarian
. I say "rediscovered," because I had not previously realized
what Sputnik-shaped foods could tell us about Cold War anxiety
, how
terrifyingly alien supermarket shelves might appear
if you grew up without exploring them, and how something as simple as the addition of
a childrens' section on a restaurant menu can tell a story
about a neighborhood's changing demographics.
Next up is architect David Garcia, who explains that for him, food is just another addition to his repertoire of building materials, each of which has its own formal properties and aesthetic qualities:
---
Back in 2007, I taught a workshop on hybrid programming to architecture students at the Royal Academy in Copenhagen. Part of the aim with this five-day-long exercise was to find alternatives to the traditional model-making materials, which at this school did not go much beyond cardboard and glue. To achieve this, on the first workshop day, I took the students to the local supermarket, and presented the store to them as a resource for model-making materials. From packaging to Saran wrap, and pills to broom hair, I surveyed the store with them, as a palace of alternative construction materials.

To my surprise, food was used more than I expected. One student used broccoli for columns and banana peels as flooring. Another used salmon skin to clad her building (a shortlived façade) and a third built the structural systems out of pasta (which he later steamed and the building slowly collapsed). Some included food as part of their narrative as well; the Dairy and Cinema [shown above] shared the same space, divided only by the projection screen, which was a huge suspended milk container. If the dairy sales were too good, you might only see the bottom half of the film.


Garcia goes on to discuss a living architecture made out of growing food—houses whose walls sprout mushrooms, ooze honey, or—most memorably—offer up a tasty bamboo shoot snack to the hungry visitor. Visit his website for the full article and more images, and stayed tuned for more Food For Thinkers posts coming soon.
Food for Thinkers is a week-long, distributed, online conversation looking at food writing from as wide and unusual a variety of perspectives as possible. Between January 18 and January 23, 2011, more than 40 food and non-food writers will respond to a question posed by GOOD's newly-launched Food hub: What does—or could, or even should—it mean to write about food today?
Follow the conversation all week here at GOOD, join in the comments, and use the Twitter hashtag #foodforthinkers to keep up to date.