Articles
How Will High-Speed Rail Impact Los Angeles?
Worried about Carmageddon? Come to this conversation about high-speed rail and envision a better transportation future for L.A.!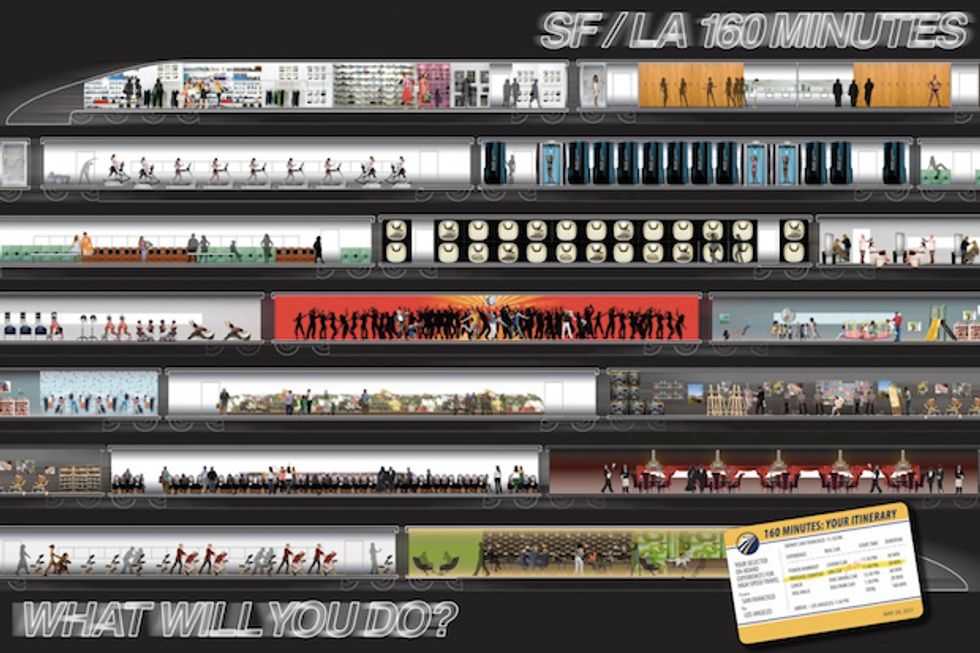 With Carmageddon right around the corner, there's no better time to talk about Los Angeles's desperate need for better transit options. The Van Alen Institute is coming to town to showcase the winners of their competition, Life at the Speed of Rail, and they're hosting a panel at Caltrans to talk about the role of design in California's high-speed rail future. We're thrilled to sponsor this event that focuses on how high-speed rail will change L.A., from shifting the city away from car culture to creating a massive transportation hub in downtown.
---
Life at the Speed of Rail
Tuesday, July 12
4:00 to 6:00 p.m.


Thom Mayne, Morphosis
Christopher Hawthorne, Los Angeles Times
Michael Lejeune, Metro
Dana Cuff, UCLA cityLAB
John Rahaim, San Francisco Planning Department
Alissa Walker, GOOD
Andrew Colopy & Diana Lind, Van Alen Fellows






Caltrans District 7 Headquarters
100 South Main Street
Los Angeles, CA 90012


RSVP at rsvp[at]vanalen[dot]org
Event flyer [PDF]
Be sure to RSVP as seating is limited. Check out the finalists from the competition (some ideas are pretty incredible) and start thinking about what questions you have about the future of transportation in L.A. See you there!
Live in Los Angeles? Join GOOD LAand you'll get one good L.A. story (like this one!) in your inbox each day. You can also follow GOOD LA on Facebook and Twitter.
Top image: What Will You Do? by Rael San Fratello Architects