Articles
Your Extra Virgin Olive Oil Is Lying to You. It's Not Its First Time.
A new study finds that extra virgin olive oil is often anything but. What can you do to get the pure olive oil you're paying for? Ah yes, the...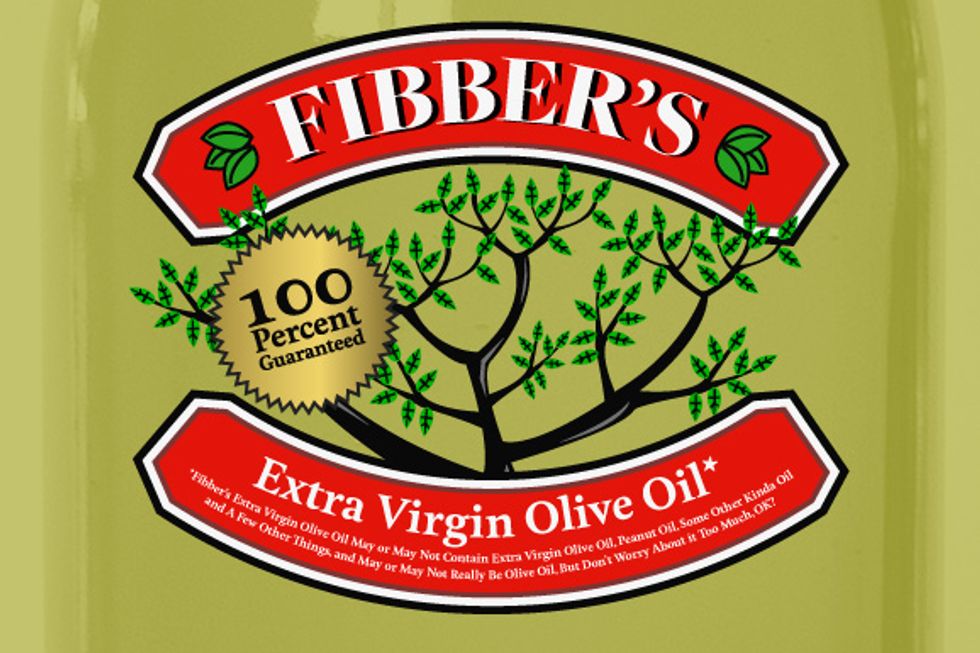 \n
A new study finds that extra virgin olive oil is often anything but. What can you do to get the pure olive oil you're paying for?
Ah yes, the California dream. Freeways, blue jeans, Craigslist, iPhones, salad greens, fish tacos. What else could you want? How about pristine extra-virgin olive oil?
---
While the Golden State may be better known for the dry and meaty table olives that were first planted by Franciscan missionaries, more and more Californians have been coaxing extra-virgin oils from trees planted in the more than 200 orchards across the state. It's the only U.S. state to commercially produce olives. And as early as 1891, producers established their condition of success—"a perfect guarantee of purity."
California oils are still living up to today's rubric of purity, "extra virgin"—the marketing term for unheated, unrefined oil with low acidity and superior taste. Well, at least 90 percent of the time they live up to the claim, researchers at the University of California at Davis's Olive Center found. On the other hand, researchers found that two-thirds of the imported brands they tested failed to meet internationally accepted chemical standards for extra virgin olive oil—for things like chlorophyll and the kinds of organic acids unique to olives. Major brands like Bertolli, Rachael Ray, 365 100 Percent Italian, and Newman's Own Organic appeared to contain either lesser quality oils or had been damaged from the oil's natural oxidation process.
Which means these oils could have been extra virgin at the time of pressing, but by the time they reached store shelves, they didn't live up to their claims. But as Mort Rosenblum, the author of Olives, told me, "Given the premium put on extra virgin oil, there is pressure to apply the label. I'd not be surprised to see some outright fudging."
The report ushered in an international pissing contest, whereby the International Olive Oil Council, an intergovernmental organization based in Madrid, called into question the study's funding, which came in part from California Olive Oil Council, a private trade group. The primary U.S. importer, North American Olive Oil Association, whose members include the Italian producers, also faulted the study for using some scientific methods not recognized by international standards.
In the United States, because the Food and Drug Administration considers olive oil fraud rare, the agency does not test oils for adulteration and relies on trade groups, according to a piece in The New Yorker. In other words, olive oil producers police themselves. The government treats the "extra virgin" label as a relatively harmless marketing ploy, only pursuing tainted or phony oil when it's dangerous to our health.
Although the U.S. Department of Agriculture plans to adopt a new set of labeling standards in October, the rules are voluntary. Paul Vossen, University of California farm advisor, told the Los Angeles Times, "It's like saying you have to stop at stop signs, but there are no cops at the corner. Standards are a good start, but enforcement is important." (In the European Union, the same kind of voluntary rules permit oil to be sold as "Italian" even if it contains only trace amounts of actual Italian olive oil.)
While virginity claims might seem frivolous, the U.S. olive oil market is worth $1.5 billion—and demand is only growing for what's billed as the safest, healthiest, least damaging oil. Just tune into Rachael Ray to hear her cooing about EVOO (extra virgin olive oil). Where there's money to be made with valuable food, there will always be adulteration and misleading claims—whether that's water injected into processed hams or Chinese mushrooms masquerading as truffles. And while people might believe the tiny island city of Modena produces hundreds of thousands of gallons of balsamic vinegar, let's be serious, a considerable portion of the world's "balsamic" is wine vinegar with caramel coloring.
Perhaps this study should simply wake us up to the questionable nature of food purity claims. So much of our olive oil is imported under labels that obfuscate origin, consumers rarely, if ever, can verify the purity of extra virgin oils at the time of purchase.
Until better assurances can be made, claims like these should be taken with a healthy pinch of salt. Either that, or consumers should look into more vulgar local cooking alternatives. You can buy lard anywhere.