Articles
How This Protest Image Became An Instant Icon
She was arrested shortly after the photo was taken.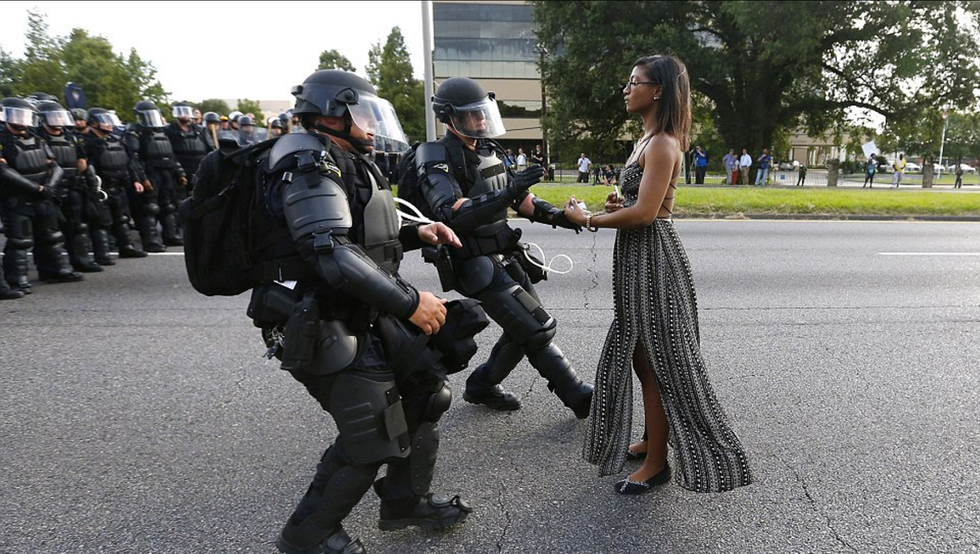 This article originally appeared on 10.23.17
A stunning photo of an African-American woman confronting police at a Black Lives Matter rally blazed across social media this weekend, with some calling it a touchstone image that will stand as a powerful symbol for many years to come.
---
The photo, captured by Jonathan Bachman of Reuters , comes from a Black Lives Matter rally outside Baton Rouge police HQ this weekend. Police in full riot armor are shown descending on a poised, well-dressed woman, apparently about to be cuffed.
Her name is Leshia Evans, according to the Daily Mail , a 28-year-old nurse from New York who had not been to a protest rally before this one. The AP says Evans was arrested for blocking a public roadway shortly after the image was taken.
DeRay McKesson, one of the most prominent voices of the Black Lives Matter movement, was also arrested at Saturday's rally. McKesson was released after 16 hours in a cell; he told the New York Times that he felt Saturday's mass arrests were unlawful, as the protesters were peacefully assembled on the side of the highway.
"What we saw in Baton Rouge was a police department that chose to provoke protesters to create, like, a context of conflict they could exploit," said McKesson. Over 100 other protesters were also arrested Saturday.
The protests were a direct response to the killing of Alton Sterling in Baton Rouge last week, after two officers shot him repeatedly outside a Baton Rouge convenience store. Shortly after Sterling's death, a school cafeteria worker was shot and killed by police in Falcon Heights, Minnesota. And at a protest rally in Dallas following Falcon Heights, five police officers were killed by snipers.
Last week's violence is already proving to be an intensely raw and revealing piece of American history. Bachman's photo will surely be one of the images that lasts.
Jonathan Bachman's #BatonRouge protest photo will become as iconic as "woman in red" during 2013 protests in Turkey. https://t.co/igMnWOdL4g

— Matt Sandiford (@Matt Sandiford) 1468221527.0
When you see this image you think thank God America won the Cold War and defeated tyranny (JONATHAN BACHMAN/REUTERS) https://t.co/ryVd3lGqIw

— Karl Sharro (@Karl Sharro) 1468227689.0