Articles
Patented: The Slumbering Vibrator
The first in our new series on inventions that may never see the light of day.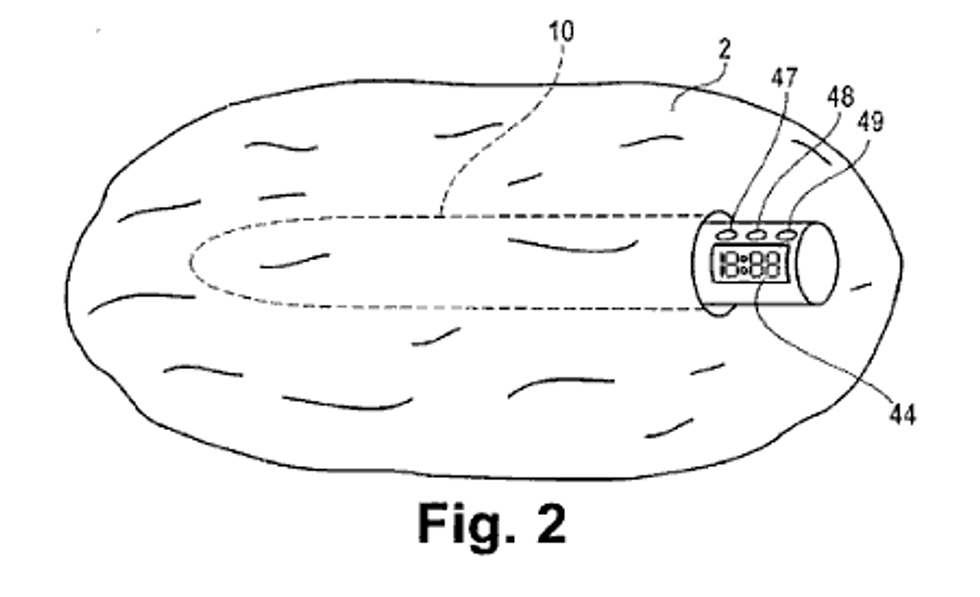 Every year, the United States Patent and Trademark Office parses hundreds of thousands of patents from inventors seeking the intellectual property to their ideas. While their inventions may never see the light of day, these are their stories.
Patented: "Method and device for inducing erotic stimulation while asleep"
---
Inventor: Jacqueline Tadros of Fort Lauderdale, Florida
Filed: Sept. 18. 2010
While you were sleeping: The "activation of the sexual organs during sleep is a commonplace occurrence in both males and females," Tadros writes. Unfortunately, "while in a sleeping state, a subject is not able to activate or initiate a vibratory device to induce stimulation." Ergo:
Tick, tock: Tadros proposes a vibrator set on a timer that would allow the user to "partake in auto-erotic stimulation while in a sleeping or restful state." Think of it as the vaginal equivalent of the ticking crocodile that stalks Captain Hook.
Target audience: Multitasking masturbators.
Why it will sell: Look ma, no hands! While most vibrators "require the subject or another party to activate or manipulate the vibratory device at the time of initiating or inducing stimulation," this vibrator takes a hands-off approach. For really busy birds and bees, the device allows the user to get off while unconscious, saving precious waking hours for non-erotic pursuits.
Why it won't: Set that Tampax to climax: You've gotta fall asleep with a tiny phallus in your vagina. Writes Tadros, "the dimensions of the device are miniature, that is generally two to three inches in length and one half to one inches wide, so as to allow for complete and facile insertion of the device in the vaginal region in a manner that does not cause discomfort or hinder a subject's ability to fall asleep."


Status: Pending