Articles
Sex, Rape, and Single-Sex Dorms: How Promoting "Virtue" Can Make It Hard to Prevent Violence
Catholic University of America is instituting sex-segregated dorms in an effort to curb "risky" sexual behavior. It will only make sex riskier.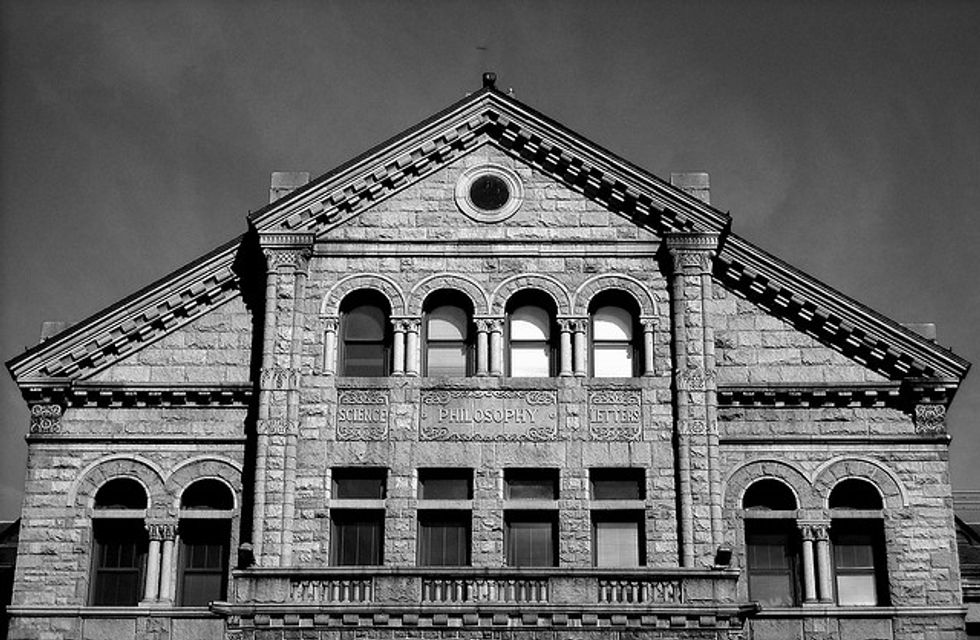 Across the country, colleges and universities are beginning to open their on-campus quarters to co-ed roommates. Meanwhile, the Catholic University of America is taking steps to further segregate the genders. "I know it's countercultural," university president John Garvey wrote in the Wall Street Journal last month on his decision to make each of the school's residence halls single-sex. Garvey called it a "slightly old-fashioned remedy that will improve the practice of virtue."
---
Garvey cites a few studies suggesting that students who live in co-ed dorms are lacking in Catholic bonafides—they're more likely to engage in "risky behaviors" like binge drinking and having sex, activities Garvey says lead to "physical and sexual assault" and are "destructive to love and marriage." Catholic higher education watchdog group the Cardinal Newman Society "cheered" the school's renewed dedication to Catholic values.
Then again, Catholic U. had already sex-segregated all of its dorms by wing, floor, or building. And yet, students who attend Catholic-identified colleges are more likely to have sex than those who attend secular and Protestant schools. So perhaps a student's proximity to potential sexual partners is not the sole factor at play here.
In fact, when I surveyed the sexual activity at Catholic U. in 2009, the university's attempts to clamp down on relations—it bans all premarital sex, masturbation included—only made students' "risky behavior" riskier. College students at every school are going to find a way to hook up; at Catholic, they were just forced to sneak behind the backs of the school administration and the residence assistants tasked with keeping them safe. Catholic University students had limited access to condoms and birth control and were less comfortable approaching authority figures over sex-related problems.
In the spring of 2008, one freshman student really needed help: She claimed that a group of freshman boys raped her when she was too drunk to consent. In an on-campus dorm. On a male-only floor. With the door open. Several students passed by and witnessed the scene.
The boys claimed the sex was consensual. But at Catholic, the line between consensual sex and rape was blurred beyond recognition: Both were sins against God, and very much against the rules. In 2008, CUA defined "Sexual Misconduct" as "physical contact of a sexual nature that is unwanted by either party and/or that is disruptive to the university community." On a campus where masturbation and gang rape are outlawed in the same line, the process of preventing and reporting truly damaging sexual behavior becomes a lot more complicated. The girl sued the university, claiming that it failed to investigate and adjudicate the case in a timely matter. The case was settled out of court.
The Catholic University of America later refined its student code of conduct to clarify that it views sexual assault as a more serious problem than it does consensual sex. Adopting that more nuanced version of Catholic virtue was a step in the right direction. But this new plan to physically separate the girls from boys? That will only complicate the school's efforts distinguish between healthy relationships between men and women, and criminal ones.
Across the country, though, conservative Catholic commentators are hailing the rule as a new model for Catholic education. One homeschooling advocate wrote in to say that her daughter "was exposed to constant drinking, partying and was date-raped" at one Catholic institution. "It messed her up so badly that she tried to take her own life, and the college didn't even notify us," the mother wrote. Somehow, though, an institution that ignores the rape and suicide of its students isn't the problem; girls living too close to boys is to blame. Wrote the mother: "I applaud Pres. Garvey's courage in changing the policy."
Photo via Flickr, NC in DC, Creative Commons Attribution License 2.0