Articles
Long Beach is the first SoCal city to build protected bike lanes which will separate cyclists from cars. It's about time.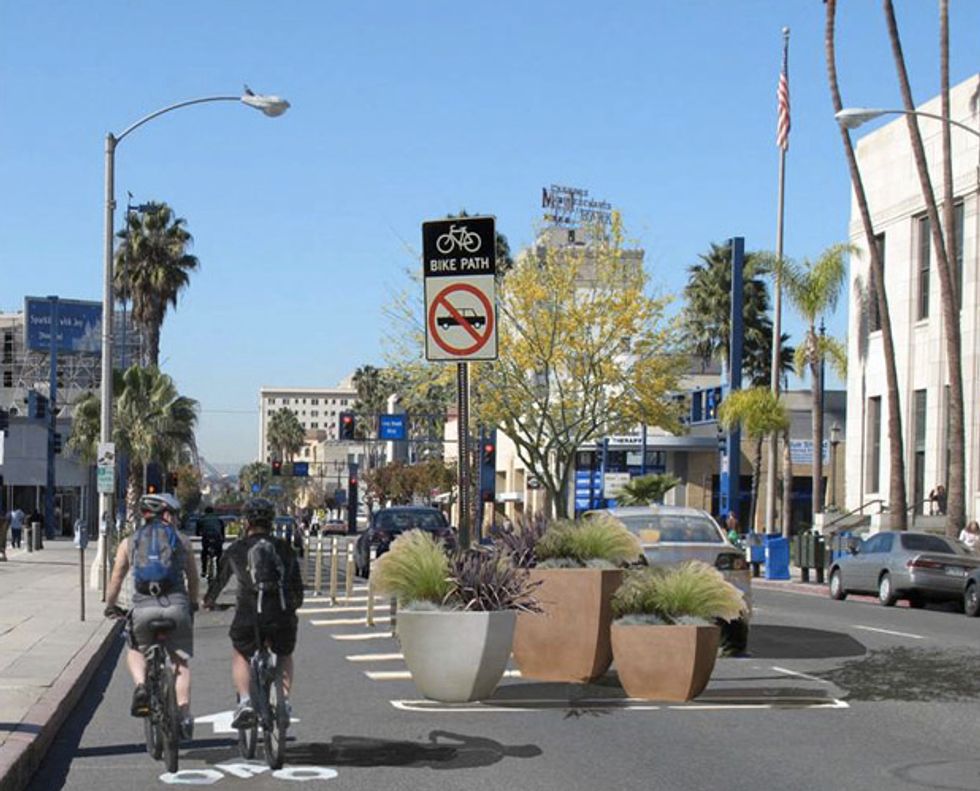 It's hard to believe that Southern California's bikers are still relegated to riding over painted lanes and stenciled sharrows (at best) when they bike on city streets. But that will change for one community when the region's first bike lanes separated from car traffic open Saturday in Long Beach.
---
The two, 1.2-mile stretches of protected lanes will run parallel to each other, on Broadway and 3rd Streets, through Long Beach's downtown. The lanes will be clearly marked and protected from cars by planters, painted lines, and a row of parking, leaving two lanes of traffic. Bike "signals" at intersections will even help bikes avoid cars that are negotiating left turns.
The bike lanes are the latest effort in Long Beach's campaign to make the city the most bike-friendly in the state. Bike routes already wind their way throughout the beach city, along a 20-mile corridor of the Los Angeles River, and along the shoreline as part of an ambitious interconnected system that make it one of the most bikeable places in Southern California.
Besides the opening ceremony at noon on Saturday, April 23, a grand opening celebration will be happening from 11:00 a.m. to 2:00 p.m. with scavenger hunts, bike decorating, and a kids' "bike rodeo" (Do they ride around until they fall off? Hope they wear helmets!). The events will take place on The Promenade, between Broadway and 3rd. If you don't live in Long Beach, you can still take your bike on the Blue Line and make a day of it. The 1st Street and 5th Street stations drop you off just blocks away from the action. Use Metro.net to plan your trip.
Live in Los Angeles? Join GOOD LA and we'll introduce you to more people, projects, events and ideas that are making L.A. work. We're also on Facebook and Twitter.