Articles
The GOOD Lunch: Curried Egg Salad
Every Tuesday and Thursday in 2011, the GOOD team has pledged to take turns to cook and share a big bowl of soup or salad.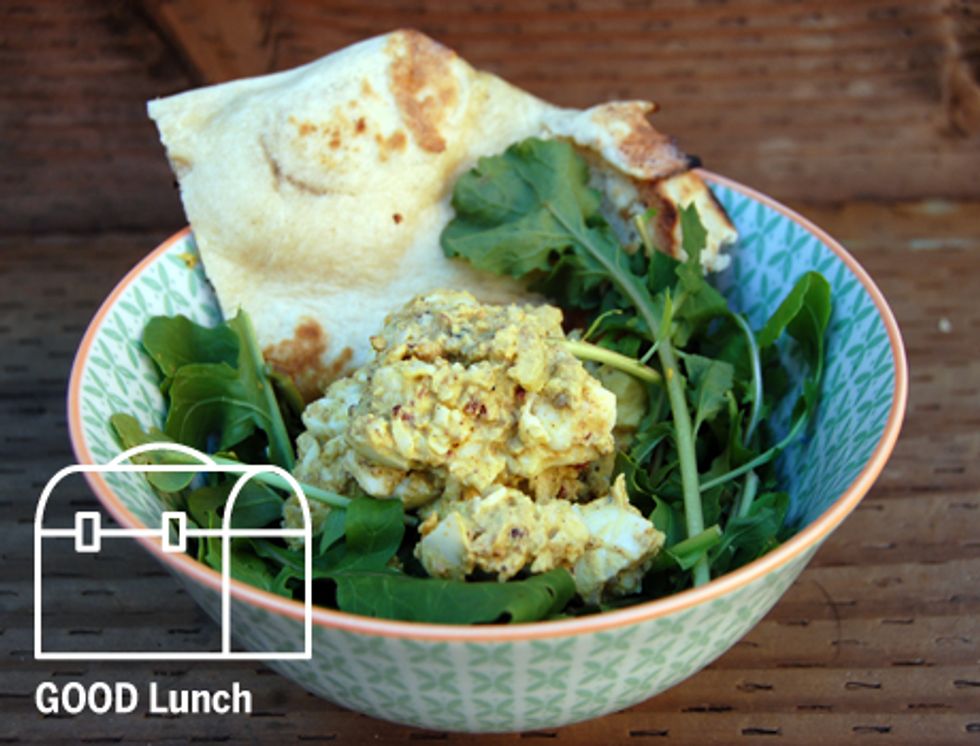 It's time for
the GOOD Lunch
! Today's salad was prepared by GOOD team chef Carla Fernandez and was inspired by a recipe on
101 Cookbooks
.
Curried Egg Salad
---
The Ingredients:
Makes 10 to 12 servings

2 1/2 dozen good quality eggs
7 teaspoons curry powder (your favorite)
10 tablespoons plain yogurt
10 big pinches of salt
1 onion, chopped
3 medium apples, chopped
2 cups pecans, toasted and chopped
1 small bunch of chives, minced

The Method:

One of the reasons I chose this recipe was the focus on achieving the perfect hard-boiled eggs. Heidi from 101 Cookbooks shared some scientific secrets that I'll definitely use again.

• To get a proper hard boiled egg, place the eggs in a pot and cover with cold water to a depth of about 1/2 inch.
• Bring the water to a boil without a lid.
• Turn off the heat, cover, and let sit for exactly seven minutes.
• Have a big bowl of ice water ready for when the eggs are done cooking.
• Place the eggs in the bowl of ice water for about 3 minutes (long enough to stop the cooking).
• Meanwhile, combine the yogurt, curry powder and salt in a small bowl.
• Crack and peel the eggs, and place in large mixing bowl.
• Add the curried yogurt, onions, apple, pecans, and chives.
• Mash all ingredients together. Pay attention to the consistency you are creating with the eggs; be careful not to overdo it.
• Add more plain yogurt to moisten the dish if needed.
• Season to taste

























The Breakdown:

How did our salad rate in terms of taste, cost, and prep time?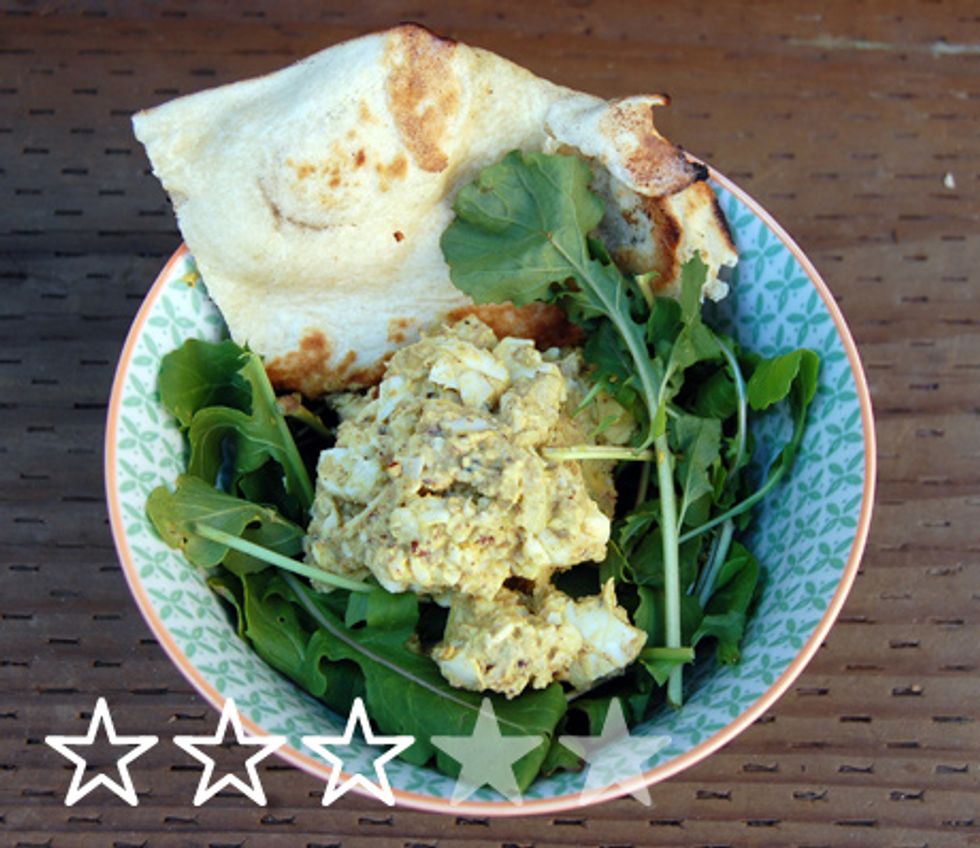 Cost
: $25
Prep Time
: 40 minutes prep
Taste
: 3 stars
For our GOOD Lunch we served the egg salad over a bed of fresh arugula, with some warm naan bread just out of the tandoori oven from the Indian buffet down the street. We also suggest creating a sandwich out of these ingredients; combining the naan, arugula, and egg salad into each bite makes for the perfect balance of flavor.
Every Tuesday and Thursday for the next year, the GOOD team will cook and share a big bowl of healthy, vegetarian, seasonal soup or salad. This time last week we were enjoying Chinese Chicken Salad. The GOOD Lunch explores new recipes that are easy to bring, serve and share in the workplace. Tell us what you think and offer your own vegetarian soup and salad recipes in the comments!