Articles
The GOOD Lunch: Farro Soup in the Style of Lucca
Every Tuesday and Thursday for the next year, the GOOD team has pledged to take it in turns to cook and share a big bowl of soup or salad.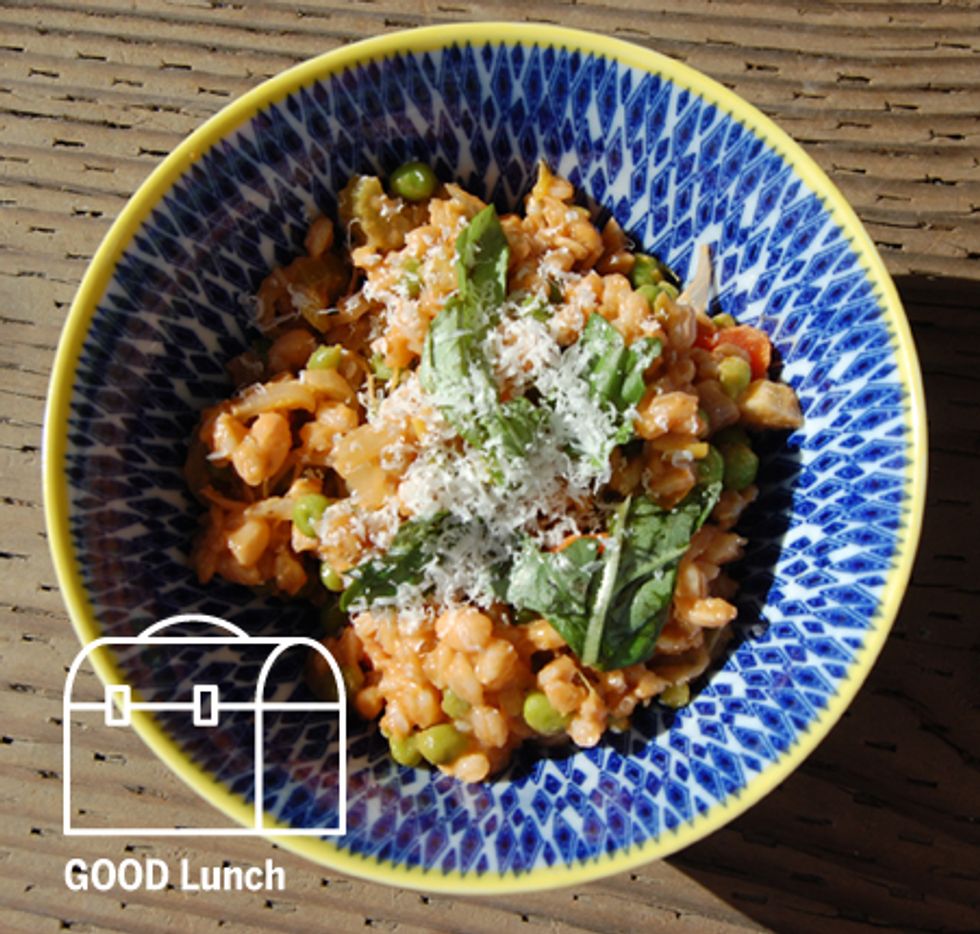 Welcome back to
the GOOD Lunch
. Today's recipe was cooked by Amanda Ehrman, and was adapted fromthe "Molto Mario, Sweet Luca" episode of Mario Batali's cooking show.
Farro Soup in the Style of Lucca (Minestra di Faro Lucchese)

The Ingredients:
Makes 8-10 servings

6 tablespoons extra-virgin olive oil
1 Spanish onion, thinly sliced
4 celery stalks, thinly sliced
2 leeks, white and light green part only, thinly sliced
2 cup farro
2 cans borlotti beans, rinsed and drained (may substitute white beans, kidney beans, or pinto beans)
2 tablespoons tomato paste
Salt and ground black pepper to taste
Water
3 cups green peas (frozen are fine)
4 large carrots, cut into 1/4-inch half moons
Chopped fresh basil leaves to top
Fresh grated parmesan cheese

The Method:
• In a large pot or dutch oven, heat the olive oil before adding the thinly sliced onion, celery, and leek.
• Cook the vegetables until soft and light golden brown, stirring occasionally for about 8-10 minutes.
• Next add the farro, beans, and tomato paste, stirring so that the tomato paste is spread throughout the pan.
• Add salt and pepper, to taste.
• Add water until the vegetables, farro, and beans are completely covered. Let the liquid come to a boil then lower the heat and let the soup simmer for about 30 minutes.
• Add the peas and the carrots, stirring to combine, and continue to cook for another 30 minutes, adding more water when necessary to keep the soup from getting dry.
• Top with fresh chopped basil and grated parmesan to serve!

The Breakdown:
How did our soup rate in terms of taste, cost, and prep time?






























---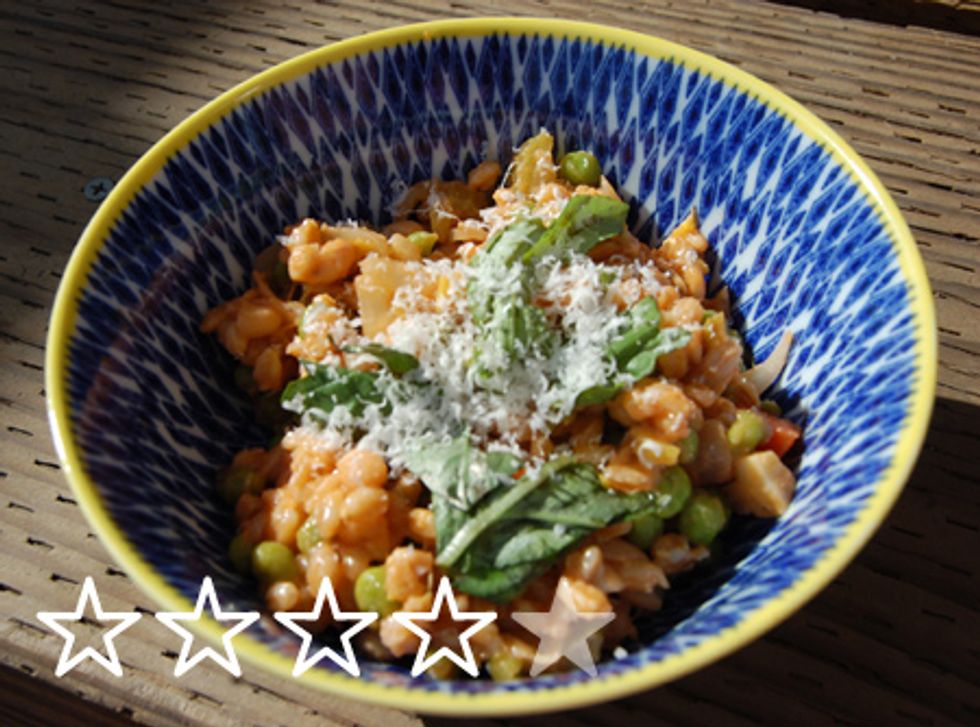 Cost
: $25 (2.50 per serving, at 10 servings)
Prep Time
: 25 minutes prep, plus 70 minutes cook time
Taste
: 4 stars. This soup tasted more like a risotto—although the beans and veggies retained a lot of moisture, there wasn't any actual broth. All of the flavors blended really nicely together to give it a rich flavor. Fresh parmesan on top ties it all together.
Every Tuesday and Thursday for the next year, the GOOD team will cook and share a big bowl of healthy, vegetarian, seasonal soup or salad. The GOOD Lunch will explore new recipes that are easy to bring, serve, and share in the workplace. We hope this will inspire you to make your office lunch a GOOD Lunch.