Articles
The GOOD Lunch: Ginger Pumpkin Soup
Every Tuesday and Thursday in 2011, the GOOD team has pledged to take it in turns to cook and share a big bowl of soup or salad.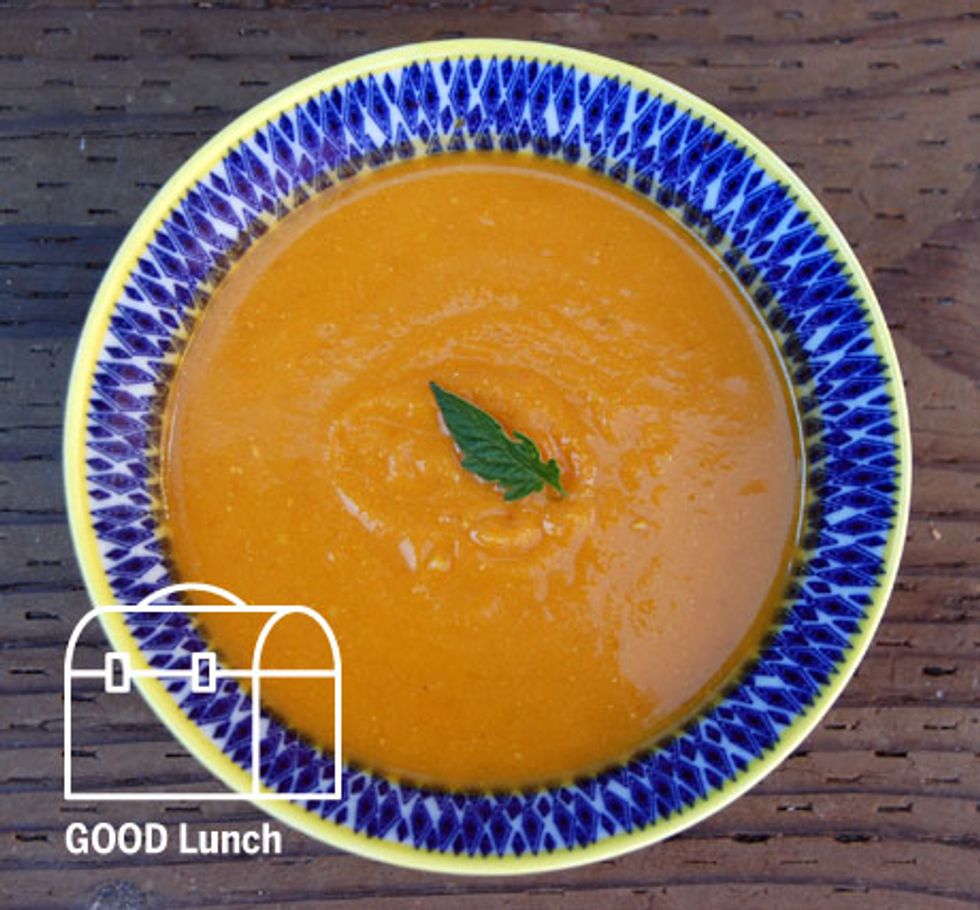 Welcome back to the GOOD Lunch. Today's recipe was cooked by Lennon Flowers, and is a home-tweaked version of a Country Living recipe.
---
Ginger Pumpkin Soup

The Ingredients:
Makes 12-15 servings

6 15 oz cans of pumpkin puree
6 14.5 oz containers of vegetable broth
3 11.5 oz containers of pear nectar
1 cup creamy peanut butter
6 cloves garlic, finely chopped
6 tablespoons grated fresh ginger root
3/4 cup finely chopped green onion
3 tablespoons fresh lime juice
1.5 teaspoons salt (feel free to be generous)
3/4 teaspoon ground cayenne pepper
Chopped chives

The Method:

• Saute onion in olive oil until transparent.
• Add to large pot, combining pumpkin puree, vegetable broth, and pear nectar (lacking pear nectar, I juiced a half-dozen pears, which worked equally well).
• Bring to a boil over high heat. Cover, reduce heat to low, and simmer 10 minutes.
• Using a blender or food processor, remove mixture from heat and process with peanut butter until smooth.
• Return to pot, and add garlic, ginger root, lime juice, salt, and cayenne pepper; cook for 10 minutes over medium heat.
• Divide soup in bowls and garnish with chives.

The Breakdown:

How did our soup rate in terms of taste, cost, and prep time?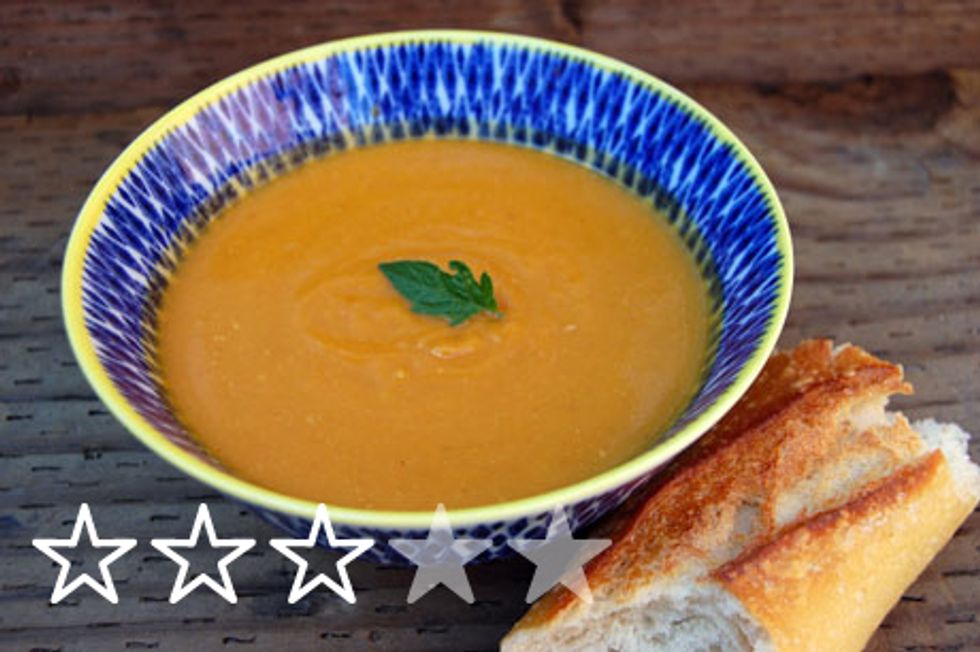 Cost
: $35 ($2.90 at 12 servings)
Prep Time
: 40 minutes prep
Taste
: 3 stars
This soup is excellent for pumpkin lovers; very smooth with a nice kick from the hefty amount of ginger. If you don't like so much spice, reduce the ginger by half. A nice piece of crusty sourdough bread is great for dunking.
Every Tuesday and Thursday in 2011, the GOOD team will cook and share a big bowl of healthy, vegetarian, seasonal soup or salad—this time last week we were enjoying a bowl of Farro Soup in the style of Lucca. The GOOD Lunch will explore new recipes that are easy to bring, serve, and share in the workplace. We hope this will inspire you to make your office lunch a GOOD Lunch.