Articles
The GOOD Lunch: Vegetarian Tom Ka Soup
Every Tuesday and Thursday in 2011, the GOOD team has pledged to take turns to cook and share a big bowl of soup or salad.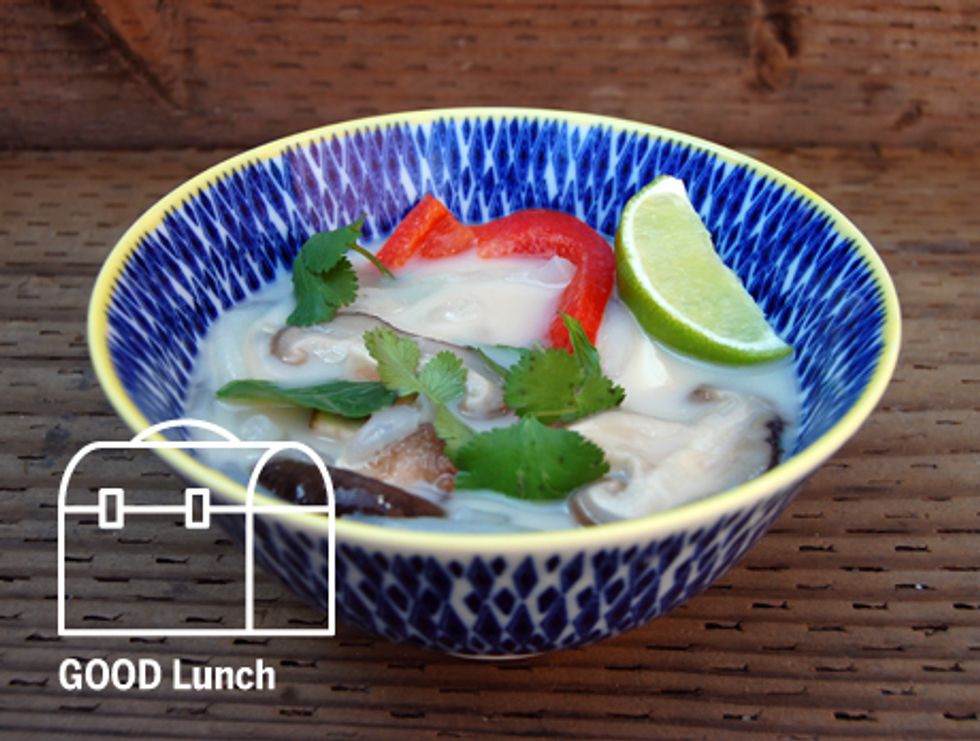 Today's
GOOD Lunch
soup was prepared by Zak Stone and was inspired by the Thai Food Section on About.com. Curious fact of the day: They have won the highest search ranking on the names of all popular Thai dishes!
Veggie Tom Ka Soup
---
Ingredients:
Makes 10 to 12 servings
8-10 cups vegetable stock
4-6 stalks lemongrass or 6 tbsp. frozen prepared lemongrass (available at Asian stores)
6 whole kaffir lime leaves
3-4 cups soft tofu, cut into squares
1-2 red chilies, sliced, OR 1/2 tsp. dried crushed chili, or 1-2 tsp. chili sauce
4 cloves garlic, minced
1 thumb-size piece ginger, thinly sliced
1-2 cups fresh mushrooms (shitake are great)
1-2 bell peppers, sliced
2-3 cups baby bok choy
1 can coconut milk
2 tsp. brown sugar
5 tbsp. soy sauce
2 tbsp. fresh-squeezed lime juice
Fresh basil and cilantro to garnish

The Method:
















• Combine vegetable stock, lemongrass, lime leaves, chili, garlic and ginger in a large pot.
• Bring to a boil and continue boiling for 5 minutes, or until broth is very fragrant.
• Add the mushrooms and reduce the heat to medium. Simmer for 5-8 minutes, or until mushrooms are soft.
• Add the bok choy and simmer for 1-2 more minutes (bok choy should remain on the crunchy side).
• Reduce heat to low and add the coconut milk, sugar, soy sauce, and lime juice.
• Add the soft tofu and gently stir.
• Add salt and more chili to taste and/or more soy sauce.

The Breakdown:
How did our soup rate in terms of taste, cost, and prep time?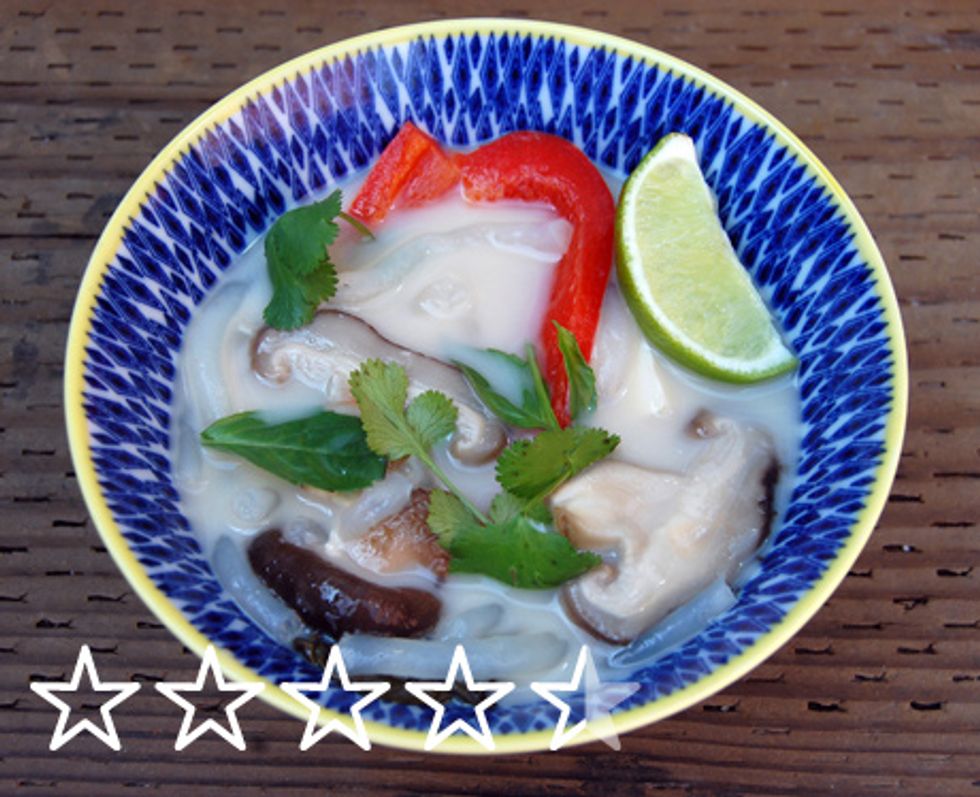 Cost
: $22 ($2 per serving)
Prep Time
: 45 minutes
Taste
: 4.5 stars
Big pieces of red bell pepper and mushroom floating in milky white broth make this soup beautiful to look at (and photograph!). Make sure you have a knife on hand to cut the vegetables into smaller pieces. The combination of spicy, sour, tangy, and sweet make this an exotic lunch treat.
Every Tuesday and Thursday in 2011, the GOOD team is cooking and sharing a big bowl of healthy, vegetarian, seasonal soup or salad. This time last week we were enjoying Sarah Stanley's Mom's Veggie Chili.