Articles
The Benefit Corporation: Can the Future of Business Be About More Than Making a Buck? The National March of the Benefit Corporation Continues, Now Protecting Ben and Jerry's Backyard from Future Sellouts
New laws take effect in Vermont and Virginia today that protect sustainable businesses from the pressure to turn a profit at all costs.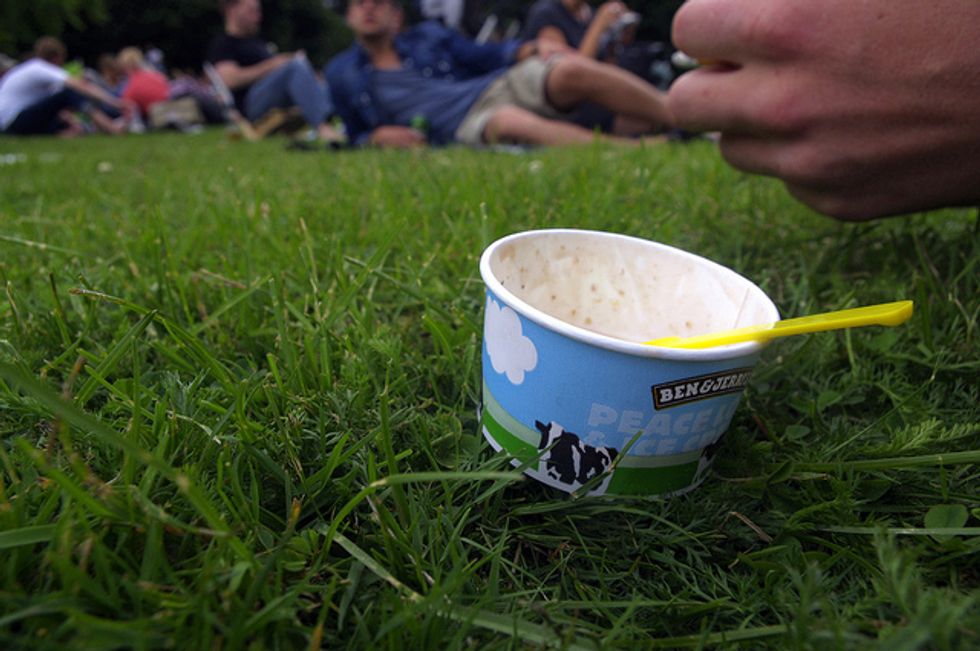 New laws take effect in Vermont and Virginia today, giving ethical business a boost. If Vermont's law had been around 11 years ago, Ben Cohen and Jerry Greenfield might not have had to sell their ice cream company.
---
Back then, Unilever made the highest bid for Ben and Jerry's, so the laws of shareholder responsibility forced the hippie founders to sell, even though they wanted to keep control. Now, with today's law, a new kind of corporation is created that prevents exactly that, the Benefit Corporation. Vermont and Virginia join Maryland and New Jersey in recognizing the new form of company. More than a dozen other states are taking steps to catch up.
"This new class of corporation is a milestone for two reasons," says Kyle Westaway, a lawyer who studies corporate forms and represented Launcht, the first company to file and officially become a Benefit Corporation in Vermont. The law, he says, "broadens the goals of the corporation from [just] profit to: profit, people and planet. Secondly, the Benefit Corporation increases transparency and accountability, by using an independent third party to verify that a business is acting in a socially and environmentally conscious fashion."
Each Benefit Corporation must adhere to third party certification meeting certain environmental, social, or other non-financial standards. Many use the similarly named B-Corp Certification and Impact Assessment, which we've coveredmultipletimes on GOOD.
B-Corp certification is similar to Fair Trade or Organic, but deals with all aspects of how the company does business. Rigorous as the B-Corp label is, it's still a stamp from a nonprofit. Benefit Corporations are recognized by the state as a distinct new category of company. Like B-Corps, Benefit Corporations are required to consider the environment, community, and employees in business decisions along with company profit. A typical company—like Ben and Jerry's circa 2000—is required to maximize returns to shareholders at all costs. With Benefit Corporation status, there's recourse if a future investor or CEO veers from the company's ethical principles. Just like shareholders were able to force Ben and Jerry to sell because shareholder value was paramount, with a Benefit Corporation, shareholders, or the founders, could claim that environmental and social impacts weren't fully considered, even in court.
Ben and Jerry themselves issued a statement when the law passed saying they were thrilled. "Giving entrepreneurs and directors the legal protection to build values-based companies and retain the discretion to make decisions based upon both financial and social factors is a first step forward."
Four B-Corps have already signed up and re-incorporated as Benefit Corporations in Vermont. Clean Yield Asset Management, Merritt & Merritt & Moulton, StartUp Owl, and Launcht, which did so even though it is based in New York.
"Frankly, I was born in Vermont and endorse many of Vermont's policies and want Launcht's state taxes to support a state I really like," explains founder Freeman White on why he decided to pull a reverse-Delaware and incorporate his company out of state. "If our only responsibility was to our shareholders, we were concerned about loosing our core values. By establishing ourselves as a Benefit Corporation, we intentionally put ourselves on the hook to live up to our values ... and by virtue of our legal structure we will be able to protect these values as we scale." Launcht is a for-profit platform that helps nonprofits or other organizations crowdfund good projects. So it also mattered to White that his clients see Launcht as a trusted brand, even if the founders plan to cash out in a few years.
"If we were just a C-Corp we would be fighting the stereotypes some of our users, both founders and funders, might have about such corporations. My co-founder and I wanted ownership, so we can take advantage of the upside of potential exit opportunities in 3-5 years, thus we didn't go the 501c3 [nonprofit] route," he says.
Right now, being a Benefit Corporation is a statement to the world and a promise to yourself that the company does business with high social and environmental standards, and will continue to do so. Down the road though, being a distinct legal category of business could enable pretty incredible possibilities like preferential tax rates for more socially focused businesses. If that happened—politicians and B-Corp advocates are mum on this—then we could see persuasive new incentives and legal tools remake businesses of all stripes.
It could change how investments are made too. Impact investing is a growing field, where money managers steer their funds to good causes that earn a financial return as well as make a social impact, just like many potential Benefit Corporations. By requiring these companies to get certified by a third party, the law will enable investors to measure and compare companies on non-financial performance according to a single standard, or a small number of them. So that means, down the road, a company that serves the poor with affordable health services could attract new investment that supports the cause, even if its profit margins were lower than those of other healthcare providers, because it could prove its social value.
That's all a bit down the road, but we get a hint of the potential from the Green Mountain State. Small as it is, Vermont is a big player when it comes to values-infused companies, Seventh Generation chief among them. But even the flag bearer of better business stumbled. Founder Jeffrey Hollender was notoriously ousted in part because he disagreed with some of the new investors on just how far to take social responsibility, as he explained at length to GOOD in his first public comments after the ouster.
Chris Miller, of Seventh Generation's Corporate Consciousness team tells GOOD it's looking likely they'll reincorporate as a Benefit Corporation, "we are a founding member of B-Corps, and our bylaws were changed to reflect that, so we think it's a really logical next step."
Even a $150 million a year business has cause to plan ahead to protect values. "It's an important way for us to ensure that the things that we care about around our business are here for years to come as the company evolves, as we grow, as we go through leadership changes." The change requires a shareholder vote.
Jay Coen Gilbert of B-Lab, the nonprofit leading the charge for all of this, says today's milestone shows this is an "accelerating movement." But he points out, even if this is happening in a state already famous for businesses such as Ben and Jerry's and Seventh Generation, there are way bigger moments on the horizon.
New York and California are the mammoth markets on the cusp of enacting Benefit Corporation laws and that could cause a snowball effect if a critical mass of companies sign on and spread the word about the concept. California's version of the bill has passed the assembly and could come up for a Senate vote soon. New York's bill is waiting for the governor's signature.
As for Ben and Jerry's, the company, they say they support the law, but signing up doesn't make sense. Spokesman Sean Greenwood tells GOOD, "To the best of my understanding, we've spent considerable time talking with our Leadership Team and our independent board of directors about the Benefit Corporation law and if it makes sense for Ben and Jerry's to pursue." He says that because the company has a unique governance arrangement already, it would require considerable legal restructuring. An independent board of directors was created to help keep the company quirky, independent, and honest even as it remains a wholly-owned Unilever subsidiary, an uncommon structure in business.
"Still, we applaud the effort for the businesses in Vermont to continue to lead the way with two scoops of progressive values and vision. We will support the Benefit Corporation law with our voice and our practices of daily business operations," he added.
Ben and Jerry, the people, did not respond to a request for comment in time for publication.