Articles
U.S. Slips to Third in the Clean Energy Race
See which countries are attracting more investment in clean energy and efficiency technologies than the U.S.
The American position in the rapidly emerging clean energy sector is slipping. As recently as three years ago, the U.S. led the world in private clean energy investment, before being passed by China in 2008. According to a new report from The Pew Charitable Trusts, Who's Winning the Clean Energy Race? 2010 Edition (PDF), Germany climbed above the U.S. into second place last year.
These numbers reflect the amount of private investment directed to the G-20 economies. So, basically, the U.S. isn't attracting as much equity investment as either China or Germany. Which means that there are jobs that are being created in China and Germany that could have been putting Americans to work.
---
Phyllis Cuttino, director of Pew's Clean Energy Program, offered her opinion as to why: "The United States' position as a leading destination for clean energy investment is declining because its policy framework is weak and uncertain."
Here's the breakdown by country and sector: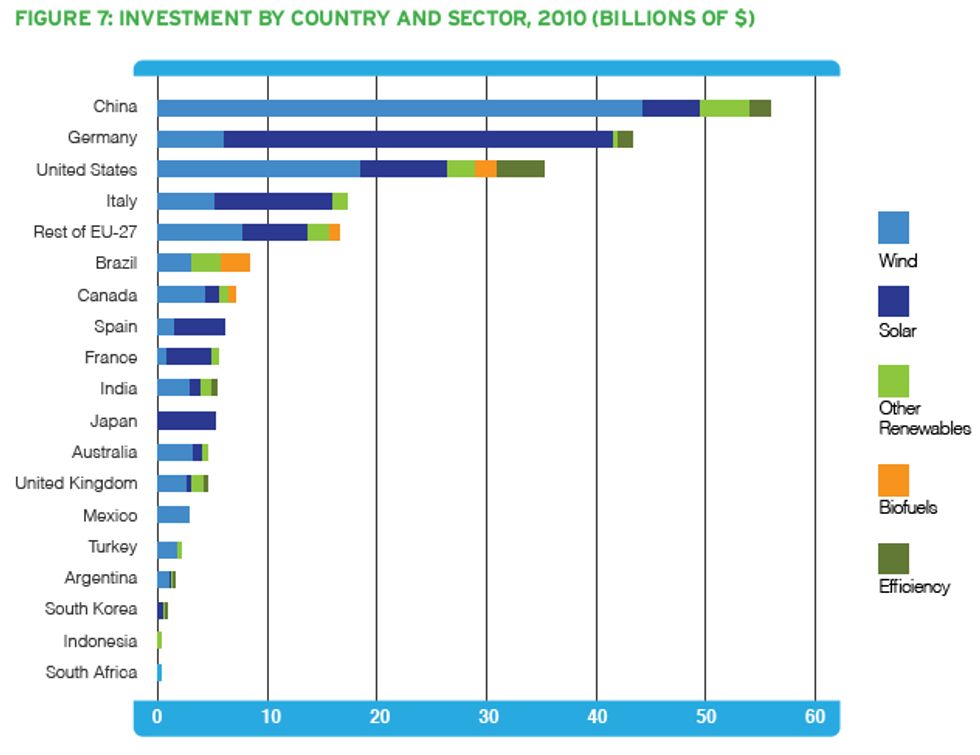 From the report:
The United States received $34 billion in equity last year, a 51 percent increase from 2009. However, the gap with China, which attracted a record $54.4 billion, continues to widen. Germany also attracted more money than the U.S. with $41.2 billion, claiming the number two spot, up from third the previous year.

\n
When you look at the level of public clean energy investment as a percentage of a country's GDP, the U.S. comes up even shorter. Consider this graphic from the Third Way report, Creating a Clean Energy Century.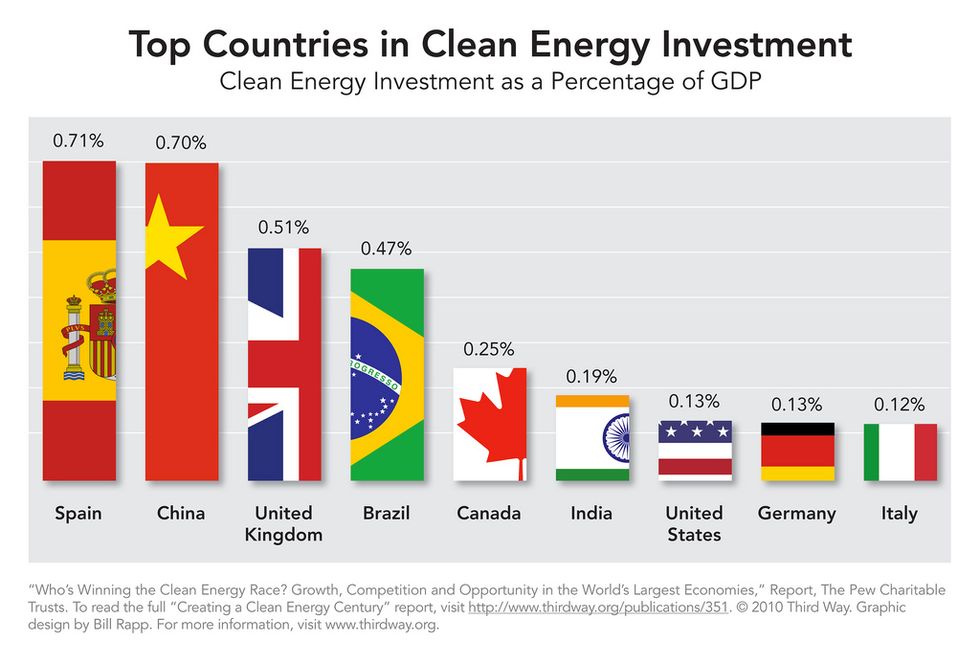 By any number of metrics, the U.S. losing ground in the clean energy race. The stakes are high in this race: the market for "low-carbon and efficiency projects" is expected to triple to $2.2 trillion by the end of the decade.