Articles
What's in Your Shampoo?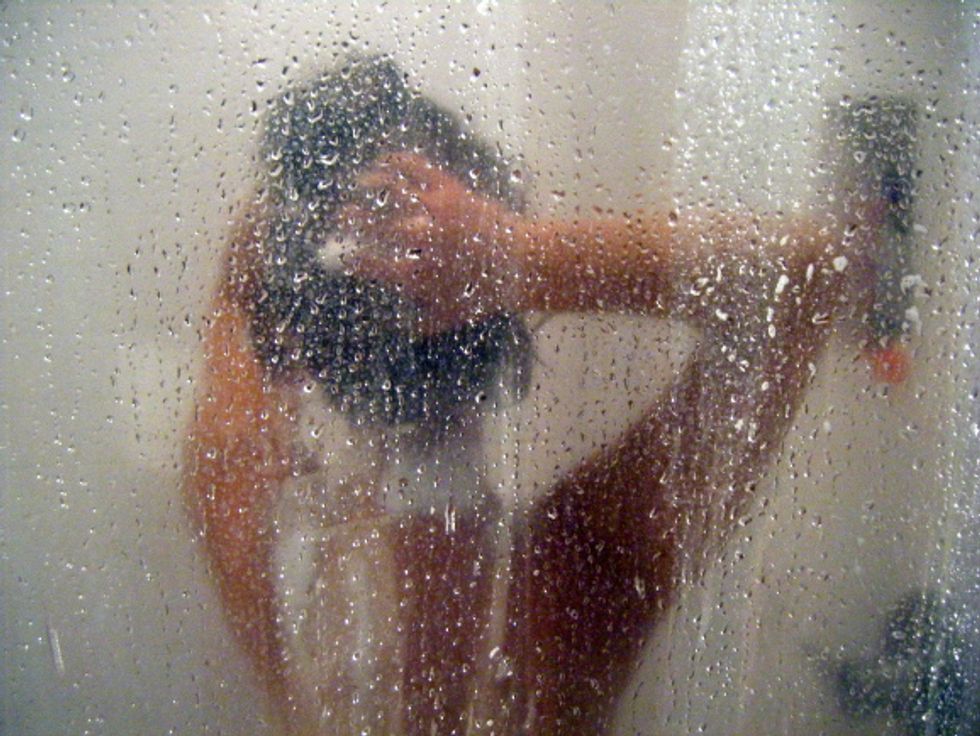 ---
\n
Most of
us
use shampoo every day, or at least a few times a week. We grab for the bottle, squirt a dollop into our hands, lather, and
voilà
: Clean hair. But do you know what's actually in it? Let's take a look at the basic anatomy of a shampoo by breaking down the "recipe" of ingredients: surfactants, actives, preservatives, color, and fragrance. We'll look at what is used in conventional shampoos—aside from water, which makes up 50 percent of most of them—and what is used in cleaner alternatives.
Deciphering the key components of the shampoos we use on a regular basis helps makes the long names found on their ingredient lists less confusing—and may also give you something to think about when choosing your next one.
Surfactants
Also known as surface active agents, surfactants are necessary for the lathering, cleaning, and degreasing effects of a shampoo. Shampoos usually contain a cocktail of surfactants, artfully combined to strike the right balance.
Conventional: These have the potential for harshness, stripping away fatty acids and usually contain a higher percentage of petroleum-based ingredients and portions. These ingredients can include compounds with environmental concerns. Examples include: sodium lauryl/laureth sulfate, ammonium laureth sulfate, cocamide DEA, ammonium xylene sulfonate.
Natural: Your shampoo may not foam like a conventional product because it contains a higher percentage of natural materials, but your hair will still be just as clean, with added natural benefits. Examples include: decyl glucoside, sucrose cocoate, sodium methyl cocoyl taurate, sodium lauroamphoacetate.
Preservatives
The main function of preservatives is to prevent microbial growth and to ensure a long shelf life. When it comes to preservatives, none are truly benign. And while preservative systems are a necessary component of most personal care products—and in particular water-based ones such as shampoos—some are worse than others.
Conventional: These tend to be stronger, used to increase shelf life. With this comes allergenic and irritant potential, and there is concern about some preservatives' hormone-disrupting ability. Examples include: iodopropynyl butylcarbamate, methylisothiazolinone, and methylchloroisothiazonlinone (which are not allowed in personal care products at Whole Foods Market), as well as parabens.
Natural: These preservatives will be milder. They will be ones that have been shown to function properly, yet with a lower likelihood of causing cosmetic-related allergies and sensitivities. Examples include: potassium sorbate, sodium benzoate, and alcohol.
Active and other Ingredients
These are the ingredients that are intended to nourish and beautify, making your hair shinier, smoother, softer, thicker, and more manageable. Other ingredients, such as thickeners, humectants, pH-control agents or chelators, may be added to stabilize the formula.
Conventional: These products typically contain less natural actives, fewer botanical-based ingredients and more synthetic ones. Examples include: disodium EDTA, polyquaternium-10, and aminomethyl propanol.
Natural: These products will contain high percentages of natural actives such as aloe vera gel, antioxidants, herbal extracts, plant oils, vitamins, proteins, amino acids, and fatty acids.
Fragrance
Along with functionality, fragrance—often a melange of many artificial smells, combined in a proprietary formula—is one of the main reasons we consumers will pick one product over another.
Conventional: Typically, synthetic fragrances are used in conventional shampoos, due to cost, performance, and variety. These have the potential to be irritating and their safety has been questioned.
Natural: Ideally, these are phthalate-free and 100 percent natural. At Whole Foods, only 100 percent natural fragrances are allowed in our Premium shampoos, for philosophical and safety reasons.
Color
In basic shampoos, color is added for decorative purposes only, and is unnecessary for functionality.
Conventional: Synthetic colorants are often added for decorative purposes only. In Premium Body Care products at Whole Foods Market, no colors are allowed, neither natural nor synthetic, as they are not necessary for a shampoo to function at all.
Natural: Most natural brands skirt even "natural" dyes in their shampoo.
So how does your shampoo measure up? Shampoo is one of the most challenging products to make truly natural because functionality is so important for hair products, and so we applaud brands like Depth, Ikove, Alaffia, Mineral Fusion, and John Masters Organics, which prove it is possible to make many good improvements in the area of natural shampoos while keeping your hair clean and looking its best.

Photo (cc) by Flickr user Foot Fuschia.


This is the ninth installment in a series inspired by No More Dirty Looks: The Truth About Your Beauty Products and the Ultimate Guide to Safe and Clean Cosmetics, a book by GOOD's features editor Siobhan O'Connor and her co-author Alexandra Spunt.It will run every Tuesday and Thursday.
Read more on their blog.