Democratic chairwoman perfectly responds to Republican commissioner's racist, homophobic rant
10.24.19
A Sevier County Commission meeting in east Tennessee got ugly on Monday night when longtime Commissioner Warren Hurst broke into a disgusting rant about the "liberal agenda."

The meeting was centered around whether the county should become a gun sanctuary.
"We've got a queer runnin' for president, if that ain't about as ugly as you can get," Hurst said reffering to openly-gay Deomcratic presidential candidiate Pete Buttigieg.
---
The statement was greeted with an eerily enthusiastic reaction from the crowd.
Then, he turned his focus to the issue of race, where he thoughts were equally as backwards.
"I'm not prejudiced, but by golly as a white male in this country has very few rights and they're getting took more every day," he continued.
Rest assured, whenever someone starts a sentence with, "I'm not prejudiced," they're about to say something prejudiced. Also, what rights are specifically being taken from white people?
Hurst's outburst prompted Sara Thompson, chair of the Sevier County Democrats, to bail on the meeting claiming: "This is not a professional thing, this is bullshit."

"I felt it was better for me to leave the room than to continue a scene or to listen to what apparently followed," she later told Knox News.
Hurst is a Sevier County commissioner who has held his seat for 33 years. He lives in Sevierville, the gateway to the Great Smoky Mountains National Park. He also owns Warren Hurst Construction, a local contracting firm.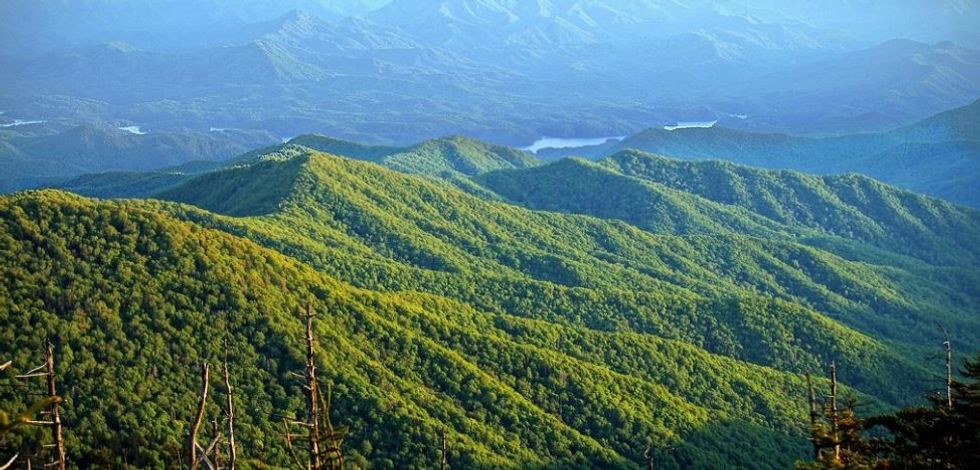 via America's Guest / Flickr
The viral outburst has local residents worrying that it'll paint a negative picture of the region, and hurt its tourism industry. The Great Smoky Mountains area popular tourist destination, attracting over 11 million visitors a year.

Dollywood, Dolly Parton's theme park, which attracts three million visitors a year, is also located in the area.
Dollywood spokesman Pete Owens said Hurst's comments "do not reflect the Dollywood experience in any way. Dollywood is open and welcoming to everyone, every day."
After the interview, Hurst told a reporter that he's entitled to his opinion and stands by it.
Communities