Health
A doctor's pro-vaccination dance video is the wholesome mic drop the world needs right now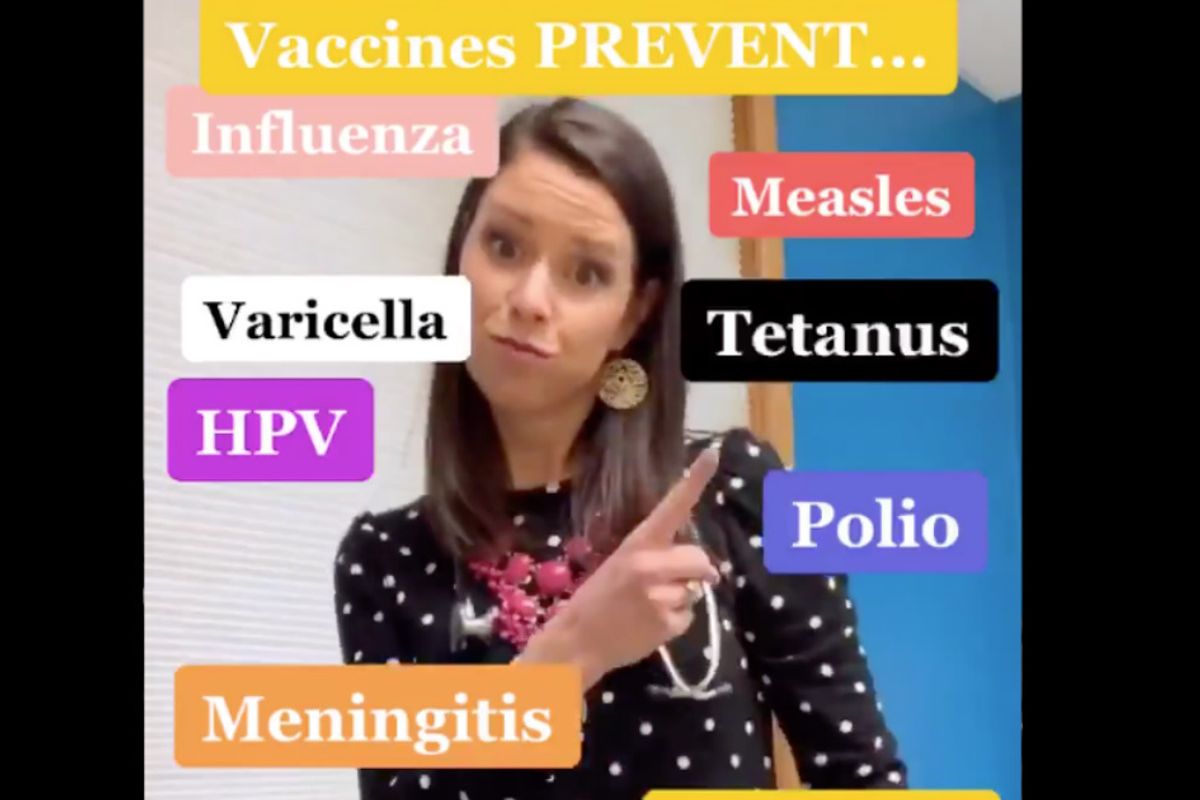 Dr. Nicole Baldwin is a pediatrician in Cincinnati, Ohio who is so active on social media she calls herself the Tweetiatrician.

She also has a blog where she discusses children's health issues and shares parenting tips.
---
On Saturday she released a short Tiktok video illustrating the benefits of vaccinating children. In the video she dances while pointing out that vaccines prevent influenza, measles, tetanus, HPV, polio, meningitis, pertussis, rotavirus, hepatitis, and mumps.
At the end of the video she makes a big point of saying, "Vaccines don't cause autism." Dr. Baldwin backed it up with the hashtags #VaccinateYourKids #VaccinesWork.
The video angered a lot of Anti-Vaxxers who falsely believe that vaccines are harmful to children and cause autism. In fact, a study last year of 650,000 children found there was no link between vaccines and autism.
But facts be darned, the Anti-Vaxxers came after Dr. Baldwin on Twitter.
pic.twitter.com/zqQsvUJs1X
— A BISH (@Dr_T_DC) January 14, 2020
Vaccines destroy every ones life, one day you will answer to a higher power for being willfully ignorant and advocating on the wrong side of history.
— 873G5 (@873G5) January 13, 2020
Wow, I feel bad for every single one of her patients that she continues to maime with her brainwashed indoctrination. Egotistical narcissism by an MD who has been brainwashed into the cut, burn and poison modality that maimes and kills millions annually and for profit.
— David Krohn (@krohn1238) January 14, 2020
One Anti-Vaxxer had the worst response to the video because it was both dumb and sexist. "Educate yourself woman," French Ed wrote. To which Dr. Baldwin had the perfect response.
I did. Thanks. 4 years of college. 4 years of medical school. 3 years of pediatric residency. 13 years of clinical practice. 👌🏼
— Dr. Nicole Baldwin (@NicoleB_MD) January 13, 2020
Asking a woman with a medical degree to "educate yourself" about vaccinations is unbelievably stupid. Especially when probably 99% of Anti-Vaxxers have no medical degree and only believe in conspiracies they saw on Facebook.
People whose minds were blown by French Ed's stupidity came right after him.
Always find in life experience is more educational than being a puppet. If she says vaccines prevent all these illnesses how come you still can get them even though you'd been vaccinated???
— French Ed (@1989Eddy) January 13, 2020
You educate yourself, Typhoid Harry.
— Tralfamadorian🌊 (@EirolltheThird) January 13, 2020
Eddy, your willful ignorance is one of the most disgusting display of imbecility to singe my eyes. People can only hope that you're investigated by protective services in time.. Before you get another chance to damage another child with your healing crystal autism cure clense.
— Saperstein (@Kidneyjuice) January 14, 2020
So before vaccines there was no autism? Please explain.
— GeborenAtheïste (@GeborenAtheiste) January 13, 2020
Well done.
You're now being laughed at across the internet.
Telling a doctor to educate herself. pic.twitter.com/P6AMc1Dqbh
— Tyler Smith 🇨🇦 (@TJ_Smizzy) January 14, 2020
You're one of those people who are too stupid to know they're stupid, right?
— Lindsay (@BonnieWeeLinds) January 13, 2020