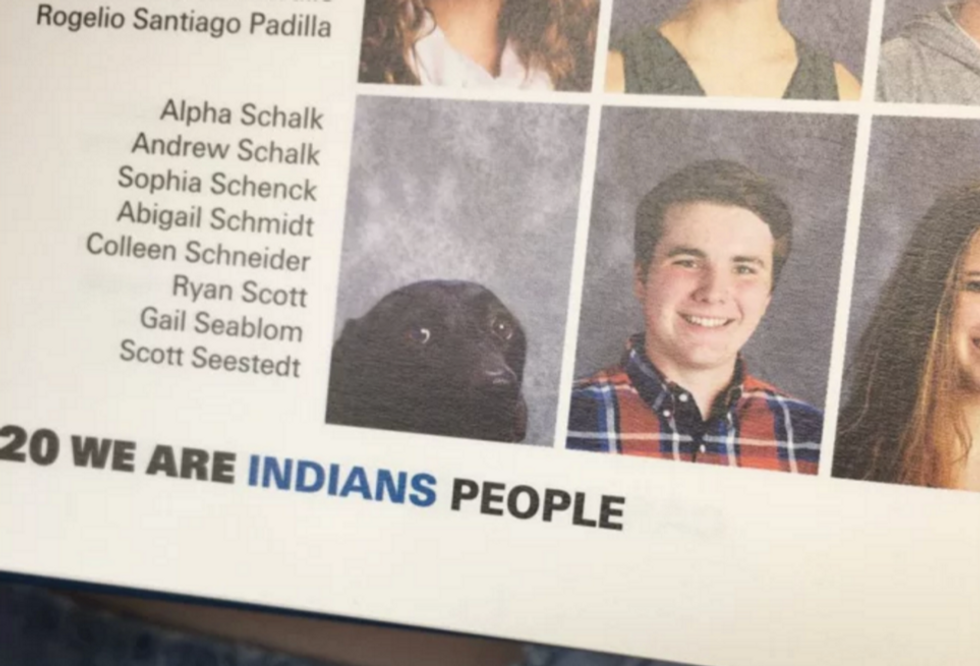 Image via Twitter/@nycstheplacetob
We all remember that exciting moment of getting a fresh yearbook at the end of a long school year. But for high school senior Diana Bloom, that ritual was made all the more heartwarming, thanks to the inclusion of one particularly cute classmate, Alpha Schalk.
---
As you can see, Alpha is an adorable black lab. And as I'm sure you've figured already, he's a very good boy.
Bloom explained her surprise at seeing Alpha's photo, telling BuzzFeed News, "Seeing a picture of a dog caught my eye pretty quickly. I thought it was so cute, and I knew that some of my underclassmen friends hadn't seen it yet because they didn't have their yearbooks, so I took a picture and tweeted it." That tweet has since racked up more than 2,500 retweets and nearly 8,000 likes.
The good boy in question belongs to A.J. Schalk, a 16-year-old student at Stafford Senior High School in Virginia. Alpha, listed next to A.J. as Alpha Schalk in the yearbook, is a dutiful service dog and helps A.J. monitor his blood sugar levels, which fluctuate as a result of Type 1 diabetes. When A.J.'s blood sugar gets too high or too low, Alpha lets him know. The human Schalk told BuzzFeed, "The amazing thing about Alpha is that he knows 20 to 40 minutes before my blood sugar actually does go low or high due to his amazing sense of smell."
But Alpha provides much more than just life-saving cues. As Schalk tells GOOD, "It is really awesome bringing Alpha to school everyday [because] he brightens up the school environment and makes everyone around me and Alpha so much happier. It's great having a dog in school."
Alpha is such a dedicated partner he even has his own student ID with an equally adorable photo. I mean, that face …
After graduating high school, Schalk and his furry companion look forward to brightening everyone's day in college. "Wherever I plan on going to college, Alpha will accompany me," says Schalk.