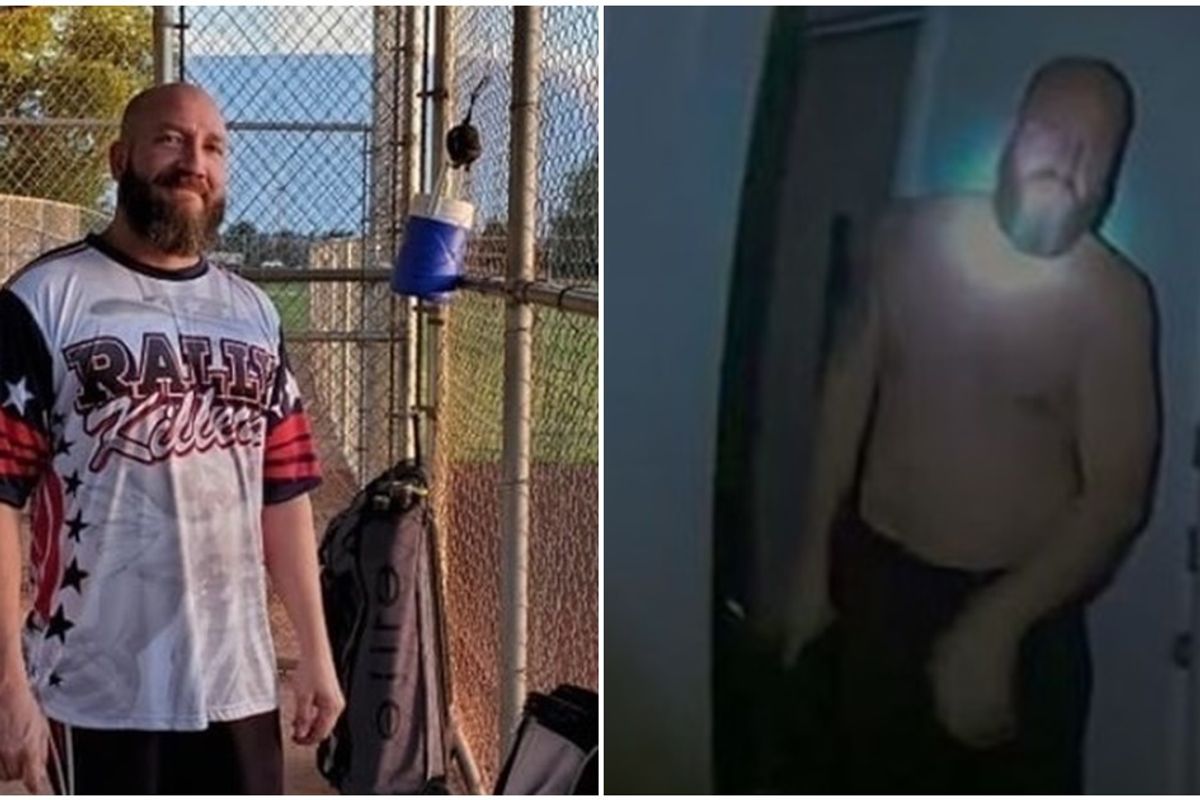 via Phonix Police Department
Ryan Whitaker, 40, and his girlfriend were drinking and playing video games on the evening of May 21 at their apartment in Ahwatukee, Arizona, an urban village of Phoenix.

A neighbor called 911 complaining of noise coming from the apartment but was unclear about what was really happening. When asked if there was a physical fight, the caller said: "I could say yeah, if that makes anybody hurry on up. Get anybody here faster."
The dispatcher also asked if the man or woman involved in the incident had a weapon. "No, but if this gets pushed along any further I could say yes to all these questions," the caller said. "I don't have time, I'd like to get to sleep, I have to get up in the morning."
---
Body camera footage later revealed that the officers who arrived at the apartment complex, Jeff Cooke and John Ferragamo, were annoyed by the caller's lack of details.
"Did you like all that helpful info we got from our complainant?" Ferragamo is heard telling Cooke.
Phoenix police body cam footage shows the shooting of Ryan Whitaker and the aftermathwww.youtube.com
Upon arriving at Whitaker's door, Ferragamo knocked and identified himself as Phoenix police. The officers stood on opposite sides of the door, so when Whitaker answered the door he was unable to confirm who it was by looking through the peephole.

Whitaker had recently experienced two unnerving door-knocking incidents, so he grabbed his gun before opening the door. It's completely legal to open a door carrying a firearm in Arizona.
Bodycam footage shows that when Whitaker opened the door, he was hit in the eyes with a flashlight and quickly told, "Hands." As Whitaker dropped to one knee, he put one hand up while laying his gun down behind his back with the other.
While moving himself into a position that appears to be in compliance with the officers' orders, Cooke shot him twice in the back.
"Holy shit!" Ferragamo is heard saying in the video as Whitaker groans on the floor gasping for air. Slow-motion footage of the incident later revealed that Whitaker had put the gun down in compliance with police orders.

In a police report, Cooke said that he feared for his life.
Whitaker was only given two seconds to respond with the officers' demands. He died at the scene.
Protesters demand fatal police shooting video of Ahwatukee manwww.youtube.com
Six weeks after the shooting, Whitaker's family and their supporters staged a protest outside of the Phoenix Police Department demanding it releases body camera footage of the incident.

"We were told 45 days we would hear answers," Whitaker's sister Katie Baza said. "We would be able to view bodycam in the form of CIB video and we have gotten no answer, not even a response to emails, no respondent phone calls, nothing."
"We're just pleading with the Phoenix police to have a conscience," Baeza said. "We're a family, we're people, we lost someday that we loved dearly and just be human."
The footage was released two weeks later.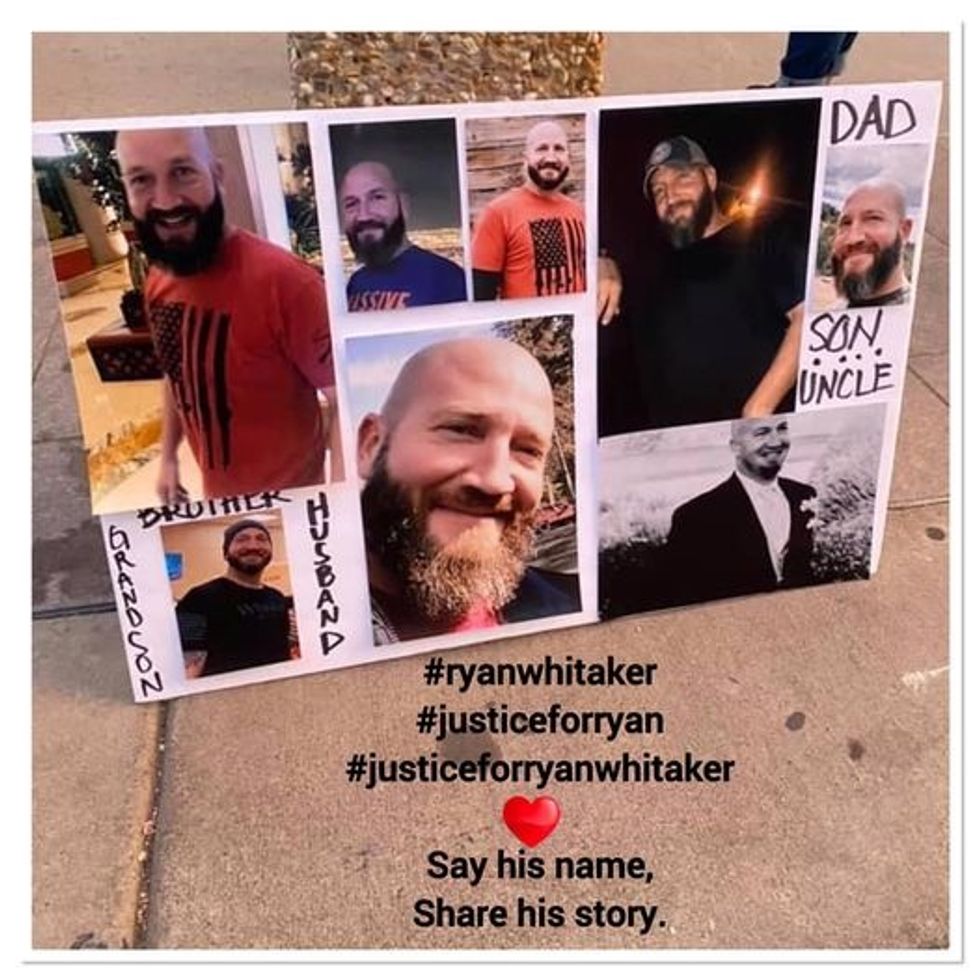 via Justice for Ryan Whitaker / Facebook
At a news conference on October 5, the family demanded the police department fire the two officers. They also asked for charges to be filed against the 911 dispatcher for escalating the situation and those who called 911, claiming there was domestic violence happening in the apartment.

Since the shooting, Officer Cooke has been assigned to a non-enforcement post and Ferragamo has returned to patrol. The Maricopa County Attorney's Office says it's still investigating the incident.
While no one has been charged with Whitaker's murder, earlier this month, a $3 million settlement was negotiated with Whitaker's family. It's believed it will be approved by the Phoenix City Council in an upcoming meeting.
However, the settlement won't come close to satisfying Whitaker's family.
"How do you put a price on a human's life? No amount of money will ever bring my brother back, and my niece and nephew not only have to live without their father but also with the trauma of his death," Baez told The Arizona Republic on Thanksgiving.
"No one should ever have to watch their father be killed, much less in the horribly violent way he was and they have to live with that for the rest of their lives," she continued.