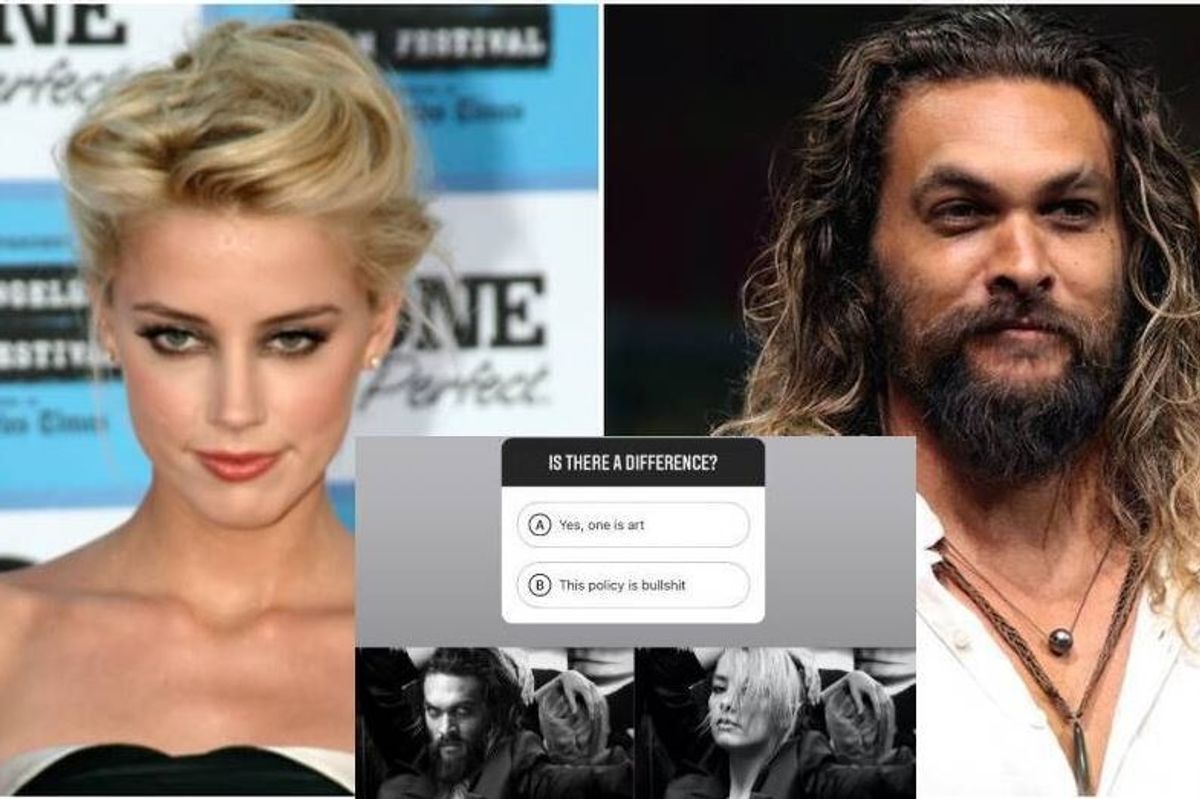 Isn't it rather arbitrary that men and women both have nipples and a man's can be seen in public but a woman's cannot?

Is it because women's nipples have a function and men's are essentially useless that we can see one and not the other? Or is it because since the beginning of time men have policed women's bodies and have decided that they are sexual in nature?
Yep, that's the reason.
---
Nowhere is this indefensible double-standard more apparent than on social media, where on most platforms a guy can pose shirtless but a woman will have her photos flagged and removed if she does the same.
Actress Amber Heard fought back against this double-standard by taking an artistic photograph of herself from Interview magazine that was removed from Instagram and combining it with a shirtless photo of her "Aquaman" costar, Jason Momoa.
In the removed photo, Heard was photographed wearing a tuxedo jacket with no shirt, exposing one nipple.
So she reposted it to her Instagram story with Momoa's face and shirtless body wearing Heard's jacket, along with a poll asking her followers: "Is there a difference?"
The two poll options were "Yes, one is art" and "This policy is bullshit."
In honor of IGs rigorous & equitable Community Guidelines v showing the Female nipple & since mine enjoyed the brief privilege afforded 2 my male counterparts,I decided 2 pay homage x posting a pic that DID meet IGs strict nudity guidelines & careful gender policies #FreeTheNipppic.twitter.com/kijNTgMAJY
— Amber Heard (@realamberheard) October 20, 2019
"In honor of IG's rigorous and equitable Community Guidelines against showing the Female nipple," she wrote, "and since mine enjoyed the brief privilege that's afforded to my male counterparts.. I decided to pay homage by replacing it with a picture that DID meet IG's strict nudity guidelines and such careful gender policies."

She also added the hashtag #FreeTheNipp, signaling a growing movement of people who'd like to see everyone's nipples treated equally.
Three advertising students in New York have found a clever way to take on the nipple controversy, by creating an Instagram account that shows close-ups of nipples. Up close, it's impossible to tell whether they are male or female.

If they are the same up close, then why are they treated differently from afar?
"Men are allowed to show their nipples, women's get banned ... Let's change this policy!" the page's bio reads.
This isn't the first time Heard's tuxedo photo has stirred controversy.

It was first posted in September and the Instagram account for La Fille d'O, a female owned Belgian lingerie line, reported the photo, but Instagram said it didn't violate its community guidelines.
La Fille d'O was trying to make the point that big-name celebrities can break the nipple laws on Instagram but a smaller clothing line has its photos removed for the same thing.
The lingerie line then asked its followers to also flag the photo for nudity.
This irked Heard who saw it as a backhanded way to fight for women's rights. "Cool cool - love women supporting women!!" she wrote with the hashtag #NotYourBraNotMyProblem.