Articles
American students now rank average or below average when compared to kids in other countries—14th in reading, 17th in science, and 25th in math.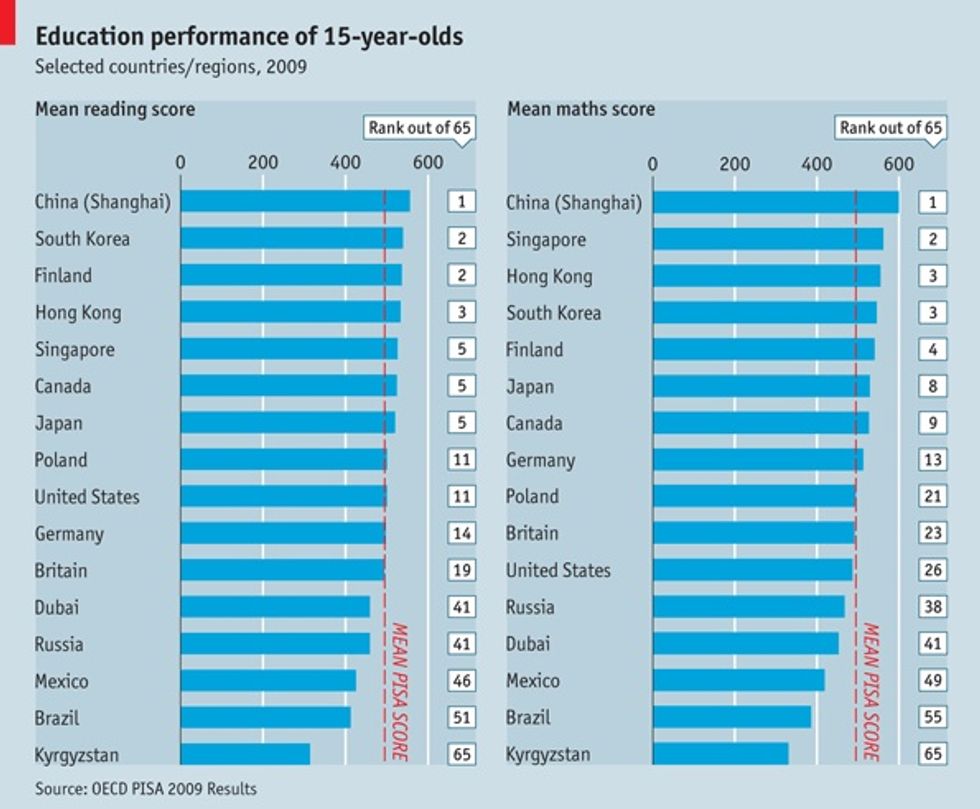 It's official:
Other nations are far better at educating their future citizens
.
Every three years, the Program for International Student Assessment, known as PISA, is administered to 15-year-old students by the Organization for Economic Cooperation and Development. This year, high school students in Shanghai led the pack, with American students ranking average to below average by when compared to their global peers (full report, PDF).
---
In speaking to the Associated Press, Education Secretary Arne Duncan didn't mince words, stating that the results are "an absolute wake-up call for America." And adding that "we have to deal with the brutal truth. We have to get much more serious about investing in education.''
The Financial Times, in asking why Chinese schoolkids are so good, attributes its success to the recent implementation of various school reforms, namely:
"The initiative shown by teachers, who are now better paid, better trained and keen to moldtheir own curricula. Poor teachers are speedily replaced. China has also expanded school access, and moved away from learning by rote."

\n
Yesterday, President Obama, addressed a group of community college students, invoking the Soviet Union's 1957's launch of Sputnik, which after beating us into outer space, led to an increased investment in domestic science and education funding.
"Fifty years later, our generation's Sputnik moment is back. In the race for the future, America is in danger of falling behind."

\n
But what if America has already fallen behind and our drop in global education rankings is but the latest indicator? Will this finally serve as our badly needed wake-up call—or is it already too late?
Thumbnail (cc) via Flickr user Extra Ketchup; infographic via The Economist