Articles
San Francisco Incubator Launches Street Food Entrepreneurs
In San Francisco, a business incubator for women immigrants is launching the next generation of street food entrepreneurs.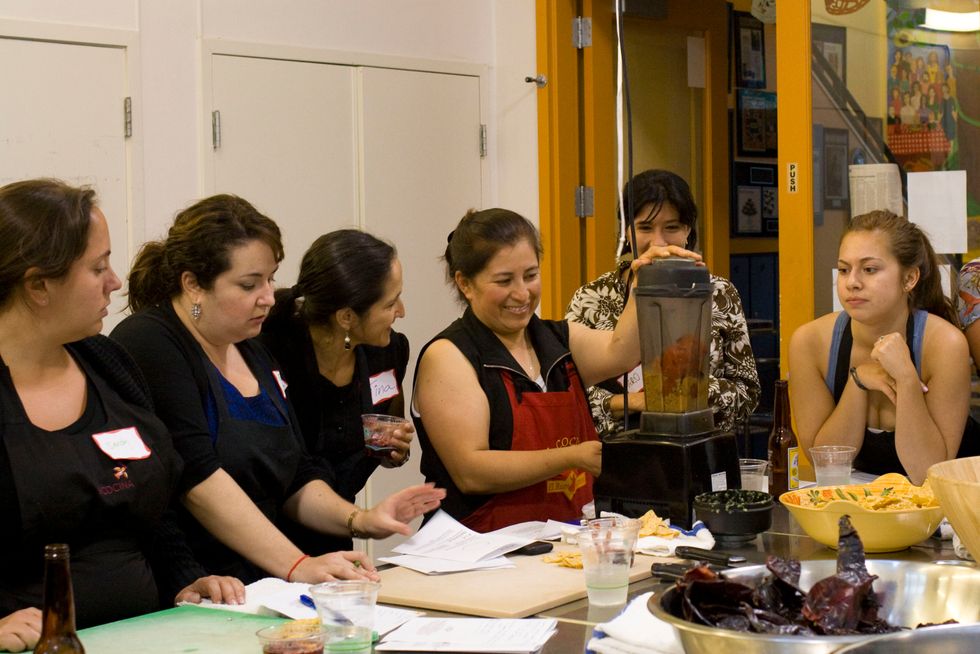 A cooking class being taught at La Cocina. See more pictures of La Cocina's chefs and fans.
---
Veronica Salazar was born in Mexico City, but after moving to San Francisco she couldn't find a taqueria serving anything like the cuisine she grew up with. Working in restaurant kitchens during the week to support her family, she began selling her native foods at home on the weekends. Word spread, and the crowds grew to 40 customers, but she needed help to make her passion into a business.
In 2005, Salazar found the help she needed, starting El Hurache Loco—named after a Mexican delicacy shaped like the iconic sandal—in the commercial kitchen operated by a nonprofit called La Cocina. Initially a catering company, El Hurache Loco grew into a beloved food stand at area farmers markets. This fall, Salazar will open her own restaurant, a major victory for her and the organization that helped kickstart her business.
La Cocina's mission is to transform talented home cooks into successful businesswomen by removing obstacles to entrepreneurship. Rooted in the Mission District of San Francisco, La Cocina provides commercial kitchen space and technical advice to help low-income, immigrant women start their own food businesses from square one. La Cocina offers the resources these women need to harness their talent and create successful businesses to support their families and contribute to the local economy, all while doing what they love.
The idea for La Cocina began in the late '90s based on feedback from other nonprofit groups serving immigrants in the Mission District. Launched in 2005, La Cocina was born out of a paralyzing community-wide need for affordable commercial kitchen space. Women were selling delicious food out of their homes or on the streets, but were unable to take their businesses any further.
"The barriers to entering the food industry are high and they are real," Caleb Zigas, the organization's executive director, says. Commercial kitchen space is prohibitively expensive and La Cocina's "clients face additional barriers like perception barriers, language barriers and class barriers" that make it extremely difficult to start and maintain a small business.
"La Cocina is creating equal opportunity for people that are making some of the best food, but can't normally access the resources they need," says Nick Heustis, regional marketing coordinator of Whole Foods, which carries products made by the organization's chefs.
So La Cocina stepped in to fill the need, and over the last five years has dramatically increased the scope of their services and the number of clients they assist from six to more than 50. "Our priority for our businesses is to put them in a space where they can succeed long term. It is a long, intensive process," says Zigas.
The business incubator program lasts anywhere from three to five years. During this period, La Cocina's permanent staff and dedicated volunteers help business owners lay the foundation they need to survive in the cutthroat food industry. La Cocina prioritizes finding ways for their clients to launch businesses with very little capital and facilitates their access to investment, but the staff also helps program participants navigate treacherous legal regulations on food production, market their goods, and access new markets.
La Cocina's volunteer network is a major contributor to the success of the businesses it supports. Professionals in a variety of fields—marketing, graphic design, legal, and finance—donate their time and expertise to help these businesses get off the ground.
The women who work with the group have become hallmarks in the San Francisco food community with food stands, food trucks, pop-up restaurants, and products sold in local Whole Foods markets. "The ultimate goal of La Cocina is to help these businesses become self-sufficient, and that success looks different for each business," says Leticia Landa, Programs Manager at La Cocina. "For one business, success is a stand at a farmers market, for another it is their product carried in Whole Foods, for another it is a brick-and-mortar restaurant."
"For us it is great, we come in at the end of that cycle and partner with La Cocina to bring the food to market," says Heustis, the Whole Foods marketer. "La Cocina is also like a curator. People trust that what is coming out of La Cocina is good and has heart."
Last weekend, the organization hosted their third annual Street Food Festival, a tradition that celebrates the organization's businesses. "We think our clients bust their asses just like any other chef in this city, but those chefs tend to get respect whereas our clients tend to be lumped among ethnic eateries," said Zigas. "There is something that feels innately unfair about that. Our festival is intended to flip that and to bring the community around this type of food, street food."
By providing the support these unlikely food entrepreneurs need to start and maintain their own businesses, La Cocina is changing their lives, bettering the local community and breaking down long-upheld barriers. And a model that works in San Francisco could inspire similar nonprofits around the country.
There's already a precedent for national attention: Celebrity chef Anthony Bourdain recently visited one of La Cocina's food trucks, Chaac Mool, for his show No Reservations. Chaac Mool's owners, Luis and Maria de La Luz Vazquez, began selling Mayan-inspired Mexican cuisine out of their Tenderloin apartment six years ago before partnering with the nonprofit.
"La Cocina gave us this food truck and our business has expanded because of the truck," Margarita Hernandez of Chaac Mool says. "Our dream is to establish a restaurant here in the city."
photo by Emily Voigtlander