Articles
Event: Join GOOD for Moving Beyond Cars in Los Angeles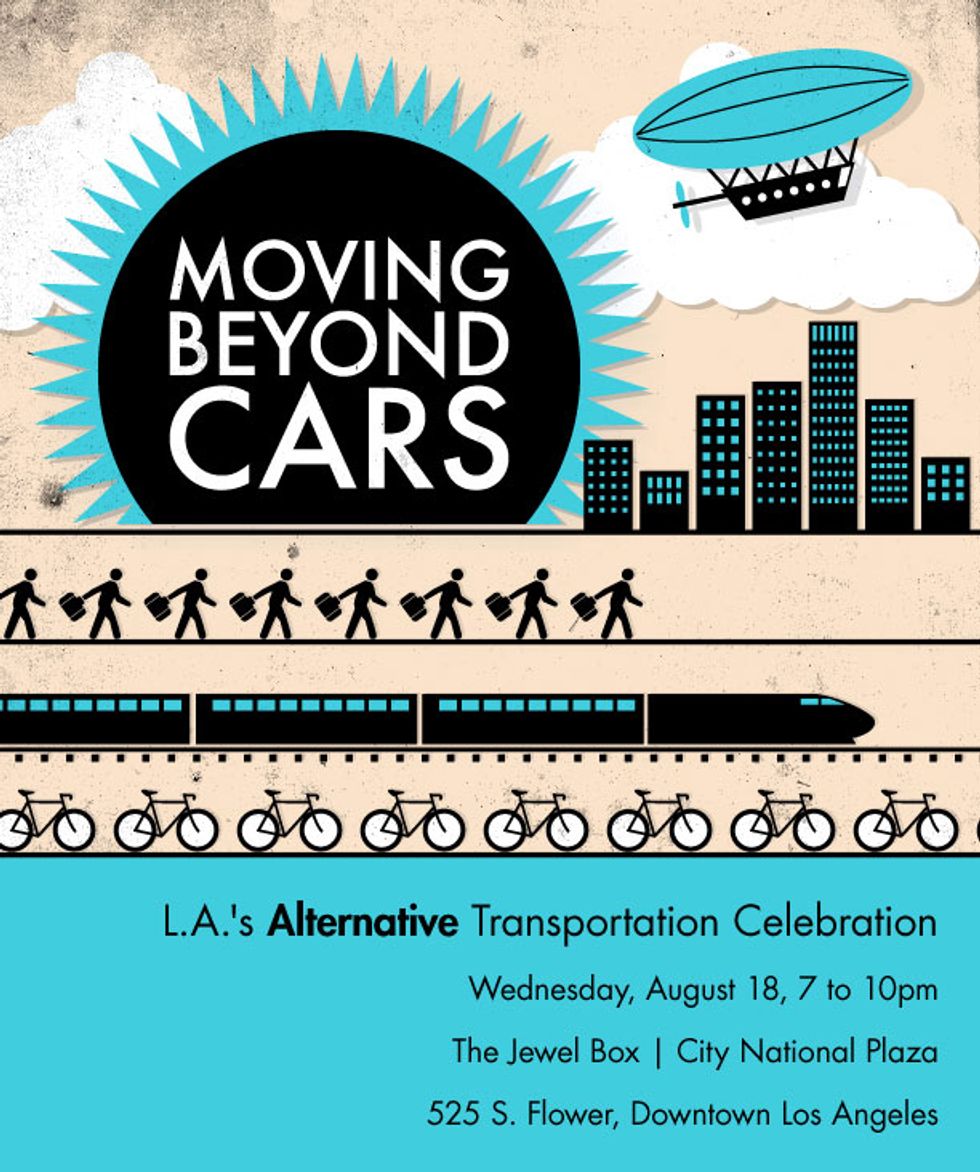 We suspect Los Angeles might have a car-crazed reputation but we also know this city has a vibrant community that likes to take bikes, buses and sidewalks, too. So GOOD is teaming up with railLA, the Los Angeles County Bicycle Coalition, the Coalition for Clean Air, and de LaB for an event that shows how L.A. can move beyond cars. We're holding it at the exhibition LA Beyond Cars: A Global Perspective on Rail and Space which envisions the future of high speed rail in Los Angeles. And we're challenging everyone who attends to use alternative transportation. That's right—our goal is to make this a completely car-free party.
---
Board a bus, take the train, ride a bike, map out a walk, jump on your scooter, hire a horse and buggy, break out your hoverboard ... just get here in a way that illustrates an L.A. that's not auto-dependent. Connect with friends and travel together. Document your trip on Twitter, Flickr or Facebook using the tag #LAbeyondcars. When you get to the event, we'll have an opportunity for everyone to record how they got there, where they came from, and what happened during their journey. James Rojas will be holding his extremely fun interactive city planning workshops focusing on walking and biking. The folks from CicLAvia will be on-hand to talk about how they're planning a car-free street celebration this fall. Plus: There will be prizes awarded for the people who arrive in the most unique, alternative, or "beyond car" ways. We're looking forward to seeing you there!
Moving Beyond Cars
L.A.'s Alternative Transportation Celebration

Wednesday, August 18
7 to 10 p.m.
The Jewel Box / City National Plaza
525 S. Flower Street, Downtown Los Angeles
Free, cash bar
Update: Entrance to the building is on Figueroa. We will also have a bike valet there thanks to the Los Angeles County Bicycle Coalition!






Tips for safe biking and links to routes from the LACBC
Tips on how to ride and plan your trip from Metro
Tips on car-free commuting from the Coalition for Clean Air


RSVP and share the event information on Facebook
Sponsored by GOOD, railLA, Los Angeles County Bicycle Coalition, Coalition for Clean Air and de LaB
Graphic by Will Etling