Articles
Join GOOD LA on June 30 for Our Next Meetup
Want to talk to fellow Angelenos about how to improve the city? Our next GOOD LA Meetup is taking place on Thursday, June 30 at 7:00 p.m.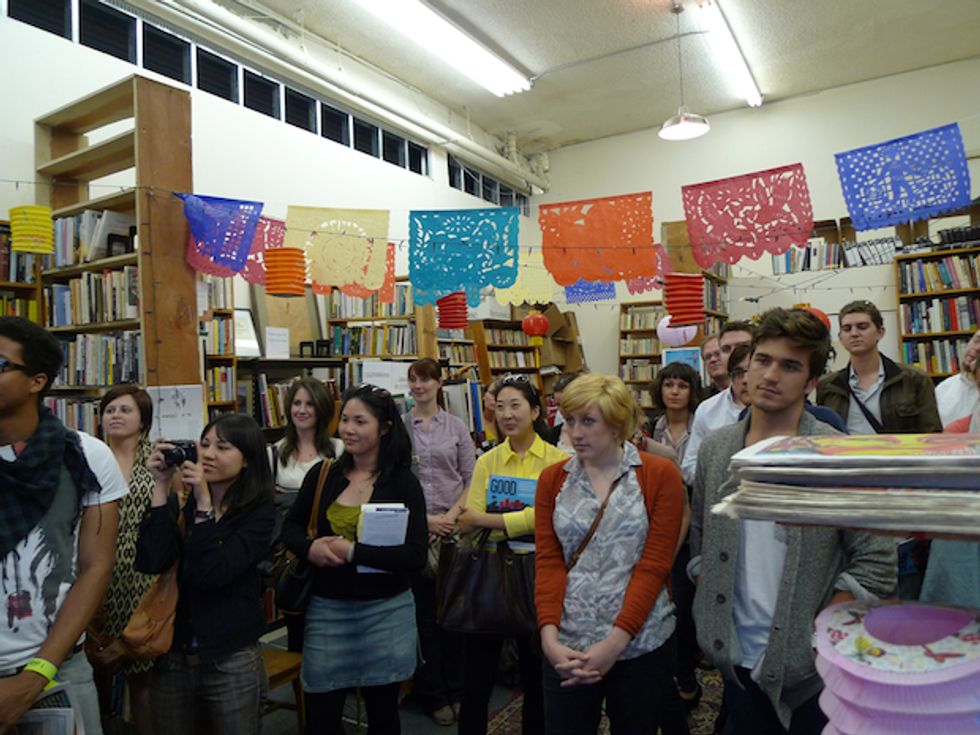 Just about a month ago, we held our latest GOOD LA Meetup, where we discussed the Los Angeles Issue of our quarterly magazine at Libros Schmibros in Boyle Heights. About 50 people participated in a lively discussion that continued over a fantastic meal at the Mexican restaurant Serenata de Garibaldi. You can see a photo recap of our last Meetup, a nice writeup on Echo Park Patch, and notes on what was discussed—mostly ideas around improving transportation.
---
The evening was such an unbridled success that we decided to continue the conversation by holding GOOD LA Meetups monthly, in locations all over the city. Our next GOOD LA Meetup will take place this Thursday, June 30 at 7:00 p.m. The evening will be graciously hosted by Diego Cardoso in the courtyard at Santee Village, where Cardoso—a talented painter—has his studio.
As the host of the evening, Cardoso also chose the theme: Looking at the city as a "canvas" for creative envisioning. Bring ideas for how to improve the city when it comes to art and urban interventions. To attend, simply RSVP on the event page. And if you're interested in hosting an upcoming GOOD LA Meetup, anyone can schedule the next event, just create a new event that takes place during first week of any month (as long as there's not already one scheduled), and a location which can easily host at least 50 people. See you Thursday!
Live in Los Angeles? Sign up for GOOD LA and you'll get one good L.A. thing delivered to your inbox every day. You can also follow us on Facebook and Twitter.