Articles
Nivea's Racist Ad "Re-civilizes" a Black Man
Nivea's depiction of afros as "uncivilized" dredges up a nasty stereotype about black people.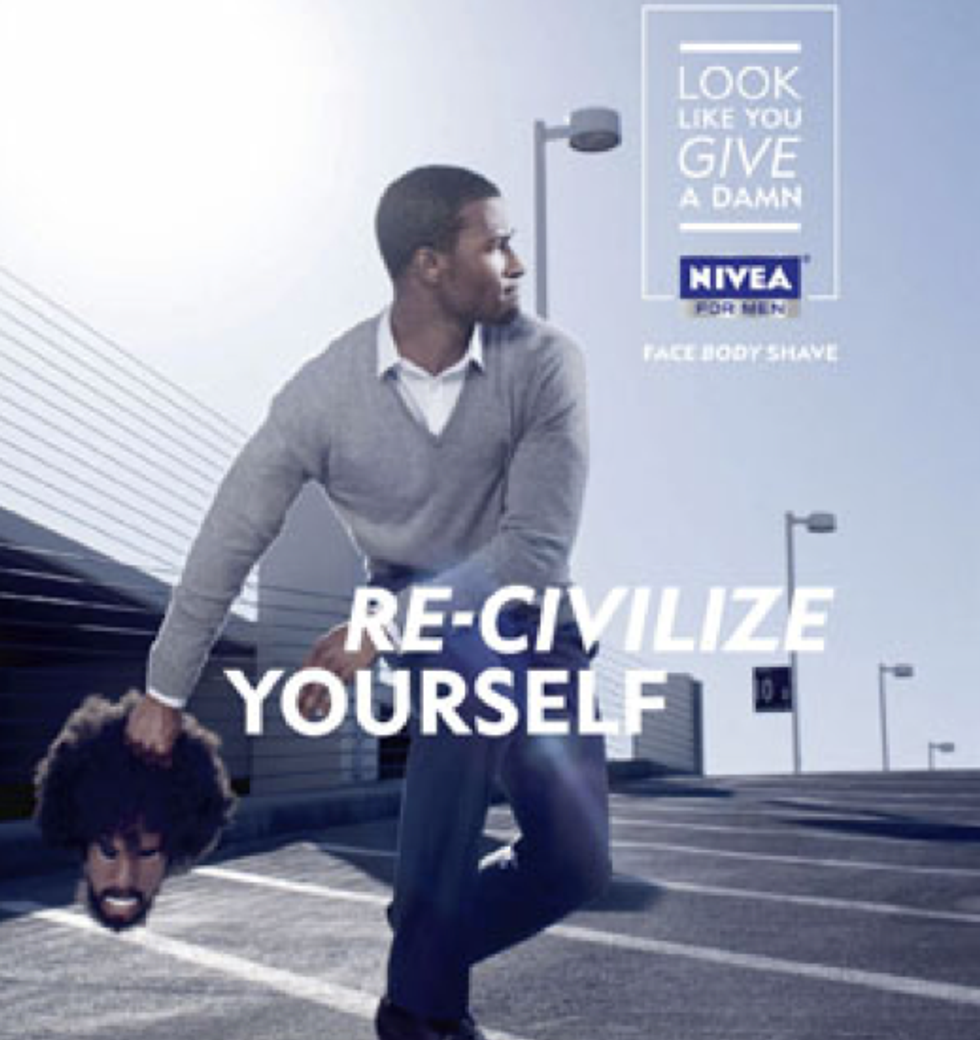 Nivea must have a serious lack of diversity on their marketing team, because there is no other explanation for why an ad like this got approved. The ad (see full image
here
) features a preppy, groomed black man holding the head of his former self, who's sporting a beard, an afro, and a pissed-off expression. The words "Re-civilize Yourself" are scrawled across the image, with the smaller phrase "Look like you give a damn" on top. The message couldn't be clearer: natural hair on a black man isn't a style preference or a nod to afrocentrism—it's straight-up uncivilized.
It occurred to us that there might be an entire campaign based around the tagline, "Re-civilize yourself." No such luck. Although Nivea has several other ads with the words "Look like you give a damn," and one where a white guy is holding a long-haired mask, none of them mention anything about civilization. The fact is, the ad itself is still racist even if it is part of a larger campaign. A person flipping through a magazine won't know the context. All they'll think of is a vicious stereotype of black people that still endures, and all they'll see is a black man trying to fit into a white world by shedding his former "uncivilized" self.
---
This isn't the first time a company has blithely unveiled a bigoted ad campaign, only to be shocked when the public is outraged. How long will it take for companies to realize that racism is not only morally wrong but bad for business? Nivea is currently trending on Twitter, and some are calling for a boycott or for Rihanna to sever her spokeswoman contract. Let's hope Nivea gets the message loud and clear.
UPDATE: Nivea has pulled the ad, and posted this apology on Facebook:
Thank you for caring enough to give us your feedback about the recent "Re-civilized" NIVEA FOR MEN ad. This ad was inappropriate and offensive. It was never our intention to offend anyone, and for this we are deeply sorry. This ad will never be used again. Diversity and equal opportunity are crucial values of our company.

\n
partial ad from Nivea