Articles
Noisemakers May Keep Gray Whales Safe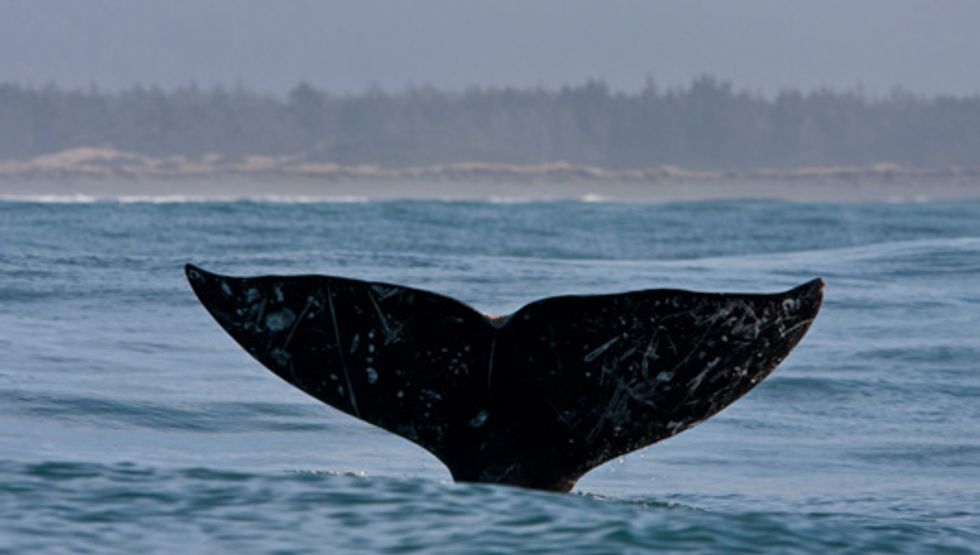 ---
The last thing that supporters of a promising renewable energy source want is a technology that harms wildlife.
So before wave energy buoys are deployed off the
Oregon
coast, scientists and developers want to make sure that 18,000 migrating gray whales are not put in jeopardy.
These whales, weighing 30 to 40 tons each, make a twice-yearly journey, heading south to breed off Baja, Mexico, in winter, and back up to the Pacific Northwest in spring.
Biologist Bruce Mate wants to find out if a low power underwater noise can be used effectively to nudge the whales away from wave energy devices.
"We want them to turn their headlights on," says Mate, director of Oregon State's Marine Mammal Institute.
Mate says the "whoop-whoop-whoop" sound being tested "is designed to be something unnatural. We don't want them to think of it as background noise, as a wave, or as another animal. We want it to be something that is disconcerting," he says.
Disconcerting enough so that the animals would move a few hundred yards away from the energy-capturing buoys, expected to weigh about 200 tons.
The underwater cables on these wave buoys are solid, 4 to 6 inches in diameter. Mate says a gray whale swimming 3 to 4 miles per hour could be seriously hurt if it collided with a cable.
Mate has a grant from the Department of Energy to test whether the acoustic device is the right strategy to keep whales and buoys away from each other. Tests will begin in late December, and end before mothers and calves migrate north in May.
The noise-making device, about the size of a cantaloupe, will be located about 75 feet below the ocean surface, moored in about 140 feet of water. During the testing, it will make noise for three seconds a minute, six hours a day.
Gray whales stick close to shore, about 2.5 to 3 miles away. Swimming farther out, they can become lunch for killer whales.
During the tests, researchers will use theodolites, surveying instruments that measure horizontal and vertical angles. Mate says the animals' actions should be fairly easy to observe as they encounter the noise.
"These animals track very straight lines during migration. They are motivated to get to the other end," he says.
The Federal Energy Regulatory Commission licenses wave energy technologies, and dozens of agencies oversee how this technology will affect ocean life.
"Wave energy developers are required to undergo a rigorous permitting process to install both commercial-scale and pilot projects," says Thomas Welch of the Department of Energy.
Ocean Power Technologies is set to deploy the first of 10 energy-generating buoys off Reedsport, Oregon, later this year.
Wave energy developers say they have worked with conservation groups from the start, dealing with everything from whales to erosion.
"As an untapped renewable resource there is tremendous potential," says Justin Klure, a partner at Pacific Energy Ventures, a company that advances the ocean energy industry.\n
A believer in clean energy, Klure says it is imperative that the technology be the least disruptive.
\n
"Nobody knows if a large buoy or any other technology is going to have an impact on an ecosystem. A misstep early could set back the industry. This is hard work, it's expensive, if you don't have a solid foundation, we feel, that is going to cost you later," he says.
Klure says the industry has studied how other energy development, including wind and
solar
, have dealt with environmental challenges.
"I think the lesson here is how critical project siting is. It's the same concept as land use planning for the ocean. Where are the most sensitive ecosystems? Where are areas that need to be preserved for recreation, or commercial fishing?" Klure says.
It will likely be five to 10 years before wave energy provides significant electricity production. But the acoustics research by Mate could provide help to animals, reaching beyond the Pacific coast.
\n
"We certainly hope it has broader uses," Mate says. If the sounds do move animals to safety, similar devices could be used to lure whales back from shallow waters if they are in danger of stranding—or even help whales or other marine mammals skirt the poisons of a large oil spill.
Marsha Walton blogs for the Mother Nature Network.\n

Related Articles on Mother Nature Network:\n

Photo via Craig Hayslip/Oregon State University Marine Mammal Institute\n
\n